Throughout its history, Franklin University Switzerland has embodied its mission of providing a cross-cultural and multinational learning and living environment that inspires students to engage the world.
This timeline chronicles our milestones over 50 years and tells the story of a University forged by a commitment to sustained academic excellence, a shared objective that values discovery, compassion and collaboration. This persistent drive, perpetuated by Franklin's community of faculty, students, staff and alumni, has contributed over the years toward consistently building a better Franklin.
1969
Franklin College Established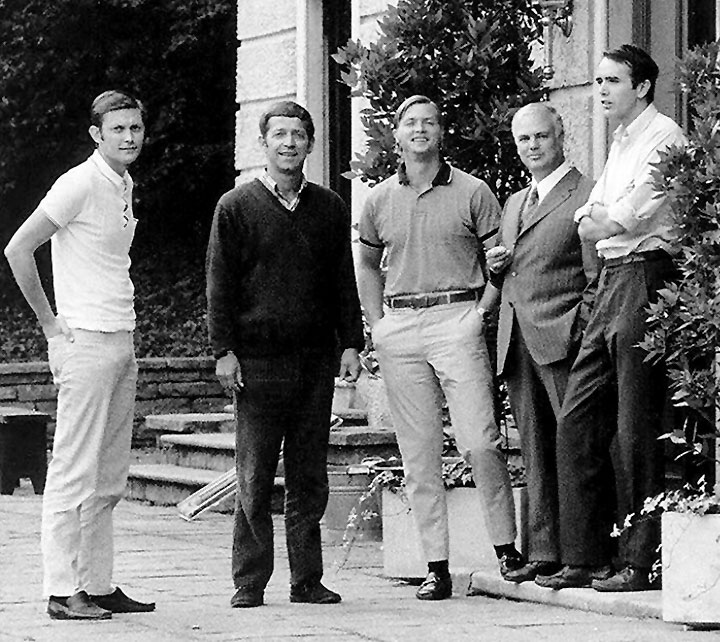 Theo Brenner, Jacques Villaret, Pascal Tone, Pietro Cassina and Wilfred Geens establish "Franklin College and the Institute for European Studies"
1970
Franklin College opens in Villa Cirla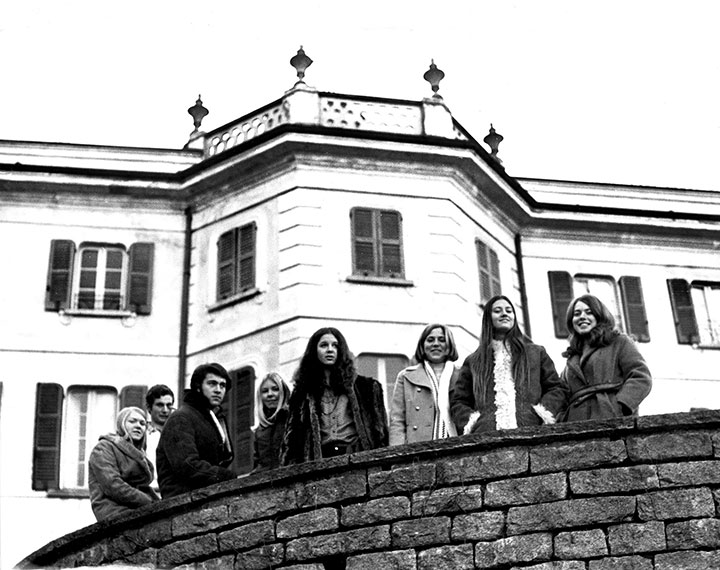 The College knew it could only occupy Villa Cirla in Lugano-Paradiso for one year. Throughout the Summer of 1970 the administration and faculty worked on the villa themselves, painting doors and shutters and constructing shelving for the room designated as library.
1971
Franklin College moves to Villa Ferrari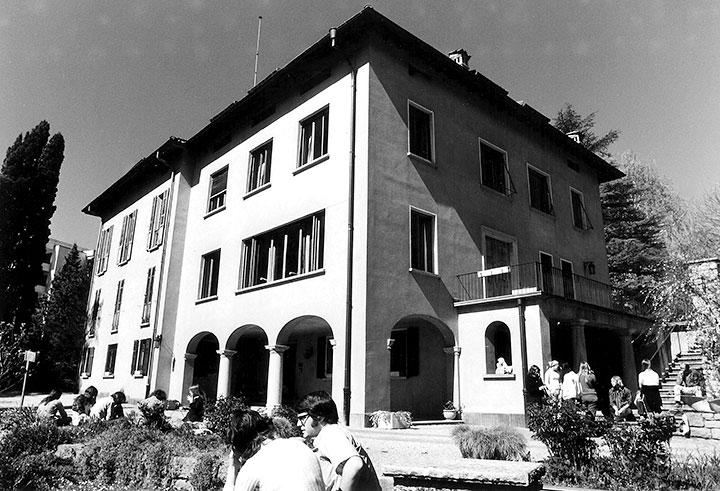 Following recognition by the IRS as a tax-exempt corporation, the College moved to Villa Ferrari in Lugano-Loreto and remained there until 1974.
1974
Franklin College moves to Villa Sassa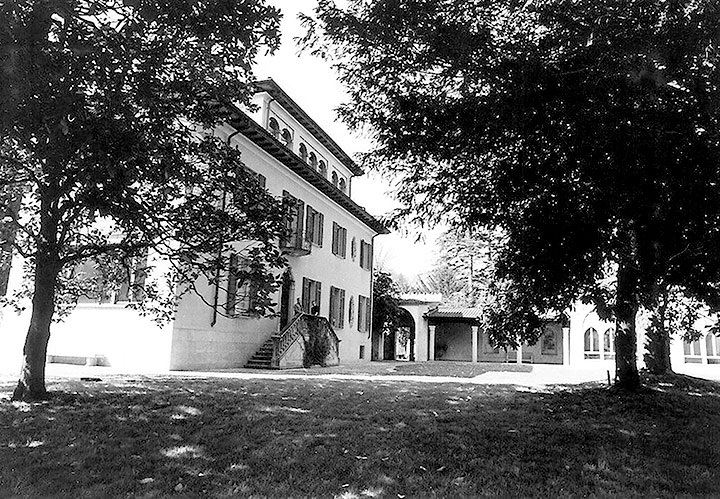 In the fall of 1974 the College moved to the Villa Sassa (also known as the via Tesserete campus), and would remain there until 1986.
1975
Associate of Arts degree programs receive U.S. accreditation
Application for accreditation as an A.A. degree-granting institution was submitted to the Middle States Association of Colleges and Schools in 1972. After a required period of time with provisional accreditation, the College received full accreditation on June 27th, 1975.
1986
Franklin College purchases the Sorengo Campus and becomes a 4-year college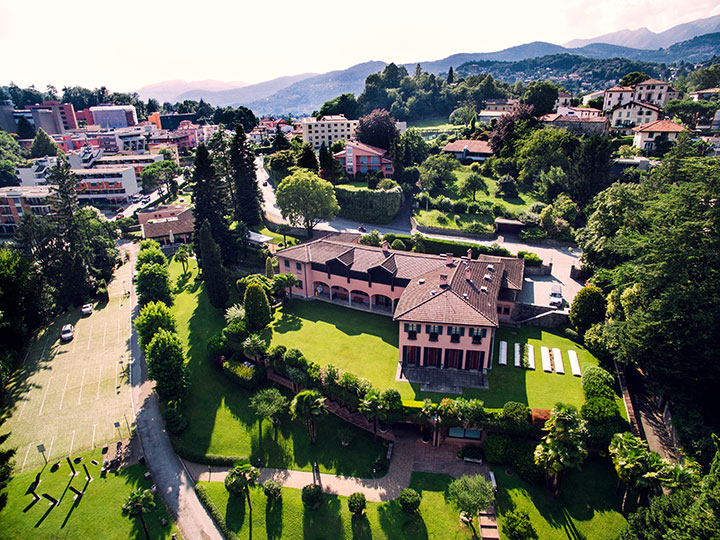 After lengthy debate among the trustees, the decision was taken to expand to a four-year program, and in the fall of 1986, coinciding with the move to the permanent campus in Sorengo, Franklin opened the academic year as a four-year institution.
1990
U.S. Accreditation Reaffirmed
On June 26-27th, 1990, the Commission on Higher Education of the Middle States Association of Colleges and Schools acted to reaffirm the accreditation status of Franklin College. This decision came at the conclusion of an intensive three-year in-depth self-study by the entire College community in which the College was called upon to assess the substantive change from a two-year Associate in Arts to a four-year Baccalaureate program.
2004
North Campus purchased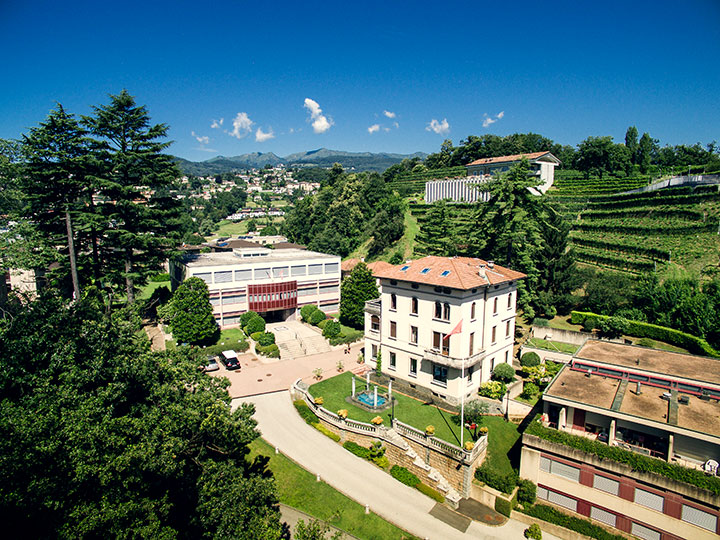 On May 18, 2004, the College acquired the facilities and property formerly occupied by the "Instituto Leonardo da Vinci", a private Italian high school campus located just three hundred meters from Franklin College's main villa. Following renovations, the North Campus facility was inaugurated with state-of-the-art classrooms and faculty offices in January 2006.
2005
Franklin College programs of study gain Swiss accreditation
The Swiss University Conference voted in 2004 to approve Swiss accreditation of Franklin College's programs of study. This accreditation, effective 11 July 2005, included a certification that all of Franklin's bachelor degree programs meet the quality assurance standards of Swiss universities.
2009
SGA formed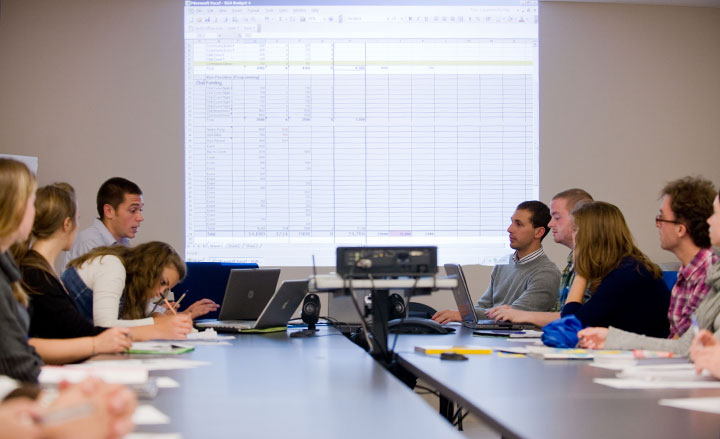 The Student Assembly merged with the Programming Board to become the Student Government Association. Members of SGA are elected by the student body at large, and assume the duty of representing students' needs and interests in all facets of University life, from academics to student engagement.
2010
Taylor Institute Inaugurated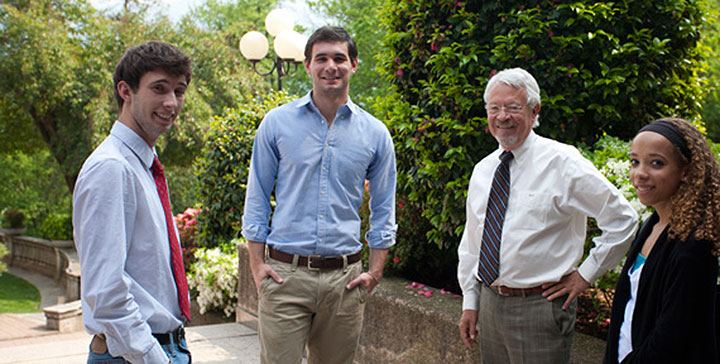 In November of 2010, the Franklin College Board of Trustees gave its approval to launch the Taylor Institute for Global Enterprise Management. In July 2011 the Taylor Institute began offering on-campus symposia in anticipation of the launch of its Master of Science in International Management (MSIM) program.
2012
First cohort begins Master's program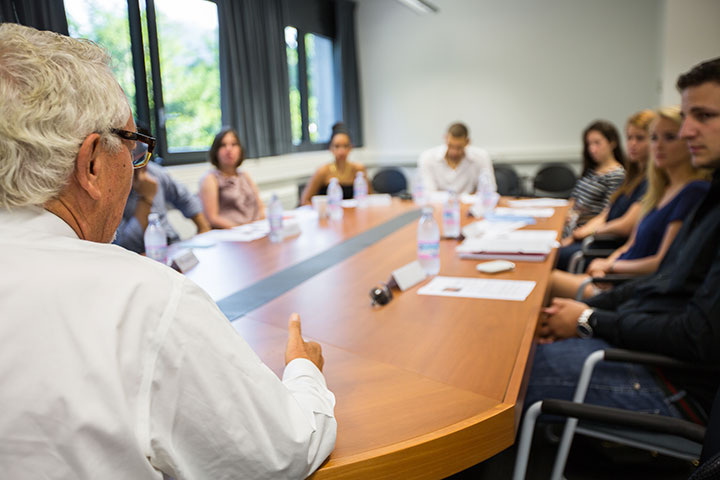 In the fall, the Taylor Institute launched its Master of Science in International Management (MSIM) program with a cohort of 9 students from the U.S., Latin America, the Middle East and Europe.
2013
Franklin College Switzerland gains full university accreditation in Switzerland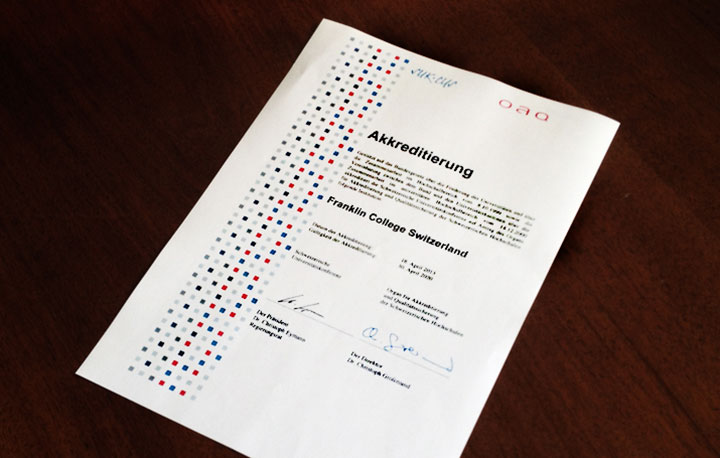 In December 2012, the OAQ Swiss accreditation experts team visited the campus as part of their accreditation review. On April 18, 2013, the Swiss University Conference (SUK/CUS), the governing body for higher education in Switzerland, granted Franklin College Switzerland full university accreditation.
2014
Franklin changes its name to Franklin University Switzerland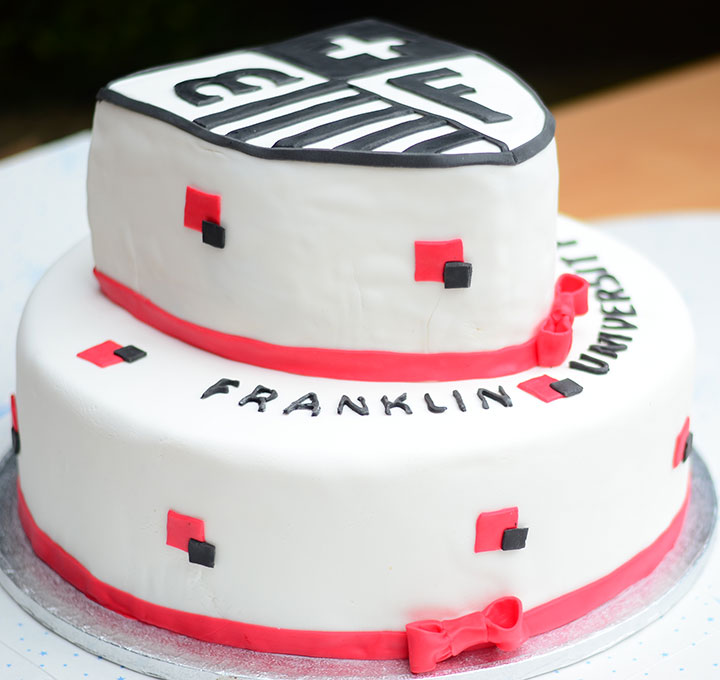 In November 2013, Franklin's name change from "Franklin College Switzerland" to "Franklin University Switzerland" was finalized with official regulatory bodies in recognition of Franklin's full university accreditation status awarded by the Swiss University Conference in April of 2013. On April 2, 2014, Franklin announced its new name and status to the campus and public, kicking off the first of two day-long "University Day" celebrations to recognize Franklin's transformation from College to University.
2018
Franklin approved by the Chinese Ministry of Education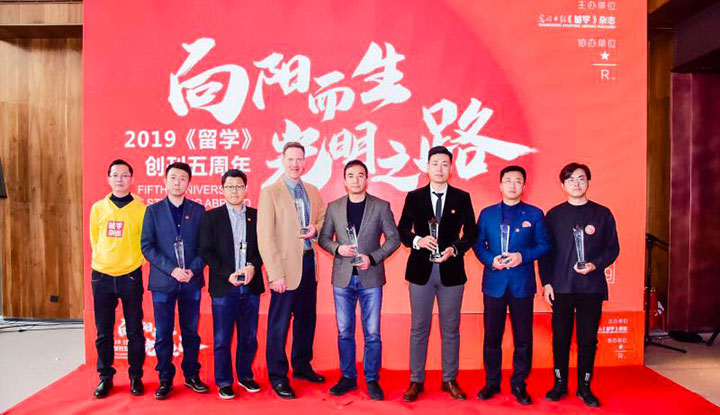 Franklin University Switzerland was approved in 2018 by the Chinese Ministry of Education as an accredited foreign university in China. This approval means that graduates from Franklin will have a degree that is recognized in China, providing additional opportunities for careers in the public and private sectors.
2019
Franklin creates partnership with Emerson College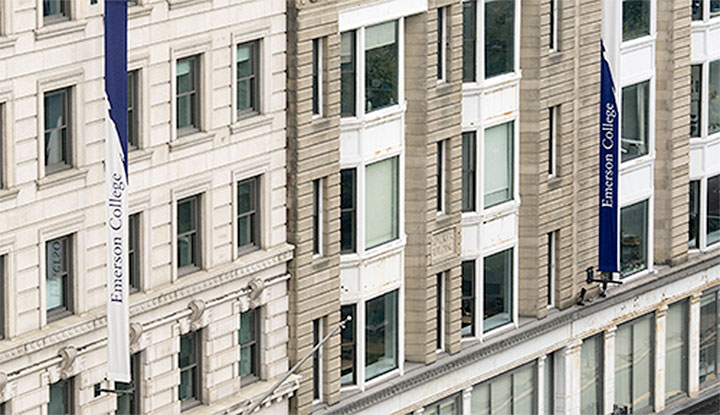 Franklin and Emerson College in Boston, Massachusetts create a program allowing students to complete a Bachelor's degree at Franklin and Master's degree at Emerson, one of the highest-rankling U.S. colleges in writing, communications and the liberal arts. Students in the 3+1 program can obtain both degrees in four years of study.
2019
Franklin creates strategic partnership with UNITAR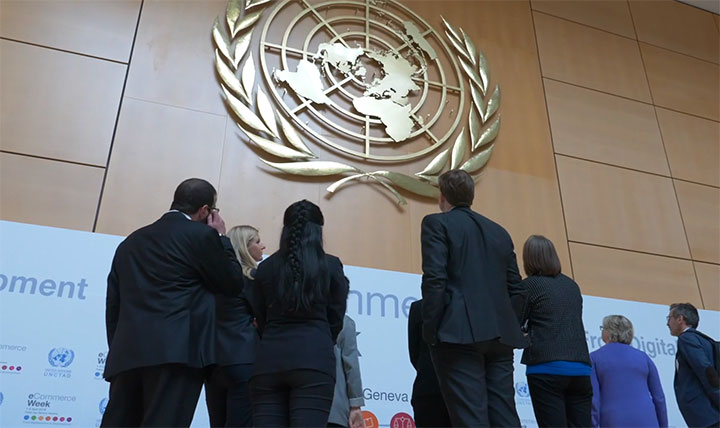 The United Nations Institute for Training and Research develops and facilitates several courses as part of a new MSIM emphasis in Responsible Management and Climate Change. During a component of the program, students work directly with UN professionals at the Geneva headquarters in Switzerland.