Make the best choices for your future.
The path you take toward your degree and your career may not always be direct and certainly will provide challenges along the way. The academic support areas at FUS provide a solid infrastructure that will provide you with information and guidance as you develop your interests, build the skills necessary for academic success, and progress toward a satisfying career.
Of course, Franklin's academic support is designed to assist students as they expand their global perspectives and encounter opportunities for new cross-cultural experiences and courses of study. Academics at Franklin means international awareness, and that mission extends throughout the support areas, which are designed for the experiential and multicultural learning experience that FUS provides.
Explore the resources available at Franklin, and take your innovative, interdisciplinary education at FUS to its highest potential. This adventure will be led by guides of the highest quality.
---
Fowler Learning Commons
The Fowler Learning Commons integrates the university's Writing and Learning Center and the Fowler Library into a one-stop service point for students. It provides both quiet study space and collaborative learning spaces for tutoring, mentoring, group projects and undergraduate research support.
Writing and Learning Center
The Writing and Learning Center provides students with personalized, academic support and leadership opportunities regarding all forms of writing, communication and learning. We also assist students in writing towards career and graduate school goals.
Opening Hours
Monday - Thursday: 9:00am - 5:30pm
Friday: 9:00am - 3:30pm
FUS Libraries
The David R. Grace Library and the Fowler Library hold a collection of tens of thousands of volumes, over 150 print periodical titles, and a variety of multi-media materials.
---
Office of the Registrar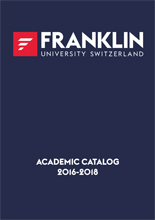 The Office of the Registrar provides services to students and faculty and the Franklin community at large. The Office is responsible for organizing course scheduling and registration, maintaining the integrity of academic policies and the security of student records, offering academic advising, verifying graduates, providing transcript services, and generally serving as an information resource.
Download our Academic Catalog 2016-2018.