European Food Systems: You Are Where You Eat (Switzerland, France)
Fall 2016 Academic Travel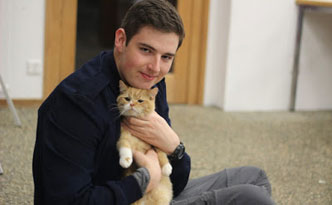 Q: Briefly describe your Academic Travel course - what is the concept behind the course, what did you learn about, and where did you go for the travel component?
A: This course was about the culture and literature behind food. Essentially, it dealt with how we view and talk about food, and how our cultural background affects that. So we read and discussed both primary and secondary texts about food and saw how the food we eat effects who we are. We traveled to Charmey, Lausanne, Lyon and Annecy for the class.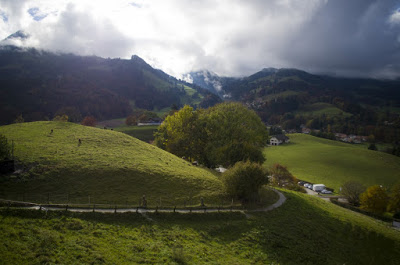 Q: What surprised you during Academic Travel?
A: Probably when we visited the Glion Institute of Higher Education in Lausanne. When you think about a university, even one that focuses on hotel management training, you probably don't picture a campus set up in a former five-star hotel perched on a cliff 1000 feet above a lake. But that was exactly what it was. They use the campus for practical training, and it's where we had our lesson on wine and wine pairings. The view was spectacular, and I definitely wasn't expecting it.
Q: What was your most memorable experience during Academic Travel?
A: The meals. I mean, it was an Academic Travel about food after all. From large group meals, to meals in a university cafeteria in a former five-star hotel, to six course meals at an old fashioned Lyonnaise bouchon, to meals we made ourselves, I think we all ate really well. And the enjoyment was heightened by the background knowledge we got from the course. French etiquette and wine lessons were used on a nightly basis, and our knowledge of the history of French cuisine informed our meals.
Q: Is there a course project? If so, what is it and how is it supplemented by the travel component?
A: The project was a journal that we kept daily, documenting our experience on travel as well as relating it to our personal central theme. For example, my theme was the relationship between labor and terroir (the taste of place). Therefore, I talked with each of the people we met about their concepts of labor, and how vital it was compared to the quality of raw ingredients.
Q: What was your favorite learning moment during Academic Travel?
A: Definitely our meeting with a beekeeper. Not only did we see the bees, get to wear bee suits, and taste their honey, but we also got to chat for about two hours with the beekeeper, both as a class and as a small group in a cafe. A lot of times people don't even think about bees, and they rarely know exactly how beekeeping works. So getting to chat with someone who is knowledgeable about the subject opened my eyes to the complexity of the profession. Did you know bees actually produce multiple harvests of honey in a year, and each tastes different depending on the season as a result of the flowers that are blooming? I definitely didn't.
---
Eric Bishel is a History/Political Science Combined Major with Minors in Economics and French from San Antonio, TX USA
First published by Gabrielle Kincheloe in the Adventures at Franklin blog.