Botswana: Environmental Field Observations and Conservation Challenges
Fall 2016 Academic Travel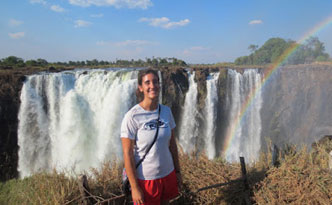 Q: Briefly describe your Academic Travel course - what is the concept behind the course, what did you learn about, and where did you go for the travel component?
A: The course is about understanding how Botswana has created some of the world's strongest wildlife conservation programs in the world. We examined political leadership, international agreements and cultural values that have made their natural resource protection programs quite comprehensive. To study this, we traveled to the Okavango Delta with river Bushmen guides for camping and nature walks, met with a rhino conservationist, interviewed a hunter turned farmer, and then moved east to Chobe National Park. To end the travel, we relaxed in Victoria Falls in Zimbabwe before returning home.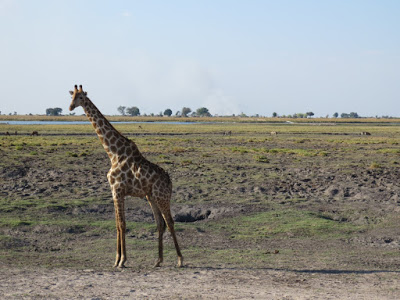 Q: What surprised you during Academic Travel?
A: The most surprising thing on this Academic Travel was how the animals we saw and so often view through a romantic, Westernized gaze can be a nuisance. We saw elephants, giraffes, wildebeests, donkeys, kudu, crocodiles, lions and more. For us, this was exciting. However, for farmers, politicians, and everyday community members these animals can often represent economic loss, danger, hassle and frustration. No one wants lions around since they kill the cattle, a primary source of livelihoods. Seeing this different perspective was quite surprising since I had never thought of the logistics of living near lions or elephants.
Q: What was your most memorable experience during Academic Travel?
A: Definitely camping in the Okavango Delta. We were guided by local river Bushmen through canals surrounded by reeds until we reached our island campsite. Each day we went on nature walks to see game, leaving early in the morning and returning by 11am when it was too hot to do anything other than swim in the clean delta water (up to 44°C). In the afternoon we bonded together, played cards, learned how to pull the canoes and journaled before a campfire dinner and stargazing. It was pretty magical.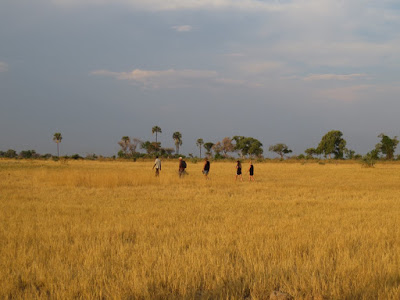 Q: What was your favorite learning moment during Academic Travel?
A: My best learning moment during Academic Travel was when we got an impromptu talk with Chris, a professional hunter turned farmer. Having lived in Botswana his whole life, Chris detailed how livelihoods and environmental issues have changed as the government has introduced anti-hunting legislation due to their shift toward photo-safari tourism. This shift is causing large economic, cultural, political,and environmental changes that Botswana now has to grapple with. It was interesting to see clear arguments of how environmental conservation policies aren't always practical. We were also able to touch on what it takes to be a farmer in Botswana (a lot of dedication, planning and luck), as well as some of the future investments into natural resource management that Botswana is considering.
---
Elena McGuire is an Environmental Studies and International Management Double Major with a Minor in French from Needham, Massachusetts USA
First published by Gabrielle Kincheloe in the Adventures at Franklin blog.