Understanding Environmental Issues: Iceland
Fall 2016 Academic Travel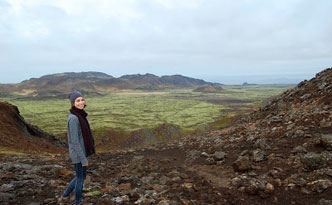 Q: Briefly describe your Academic Travel course - what is the concept behind the course, what did you learn about, and where did you go for the travel component?
A: This course has two components, in the first part of the class we learned about different environmental issues that are part of our daily lives such as human overpopulation, energy consumption, economics and urbanization, water management, climate change in the 21st century, energy sources and biodiversity issues. The second part of the course took place in Iceland where we learned from different experts how Iceland deals with these environmental issues. Now we will continue discussing what we learned in Iceland by analyzing it through what we learned during the first part of the course.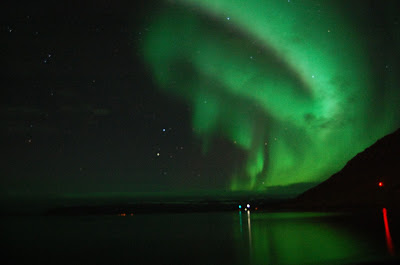 Q: What surprised you during Academic Travel?
A: Iceland is famous for its hydroelectric and geothermal power and as an environmental course we visited the Hellisheiði Power Plant. During our tour at of the power plant we learned that Iceland produces more energy that it actually needs which encourages Icelanders to use more energy than they need when they heat their homes. People will warm up their homes to an extent where they need to open their windows while still keeping the heating system on. I found it very interesting how they care about the environment by making sure not to exhaust the mountain when extracting water, but when it come to conversing they don't to it.
Q: What was your most memorable experience during Academic Travel?
A: There were so many memorable experiences from travel that it is difficult to choose only one. Everyone got along well and people were always playing instruments and singing along during our free time on during the long bus rides. However everyone in the travel can say that they will never forget our second night in Ísafjörður. After watching a one man show of the famous Grettis saga we all headed out to the beach to watch the northern lights. We all sat down by the rocks and just stared at the sky. The way the light dances from one side of the sky to the other was so beautiful, graceful and majestic that many of us got tears in our eyes. After spending the entire night outside, bundled up in at least three layers of clothing staring at the sky, we understood why people who live in northern areas believe that these lights were spirits of their ancestors, because it felt magical. There is no way to describe it, it has to be lived and left to be understood and we were all there, sharing that experience with each other.
Q: Is there a course project? If so, what is it and how is it supplemented by the travel component?
A: This course has two projects. This first project is called Ecological footprint experiment. Each student has to come up with their own way to track their consumption on water, electricity, waste and gasoline. For a minimum of 24 hours each student has to track their consumption of the four categories in both Switzerland and Iceland and then compare the two. The aim of this project is to understand and bring awareness of our consumption and waste when we are traveling. The second project consists in choosing from a list of different places that were visted during travel and analyzing a given quality. We have to write a report with our analysis on the location. Some examples are analyzing if Reykjavik is sustainable, or is Ísafjörður becoming more sustainable with tourism and how certain locations are dealing with high tourist level.
Q: What was your favorite learning moment during Academic Travel?
A: My favorite learning moment was when we visted Þingvellir National Park and Professor Hale gave us a small lecture on Iceland's geology and how the North American Plate and the European plate met in Iceland. Being in the open space, surrounded be geography made from the movement of the place made it easier to understand the power of nature and admire its creation.
---
Camila Arguedas Najarro is a Social Justice and Sustainability Major with Minors in French Studies and Management from Brasilito, Costa Rica
First published by Gabrielle Kincheloe in the Adventures at Franklin blog.