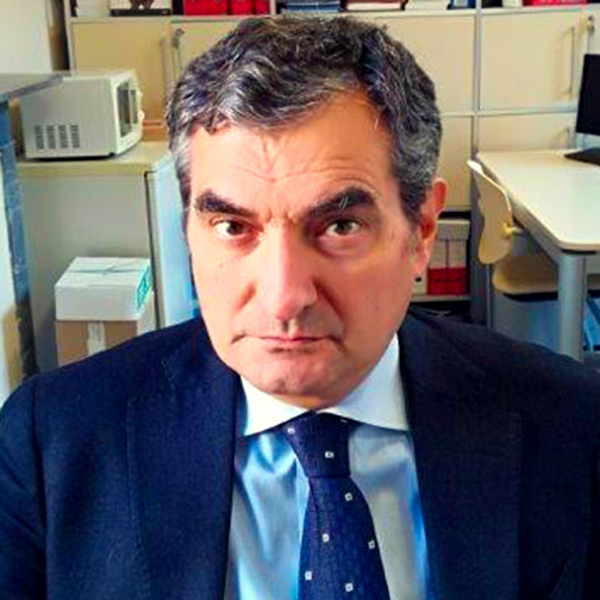 Giuseppe Colangelo
Adjunct Professor, Economics
Ph.D. Birkbeck College, University of London, UK
M.Sc. London School of Economics, University of London, UK
Dottore in Economia e Commercio, Università Internazionale delle Scienze Sociali, Rome, Italy
Office: Kaletsch Campus, Office 9
Phone: +41 91 985 22 64
This email address is being protected from spambots. You need JavaScript enabled to view it.
Profile:
Giuseppe Colangelo is an expert in Microeconomics and Applied Game Theory with particular focus on Industrial Economics. Author of a book and several articles published in international journals, he is currently undertaking research in the field of price discrimination, vertical relations between firms and the strategic interactions between the government and oligopolistic firms with reference to commodity taxation.
Publications:
Una Valutazione dell'Attività dell'Antitrust Italiano dopo Venti Anni", 2010, Economia dei Servizi, n.3, pp.427-435.
"Le Politiche per la Concorrenza e per l'Industria tra l'Italia e l'Europa, (with G.Martini), 2010, in Bianchi P.- Pozzi C. (eds.), Le Politiche Industriali alla Prova del Futuro, Analisi per una Strategia Nazionale, pp. 93-124, Il Mulino, Bologna.
Private Labeling and Competition between Retailers, 2008, Journal of Agricultural & Food Industrial Organization, vol. 6, n.1, art.5. http://www.bepress.com/jafio/vol6/iss1/art5.
Wholesale Pricing when Buyers are Asymmetric Cournot Competitors, 2006, The Manchester School, vol. 74, n. 2, pp.156-169.
"La Politica Europea della Concorrenza alla Luce del Progetto della Nuova Costituzione", 2005, Rivista Italiana di Diritto Pubblico Comunitario, XV, fasc. 3-4, pp. 1127-1131.
"Relazioni Verticali e Determinazione del Prezzo nella Distribuzione di Carburanti in Italia", (joint with G.M.Martini), 2003, Rivista di Politica Economica, Settembre-Ottobre, pp. 113-153.
Ad Valorem Taxation on Intermediate Goods in Oligopoly, (joint with U. Galmarini), 2001, International Tax and Public Finance, vol. 8, n. 1, pag. 53-73.
"La Politica di Concorrenza e di Tutela del Mercato, 2001, in Quadrio Curzio A. (ed.), Profili della Costituzione Economica Europea, Fondazione Cariplo, Il Mulino, Bologna, pp. 431-474.
in a Monopoly with a Small Number of Buyers, 1999, Australian Economic Papers, vol. 38, n. 3, pp. 250-258.
On the Pareto Ranking of Commodity Taxes in a Price-Setting Oligopoly with Product Differentiation (joint with U.Galmarini), 1997, Public Finance, vol. 52, n. 1, pp. 50-63.
Vertical vs Horizontal Integration: Pre-emptive Merging, 1995, Journal of Industrial Economics, vol. XLIII, n. 3, pp. 323-337.
"Investimento e Struttura di Mercato", Vita e Pensiero, Milano, pp. 98, 1995.
"A Theoretical Approach to the Policy of Municipal Solid Waste", in A. Quadrio Curzio - L. Prosperetti - R. Zoboli (a cura di), The Management of Municipal Solid Waste in Europe, Elsevier, Amsterdam, pp. 222-233, 1994.
"Strategic Buyers in a Durable Goods Monopoly", Metroeconomica, vol. 44, n. 3, pp. 269-279, 1993.
Controllo Verticale, Pubblicita´ e Incentivi alla Fusione Orizzontale, 1992, Economia Politica, a. IX, n. 3, pp. 405-423.
Decisioni d´Investimento per Alcuni Settori dell´Industria Italiana: Costruzione del q Medio e Tentativi di Stima, 1990, Ricerche Economiche, n. 1, pp. 3-28.
Tobin´s q, Flexible Accelerator and Error Correction Mechanisms: a Duality Theorem in a General Framework, 1990, Rivista Internazionale di Scienze Economiche e Commerciali, vol. 37, n. 8, pp. 693-700.
Il Modello dell´Acceleratore Flessibile Generalizzato come Soluzione Lineare Globalmente Ottimale, 1987, Economia Politica, a. IV, n. 2, pp. 189-211.
Alcune Riflessioni sulla Questione dell´Indeterminazione del Livello dei Prezzi nel caso di una Politica del Tasso d'Interesse nei Modelli con Aspettative Razionali, 1986, Giornale degli Economisti, fasc. 1 - 2, pp. 79-89.
Working Paper:
Endogenous RPM and the Role of Buyer Power, 2011, (with G.Martini), mimeo.
Input Third-Degree Price Discrimination with Asymmetric Bypassing, 2010, mimeo.
The Efficiency of Nonprofit Health-Care Firms and their Coexistence with For-Profit Competitors, 2010, mimeo.