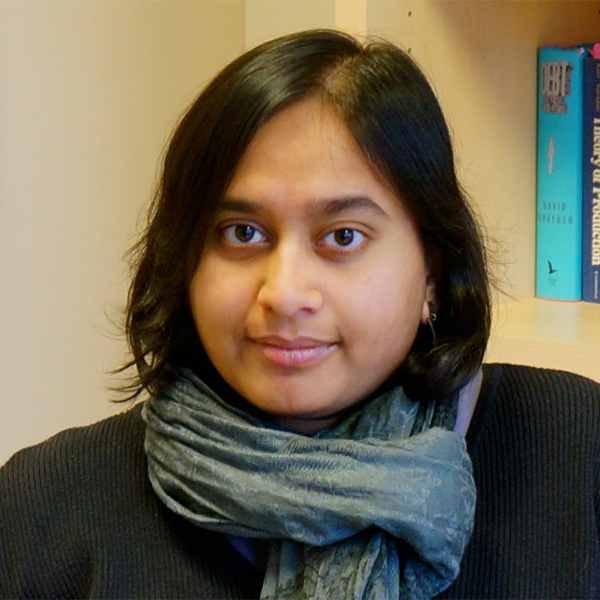 Poulomi Dasgupta
Assistant Professor, Economics
Ph.D. University of Missouri, Kansas City, U.S.A.
M.A. University of Mumbai, India
B.A. St. Xavier's College, Mumbai, India
Office: Lowerre Academic Center, North Campus, Office 13
Phone: +41 91 986 36 36
This email address is being protected from spambots. You need JavaScript enabled to view it.
Profile:
Poulomi Dasgupta received her doctoral degree in 2012 with a dissertation titled National Rural Employment Guarantee Act and Long term Development in India. She is keenly interested in developing alternative approaches to understanding development and consequently using these approaches to evaluate the impact of various developmental programs in developing countries. In her research, she uses the capability approach to evaluate the impact of an employment generation program on development in rural India. This approach involved identifying the expansion of real freedoms of the beneficiaries of this program. In order to utilize this approach, she has also conducted village level surveys in two states in India.
She has taught various economics courses at University of Missouri, Kansas City and St. Peters University, New Jersey and worked for different research institutes including the Center for Full Employment and Price Stability, Kansas City and the Economic and Political Weekly Research Foundation, Mumbai.
Publications:
Dasgupta, P. "Employment Generation Scheme and long term Development-A Case Study in India", Book Chapter in The Job Guarantee: Toward Full Employment, Volume II, Palgrave Publication. 2013
Dasgupta, P. "Trade, Environment and Development: An Ecological economics perspective", Journal of Interdisciplinary Research, University of Missouri Kansas City, 2012
Dasgupta, P. "Democracy in Developing country-Which way is it headed?", Oeconomicus Department of Economics, University of Missouri Kansas City, Vol VIII, 2008.
Book Review "How rich countries got rich...and why poor countries remain poor?", Heterodox Economics Newsletter, Issue 52, November 8, 2007.
Honors and Achievements:
Awarded Graduate Teaching Assistantship at UMKC, Department of Economics (2007-2011)
Chancellors GTA Fee Remission Award, UMKC (2007-2012)
Chancellors Non Resident Scholarship, UMKC (2007-2012)
Selected and participated in the African Program on Rethinking Development Economics (APORDE) in Durban, SA. (Summer 2010).
Research Interests:
Political Economy, Developmental Economics, Macroeconomics, Microeconomics, and Post colonial studies.