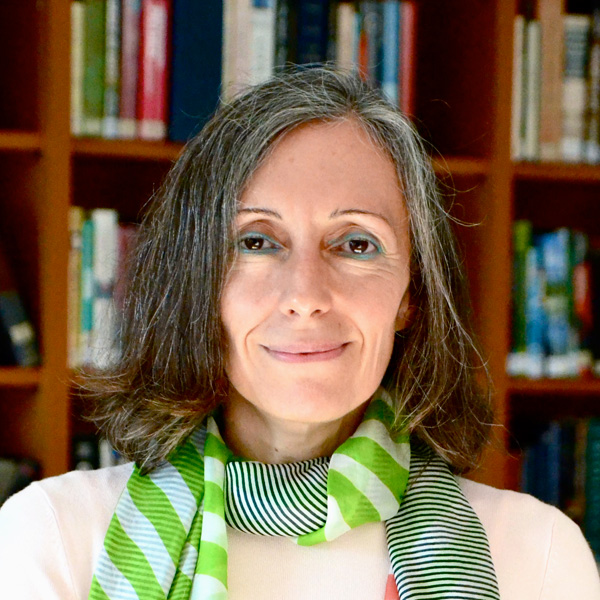 Laura Orsi
Adjunct Professor, Italian Studies
Ph.D., The Warburg Institute, University of London, U.K.
M.A., The Warburg Institute, University of London, U.K.
B.A., Università di Pisa, Italy
Office: Kaletsch Campus, Office 4
Phone: +41 91 985 22 76
This email address is being protected from spambots. You need JavaScript enabled to view it.
Profile:
Laura Orsi graduated in 1992 from the Università di Pisa, Department of English Studies, magna cum laude in English Language and Literature with a dissertation on Il contorno senecano di Lady Macbeth, a comparison between the Latin playwright Seneca's theater and Shakespeare's Macbeth (333 pages, plus Appendices and Bibliography).
She continued her studies on the Renaissance at The Warburg Institute, University of London, where she earned an M.A. in "Combined Historical Studies (the Renaissance)" in 1993 and a Ph.D. in "Combined Historical Studies" with focus on the Renaissance, in 1997. Her M.A. thesis, "The Emblematic Elephant: A Preliminary Approach to the Elephant in Renaissance Thought and Art", was a study on the elephant imagery in the Renaissance. Her Ph.D. dissertation, Giovan Battista della Porta (1535-1615): His Works on Natural Magic, Oeconomics and Physiognomy (defended with late Professor Giovanni Aquilecchia, then Emeritus Professor of Italian Literature at University College London, and Professor Renzo Bragantini, Full Professor of Italian Literature, Università La Sapienza, Rome), was the first in-depth study of the Neapolitan natural philosopher and playwright Giovan Battista della Porta (the most charismatic philosopher of his time, with Giordano Bruno). (279 pp., with Illustrations and Bibliography.)
Laura Orsi has taught at FUS since August 2008. In 1991 she was the recipient of a governmental fellowship (Ministry of Education-British Council) to teach Italian as Assistant Lecturer at Waltham Forest College in London. This experience was decisive to make her want to proceed with her studies in London.
She previously taught Renaissance Italian at the Warburg Institute (1993), was Head Librarian and Lecturer in Humanism and the Renaissance at Studio Art Centers International, Florence (1998-2002) and was Lecturer of Italian Studies at Boston University Padova (2002-2004 and 2005-2009) and Visiting Assistant Professor of Italian at Duke University (a.y. 2004-2005). She is thankful to numerous institutions for supporting her research in her Ph.D. years: among them, the British Academy, the Fondazione Luigi Einaudi and the Fondazione Luigi Firpo of Turin, the Istituto Italiano per gli Studi Filosofici of Naples, and the Herzog-August Bibliothek Wolfenbüttel in the person of Dr. Günther Findel, the generous donor of the Dr. Günther Findel-Stiftung, whose simple manners and great heart she particularly cherishes in her memory.
Laura Orsi divides her time between Lugano and Padova, where she is Adjunct Professor of English Literature at the Scuola Superiore per Mediatori Linguistici (SSML) of Padova (a private university program founded in 2000). Her competency in English is C2 of the European Framework (certification obtained in 2014).
Publications:
Books
Avventure mediterranee di Shakespeare in arte John Florio. 250 pp., with illustrations, appendices and indexes. Forthcoming.

Articles in Journals and Conference Proceedings
"Shakespeare e l'identità europea" (approx. 15 pp.): will be published in the proceedings of the international conference "Multiple Identities in a Glocal World" (Eugenio Atelier) held at Castel Tirolo, Bolzano on 20-21 April 2017: EURAC series/Reihe der Arbeitshefte/Quaderni der Europäischen Akademie Bozen (EURAC). Forthcoming (August 2017).
"Stars and Comets in Shakespeare" (approx. 20 pp., with illustrations): will be published in the proceedings of the international conference "From Giotto to Rosetta" held at the University of Padua, Italy, 27-29 October 2016 (organized by the Accademia Galileiana of Padua and the University of Padua). Forthcoming (January 2018).
January 2017: "William Shakespeare e John Florio: una prima analisi comparata linguistico-stilistica", in Memorie e Atti della Accademia Galileiana di Scienze, Lettere ed Arti; academic year 2015-2016, pp. 139-280 (with illustrations and bibliography).
April 2016: "Il Caso Shakespeare. I Sonetti", in William Shakespeare, Sonetti, transl. by C.M. Monti di Adria, Preface by M.R. Polato, Cleup, Padova, 2016, pp. XXI-LXXII.
"La Commedia degli errori: la prima tempesta di Shakespeare." Will be published in the proceedings of the AATI (American Association of Teachers of Italian) conference. (This is an enriched version of the paper I read at the AATI conference, Siena, 24 June 2015).
"Die literarische Dimension von Giovan Battista della Portas Villa" (translation from English by Rosemarie Zeller e Eshter Schneider; original title: "The Literary Dimension of Giovan Battista della Porta's Villa, 1592": "La dimensione letteraria della Villa di G.B. della Porta, 1592"): Morgen-Glantz. Zeitschrift der Knorr von Rosenroth-Gesellschaft, 18 (2008), pp. 153-174.
"Giovan Battista della Porta's Villa between Tradition, Reality and Fiction": Annali di Storia Moderna e Contemporanea dell'Università Cattolica, XI (2005), pp. 11-66.
"The Emblematic Elephant: A Preliminary Approach to the Elephant in Renaissance Thought and Art": Anthropozoologica (rivista del Muséum National d'Histoire Naturelle, Paris), 20.1 (1994), pp. 69-86.

Creative Writing
Tra il nero e il bianco l'azzurro, Rome, Aracne Editrice, 2012.
Notturni americani, Rome, Aracne Editrice, 2008.
La Gioconda sotto il letto e altre avventure, Imola, La Mandragora, 2004.

Editorships
FRANCESCO SBERLATI, Castissima donzella. Figure femminili tra letteratura e norma sociale (secoli XV-XVII), a cura di L. Orsi; Bern, Peter Lang, 2007, 252 pp.
GIORDANO BRUNO, Opera omnia, a cura di R. Bombacigno e S. Mancini, "Assistant editor" L. Orsi, CD-ROM; Milan, Biblia, 1998 e 2005.

Co-curatorships
LAURA ORSI is co-curator for the academic publisher Peter Lang, Bern, with Paolo Luca Bernardini, Full Professor of Modern History at the University of Como (Università dell'Insubria) of the series "Studies in Early Modern European Culture"/"Studi sulla cultura europea della prima età moderna".
The volumes published as of 2015 are the following :
VOL. 1: GIULIO BODON, "Veneranda antiquitas:" studi sull'eredità dell'antico nella Rinascenza veneta, 359 pp., with 43 illustrations, 2005.
VOL. 2: FRANCESCO SBERLATI, Castissima donzella. Figure femminili tra letteratura e norma sociale (secoli XV-XVII), 252 pp. Edited by Laura Orsi, 2007.
VOL. 3: DIEGO LUCCI, Scripture and Deism: The Biblical Criticism of the Eighteenth-Century British Deists, 251 pp., 2008.
VOL. 4: JOHANNA FASSL, Sacred Eloquence: Giambattista Tiepolo and the Rhetoric of the Altarpiece, 391 pp., with 17 coloured, 35 b/w illustrations, 2010.
VOL. 5: FABRIZIO LOMONACO, New Studies on Lex Regia: Right, Philology and Fides Historica in Holland between the 17th and 18th centuries, 351 pp., 2011.
VOL. 6: PAOLO GOMARASCA, Enjeu cartésien et philosophies du corps, 168 pp., 2012.
VOL. 7: FABRIZIO LOMONACO, Tolerance: Stages in Modernity from Holland to Italy, 250 pp.,2013.

VOL. 8: ELISA BIANCO, La Bisanzio dei Lumi. L'Impero bizantino nella cultura francese e italiana da Luigi XIV alla Rivoluzione, 2015, pp. 369.
Translations from English
THOMAS E. WOODS, Come la Chiesa cattolica ha costruito la civiltà occidentale (How the Catholic Church Built Western Civilization), Regnery Pub. Washington D.C., 2005, 280 pp.). Siena, Edizioni Cantagalli, 2007, 272 pp.
JOHN TOLAND, Ragioni per naturalizzare gli ebrei in Gran Bretagna e Irlanda (Reasons for Naturalising the Jews in Great Britain and Ireland) (1714) and ANONYMOUS, Confutazioni delle 'Ragioni per naturalizzare gli ebrei' (Confutations of the Reasons for Naturalising the Jews) (1715), Florence, La Giuntina, 1997, 267 pp.
STEPHEN LEE, Pietro il Grande (Peter the Great), Genova, ECIG, 1994, 130 pp.

Translations from Renaissance Italian
CRISTOFORO ARMENO, Peregrinaggio di tre giovani figliuoli del Re di Serendippo, Venezia, Michele Tramezzino, 1557. This is the Italian / "Venetian" novel that would inspire Horace Walpole (the author of the earliest Gothic novel, The Castle of Otranto) to coin the word "serendipity" in 1754.

Review of translations from English to Italian
MATTI K. AUVINEN, ed., FRANCESCO CARRADORI, Istruzione elementare per gli studiosi della scultura, Florence, 1802; traduzione inglese, with an Introduction by Paolo L. Bernardini, Getty Trust, Los Angeles, 2002.
Catalogue of the exhibition curated by Matti K. Auvinen, L'arte lapidea a Settignano (published by Oratorio della Vannella), Settignano (Florence), 2001.
LEO CATANA, Vico and Literary Mannerism: A Study in the Early Vico and His Idea of Rhetoric and Ingenuity, New York, Peter Lang, 1999.

Participation in literary prizes
Premio Ernest Hemingway Città di Lignano Sabbiadoro, XXIX edizione, 2013: Jury member and international relations deputy.

Work in progress
Laura Orsi is completing a book on John Florio, the author of the celebrated Italian-English dictionaries A Worlde of Wordes and Queen Anna's New World of Words (1598 and 1611). According to Lamberto Tassinari (2009 and 2013) John Florio is the real Shakespeare. In her book Dr. Orsi highlights and discusses a number of Shakespeare's plays that deal with the Mediterranean. Including John Florio's works in the discussion has allowed Dr. Orsi to confirm that John Florio, the earliest bilingual author of English and Italian culture, is indeed the only convincing candidate to solve the old Shakespeare's authorship question. Laura Orsi's next project is the revision of her Ph.D. dissertation on the Neapolitan philosopher and playwright Giovan Battista della Porta.