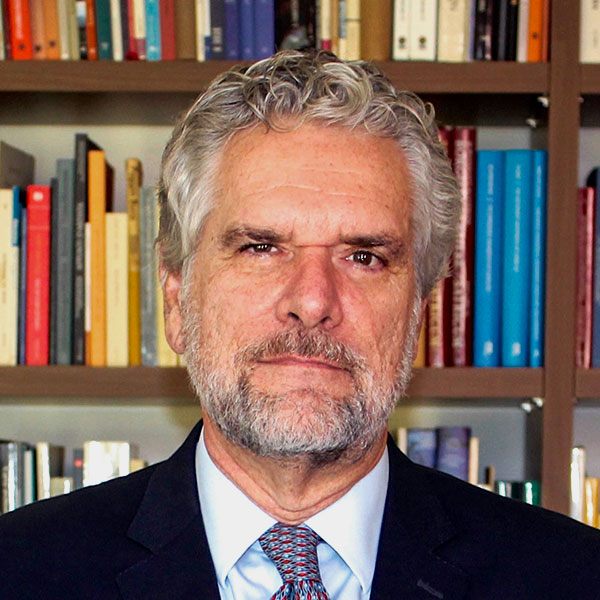 P. Gregory Warden
President, Franklin University Switzerland
Professor, Archaeology
Ph.D. Bryn Mawr College, USA
M.A. Bryn Mawr College, USA
B.A. University of Pennsylvania, USA
Office: Villa, Kaletsch Campus
Phone: +41 91 985 22 66
This email address is being protected from spambots. You need JavaScript enabled to view it.
Profile:
P. Gregory Warden previously taught at Bowdoin College, the University of Pennsylvania, and SMU, where he was University Distinguished Professor, Meadows Foundation Distinguished Teaching Professor, and Altshuler Distinguished Teaching Professor. He is the Executive Editor of Etruscan Studies, a trustee of the Etruscan Foundation, Consulting Scholar at the University of Pennsylvania Museum of Archaeology, and an elected member of the Istituto di Studi Etruschi e Italici. Warden is the founder and Principal Investigator of the Mugello Valley Archaeological Project, which since 1995 has trained students from over 70 universities and includes scholars from seven countries. The project has been featured in the New York Times, the International Herald Tribune, in the European media, as well as on the Discovery Channel. In 2012 the Republic of Italy awarded Warden the title of Cavaliere of the Order of Italian Solidarity for his sustained contributions to Italian culture.
Publications:
Books:
From the Temple and the Tomb. Dallas 2009.
Greek Vase Painting: Form, Figure, and Narrative. Dallas 2004.
Classical and Near Eastern Bronzes in the Hilprecht Collection. Philadelphia 1997.
The Extramural Sanctuary of Demeter and Persephone at Cyrene, Libya. Final Reports IV. Philadelphia 1990. Co authored with Andrew Oliver, Pam J. Crabtree, and Janet Monge.
The Metal Finds from Poggio Civitate (Murlo) 1966-1978. Roma 1985.

Recent chapters in books and articles:
"Beyond Material Culture: Ritual Behaviour and Identity at the northern Etruscan Sanctuary of Poggio Colla." In Frontiers of the European Iron Age. Cambridge 2014.
"The Importance of Being Elite: The Archaeology of Identity in Etruria (500-200 BCE)," in A Companion to the Archaeology of the Roman Republic. Malden, MA 2013.
"Giving the Gods their Due: Ritual Evidence from Poggio Colla." Notiziario della Soprintendenza per i Beni Archeologici della Toscana. Firenze 2013.
"Monumental Embodiment: Somatic Symbolism and the Tuscan Temple," in Monumentality in Etruscan and Early Roman Architecture: Ideology and Innovation. Austin 2012.
"Pinning the Tale on the Chimera of Arezzo: The Monster as Ritual Sacrifice," in Myth, Allegory, Emblem: The Many Lives of the Chimera of Arezzo. Firenze 2012.
"The temple is a living thing: fragmentation, enchainment, and the reversal of ritual at the acropolis sanctuary of Poggio Colla," in The Archaeology of Sanctuaries and Ritual in Etruria. Portsmouth 2010.
"Made in Etruria, or too good to be Etruscan?" American Journal of Archaeology 115.1 (2011) Online Forum.
"The Blood of Animals: Predation and Transformation in Etruscan Funerary Representation," in New Perspectives on Etruria and Rome. Madison 2009.