Develop a critical understanding of issues arising from the attempts to "rethink" economics in the aftermath of the global crisis, and frame new problems in a changing world.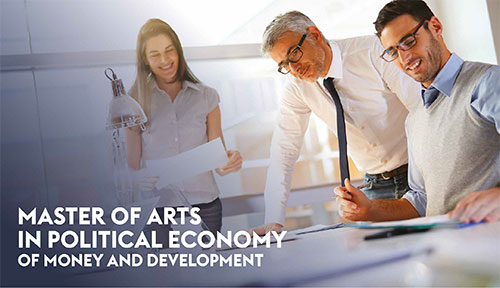 The M.A. in Political Economy of Money and Development is a 12-month, full-time, course-based, intensive program. Students will acquire skills of theoretical and practical relevance in three areas: new and changing views of macroeconomic policy management, state-of-the-art tools of political, economic and financial analysis, and the changing role of developing and emerging economies in the global economy.
The Department of Economics and Finance at Franklin has a tradition of teaching economics by encouraging diversity of thought, underscoring the relevance of the history of ideas and connecting what is learned in classes with the real world. This Master's program draws from the broad spectrum of economic analysis and policy in the post-crisis, post-Lehman world.
Special focus of this program is on the foundations of bank and central bank operations with their consequence for macroeconomic policies, quantitative finance as means to explore the political economy of money and markets, new forms of dualism and the role of informal employment in developing and emerging economies.