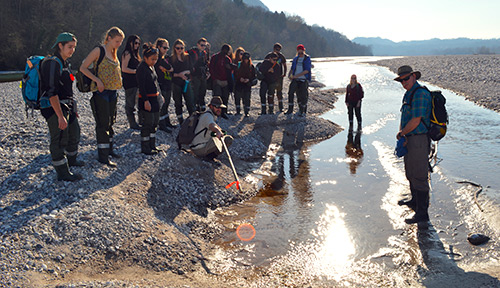 Faculty of Environmental Sciences to Host Workshop on Riparian Vegetation Management in Ticino
On June 6, regional forest managers, planners, and other practitioners will participate in a workshop on Franklin's campus to share experiences about managing riparian vegetation in Ticino. The workshop, organized by Environmental Science Professors Patrick Della Croce and Brack Hale, is part of a larger research project co-sponsored by the Forest and Wood Research Fund of the Swiss Federal Office for the Environment, in collaboration with EcoEng SA, with whom Franklin has been cooperating since 2015 on water-related projects, such as river revitalization, fish passes, and lakeshore revitalization.
---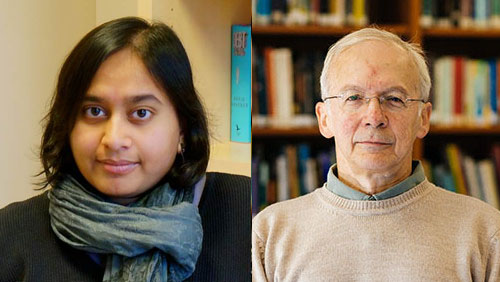 The Franklin Frank Goes Crypto
While many economics departments at universities in the United States are rushing to develop courses about quickly developing cryptocurrencies, Franklin University Switzerland took a different route by developing its own cryptocurrency designed for students, by students. The currency is part of the Franklin Frank Community Engagement Program, a four-year-old initiative launched by Professors Andrea Terzi and Poulomi Dasgupta from the Economics and Finance Department. "Students can earn Franklin Franks by working with local institutions and non-profit organizations in the Franklin neighborhood", explained Professor Terzi, "which are required for certain courses. Students who are unable to perform a sufficient amount of volunteering tasks, can arrange a trade with another student who contributed extra time and possesses a surplus of Franklin Franks."
Professor Patrick Saveau Publishes New Book: Reimagining North African immigration
Franklin Professor of French Studies and Comparative Literary and Cultural Studies, Patrick Saveau, recently published a volume titled "Reimagining North African immigration: Identities in flux in French literature, television and film." Working as both editor and contributor, Professor Saveau takes the pulse of French post-coloniality, inviting the reader to explore the many different faces of French identity at the dawn of the twenty-first century. The book's essays explore the challenges and hopes facing multicultural France today, in relation to the legacies of its colonial past. The contributors invoke the transformative powers of literature, film and television, pleading for an honest and open recognition of the centrality of post-beur authors and directors on the French cultural scene, and of their vital role in overcoming monocultural norms. The various approaches - sociological, historical, political, literary, and cultural - celebrate recent films, television programs and literature produced by citizens of so-called "immigrant" and North African heritage, who use French as their language of choice.