Unsure about travel to Lugano? Take advantage of our hybrid model.
Franklin is resilient and committed to its mission of educating responsible global leaders, and is tailoring its programs to support students during Covid-19. The Fall 2020 semester is planned to begin in August as scheduled. Our new hybrid learning model will make it possible for students to study remotely if necessary at the start of the term. Information regarding staggered start dates will be communicated in the coming weeks.
Do you want to study abroad in Europe, but you're not sure how or where to go? If you're not ready to commit to a full degree program – or if you simply want to take a year and explore your options – Study Abroad at Franklin!
Switzerland is known for being an independent, safe haven in the midst of an uncertain world. Here, you can focus on your fields of interest with culturally-relevant courses, taught in English by full-time, university professors. Our programs are flexible – custom design a program to fit your needs. You can improve your language proficiency, get started on your academic career, or try something completely new!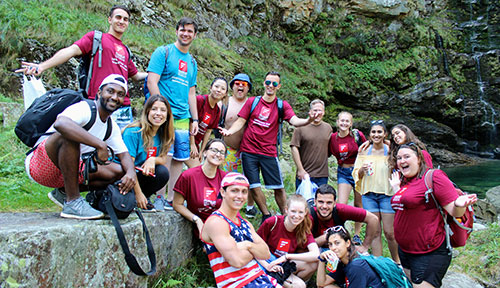 Learn among peers from over 50 different countries as your professors engage your mind with fun, eye-opening activities, drawing from real-world events.
A unique feature of studying at Franklin University Switzerland is our Academic Travel program. Every semester, all Franklin students have the opportunity to embark on a two-week trip to a destination linked to an academic topic, led by our faculty. As a Study Abroad student, you are free to choose any Academic Travel program during your semester or year at FUS. Where else can you "double" your study abroad experience?
Not enough? Weekend trips are easy using the clean, reliable, Swiss transportation system. Given our central location, plenty of weekend independent travel opportunities are also at your fingertips. Rome, Paris, Berlin and many of Europe's most famous cities are a short train or plane ride away, and Franklin's study abroad program wouldn't be complete without exploring Switzerland's alpine hiking trails, small ski towns… and of course, chocolate and fondue!
Because Franklin is accredited both in the U.S. and in Switzerland, you can be sure that your credits have a high likelihood to transfer to another university, should you decide to continue your Bachelor's degree elsewhere. You will return home better prepared for your future, with lasting memories, new skills, and global connections!
See our study abroad partner institutions
Curriculum
At our Lugano campus students have access to all campus amenities, including on-campus housing, and we have to take a variety of courses in one or more of our 16 majors, or 22 minors. Students can either craft their own set of courses, or participate in one of the Franklin study abroad tracks. All study abroad students at Franklin have the opportunity to participate in Academic Travel, enabling them to experience multiple countries in one semester abroad.
Sample Course Combinations
Once you apply for admission and are admitted you will get priority access to register for courses that fit your needs. We will work with you one-on-one to get you a schedule that is both exciting and fulfills your major and degree requirements.
Dates and Deadlines
Franklin semesters begin in late August and mid-January, and two 4-week summer sessions are held in June and July.
Fall Semester (August to December)
Applications open
Spring Semester (January to May)
Application Deadline – November 1
Summer Session (June and/or July)
Application Deadline – April 1