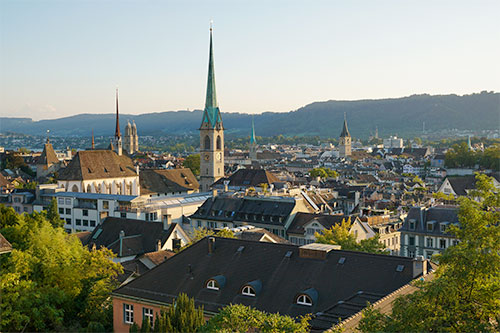 Come to study in one of the most cutting-edge cities in Europe. Zurich is a leader in both business and art, and it's a safe and open environment for a study abroad experience that combines coursework with your own curiosity. Franklin's program is the only semester-long study abroad in the city taught entirely in English.
In true Franklin style, the Zurich Program will give you opportunities to know the city in ways you couldn't as a tourist. You'll personally connect with organizations and businesses through excursions and fieldwork. You will dig into Swiss languages and history. You will participate in research projects tied to your own interests, and you'll present your work to your peers and professors.
Take advantage of this interdisciplinary program designed for students who have completed the first two years of university study, or sixty semester credits, with a minimum grade point average of 3.0. If you major in Business Management, Environmental Studies, Visual Arts, History, Urban Studies, Cultural Studies or Modern Languages, you will be able to utilize these courses towards completion of your major or degree. Our devoted faculty will help you to focus on a learning path relevant to your chosen field of study.
Curriculum
Module I: Zurich's Urban Cultures: From Roman Garrison to Industrial Chic (3 credits)
Module II: Addressing Sustainability Challenges in Modern Organizations (3 credits)
Module III: From the Artist's Studio to the Art Market (3 credits)
German or French, all levels (Optional Program Component) (3 credits)
Directed Research Seminar (2 credits)
Symposium at Franklin University Switzerland, Lugano (1 credit)
Journal Publication of Research Project (Optional Program Component) (1 credit)