Finding Your Voice: Media and Visual Culture
April 1, 2017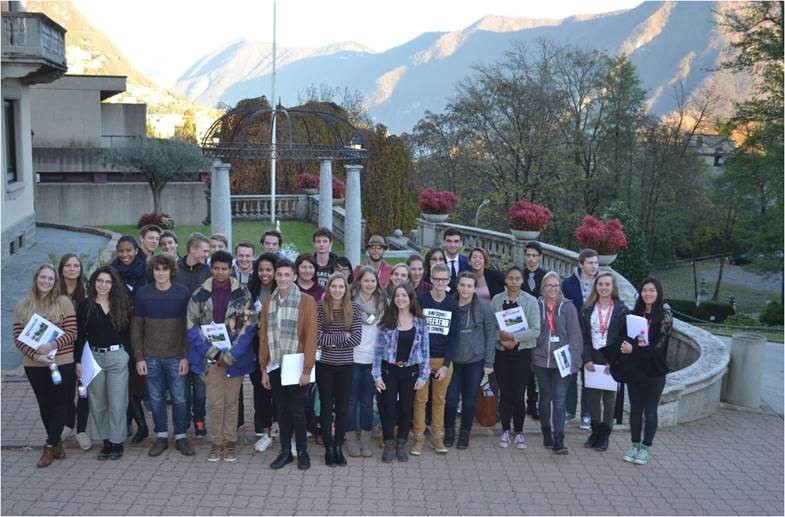 The upcoming Academic Summit focuses on topics surrounding the use of images in Swiss culture and the ways in which those images communicate. Whether the use of images is in the media, advertising or in our own messages transmitted via social channels, images are an important part of contemporary communication. This day of presentation and discussion will allow participants of different cultural backgrounds and age groups to explore these topics from multiple perspectives.
The event will be held in English and is intended to be a cross-cultural academic experience for high school students from all parts of Switzerland. Franklin students and faculty will participate in the day's sessions.
Academic Summit Spring 2017 Program
Saturday April 1st
11:00

Registration
Grotto Dining Hall, Kaletsch Campus. Via Ponte Tresa 29, 6924 Sorengo-Lugano.
Visitors arriving from the Lugano Train Station can meet Student Mentors near the Track 3/4 staircase next to the Platform Kiosk for assistance to campus.

12:00

Lunch
Grotto Dining Hall – Kaletsch Campus
Meal Tickets are provided at the Registration Desk

13:00

Intercultural Exchange with your Student Mentors
Ben's Den/Grotto Dining Hall – Kaletsch Campus

14:00

Opening Session of the Spring 2017 Academic Summit
Nielsen Auditorium - Kaletsch Campus

Main Lecture - Finding Your Voice: Media and Visual Culture
Featuring Franklin Professors Dr. Sara Steinert Borella (Dean), Dr. Caroline Wiedmer, Dr. Marcus Pyka, Dr. Johanna Fassl, Dr. Satomi Sugiyama, and a special guest speaker: TBD

14:45

Tour of Campus with your Student Mentor

15:45

Group Session I
Lowerre Academic Center, North Campus

Participants will choose from the following topics:

Topic 1: Strangers in Paradise: Representations of the Other in Switzerland.
Fowler Learning Commons, North Campus
Professor Wiedmer and Professor Steinert Borella will focus on images presented in the billboard and poster campaigns in the Swiss public sphere. "What do such images mean for a country that simultaneously represents itself via its humanitarian traditions?"

Topic 2: The Emoji
Room 7, LAC Building, North Campus
The emoji and its "relatives" such as stickers, the Bitmoji, and GIFs offer a rich repertoire of communication in our everyday life. In this session, Professor Sugiyama will explore the way we use the emoji and its varieties in mediated social interactions (e.g., texting, Instagram, Snapchat, Facebook) as well as the way it has entered into the realm of cultural objects from a communication and media studies perspective. As you leave the session, you won't be able to help reflecting upon your own emoji use!

Topic 3: When a Thousand Words Are Not Enough: Visual Communication
Room 8, LAC Building, North Campus
Professor Fassl will take you into the world of images, from Renaissance drawings to contemporary abstract paintings, from portrait photography to pictures from unmanned drones, to understand how images communicate. How do we see the visual world, how do we interpret it and what do our eye and mind do with the amazing amount of information that we receive every day? We will answer these questions and ask many more about reading images, optical illusions, and creating identities through pictures.

Topic 4: 'Switzerland douze points.' The Eurovision Song Contest between National Self-Representation and European Public Sphere
Room 9, LAC Building, North Campus
This talk looks into one of the most successful TV formats in history, the annual Eurovision Song Contest, which started in Lugano in 1956. Combining perspectives from the disciplines of History, Political Science, and Media Studies, Professor Pyka shows what this music show tells us about national representation, changing European rivalries and alliances, and the power of popular culture.

16:30

Group Session II
Participants will choose another topic from Session I

17:15

Final Discussion
LAC Conference Room, North Campus

18:00

Dinner with Student Mentors and the Franklin Community
Grotto Dining Hall, Kaletsch Campus

18:30

Distribution of Certificates, Room Keys, Student Activities Announcement
Ben's Den

End of Program for Day Visitors

19:00

Assistance going to Residence Halls/Hostel – Optional Student Activities
Sunday April 2nd
12:00
Lunch
Grotto Dining Hall (optional)
Return of On-Campus Room Keys, Departures and End of Program