According to Ann Hubbard, "It is predicted that 47% of today's jobs will become automated in the next 25 years. It may seem counter-intuitive, but an Oxford study reports that this will require workers to acquire strong creative and social skills".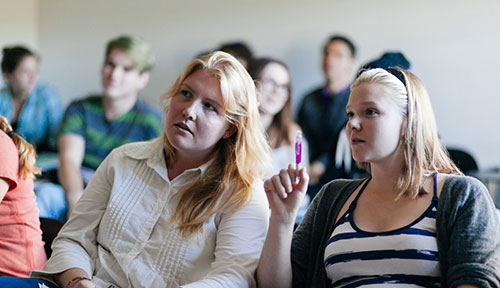 Dr. Hubbard, Ph.D. Candidate at the Università Cattolica del Sacro Cuore (Milan, Italy), and Vice President and Director of Academic Assessment with AIFS Study Abroad, a U.S.-based program provider, was invited to present her doctoral research about the connection between study abroad and employability to Franklin faculty and staff this past September 16, 2019. As she noted, "Many employers do not realize that studying abroad is an opportunity to gain skills that will be valuable in the workplace. They do not expect you to know everything about the industry you are seeking to enter, but they do expect that you have acquired transferable skills from your life experiences – including academic and work settings, personal challenges and learning abroad. Transforming learning into stories is key when showing how one has successfully managed differences and challenges. This will say a lot about you as a person and as a potential employee."
According to Franklin's Dean of Student Life and Engagement, Deborah Knaust, "Studying abroad may give students the opportunity to acquire a wide range of skills that enable them to compete successfully in the labor market. At Franklin we provide experiential learning while assisting students with assessing and identifying the transferable skills they gain during their Franklin experience for them to compete in their future endeavors. To this extent, every year, the Office of Student Life and Career Services offer an array of workshops, events, programs, career coaching and professional development opportunities for students to gain experiential learning in an intercultural environment."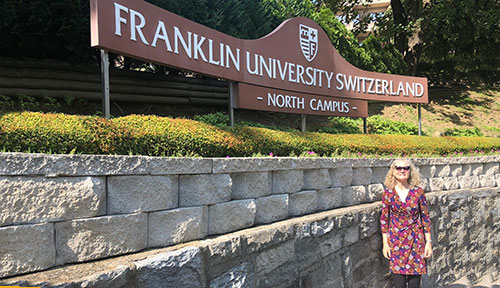 The research that Dr. Hubbard is working on assesses the role of critical reflection in helping students articulate the transferable skills developed from study abroad. Students need to be encouraged to think more about putting their experiences abroad to good use in their job interviews. Indeed, as she remarked several times during her presentation, "Students will want to craft their respective examples in ways that employers will appreciate and that takes some preparation. It is important that students show specific skills, and that they have thought about how they developed them and what that means for their performance in the workplace."