Another academic year has just begun! The Class of 2022, representing 34 countries and with 22 students holding two or more passports, is made up of four-year students starting university for the first time, transfer students and study abroad students entering at different levels.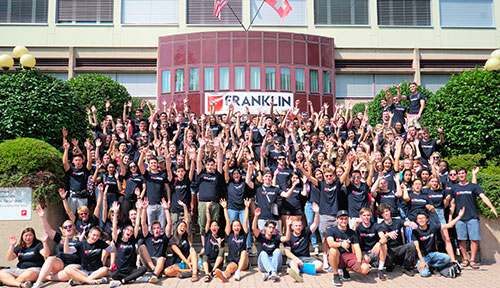 The new Frankliners are designing their respective interdisciplinary curriculum around International Relations, Management, Psychology and Environmental Studies, as well as Communication and Media Studies, Banking and Finance and Comparative Literary and Cultural Studies (CLCS).
Starting each September, Franklin students have the opportunity to participate in a number of amazing activities on and off campus, led by students, faculty and staff – the traditional Tutte Le Strade Program, aimed at helping them in the transition to Franklin and a better understanding of the region we call home.
The overall 2018-2019 Events Calendar is also shaping up to provide the FUS community with various events and initiatives to complement the Franklin's mission.
All of these programs are part and parcel of the Franklin experience, which provides more than simply reading books, taking notes, and memorizing facts. It enables students to learn through experience by going places, seeing things and figuring it out.
Welcome to Franklin!