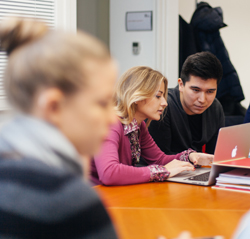 The Taylor Institute identifies pathways for students, faculty, staff, corporate partners and other organizations seeking innovative solutions
By drawing on the core methodology of responsible leadership and the entrepreneurial spirit that drives Graduate Studies at Franklin University, we create designs for applied research, program development, professional education and interdisciplinary initiatives that make a positive impact on society. The improvements gained through this action oriented process result in business prosperity and lasting value, reinforcing support for new initiatives.
Financial Advisory Lab
Led by industry experts Dr. Patrick Coggi and Dr. Roberto Ferretti, the Institute's Financial Advisory Lab provides a platform that connects academics, finance professionals, and innovators who work together to address the social aspect of economic well-being, improving personal financial advising practices within strategic frameworks.
Graduate and undergraduate students of the University are selected to work with practitioners and faculty members on projects that contribute to the knowledge and development of financial professionals in this rapidly evolving industry. The outcomes of this work are then made available to individuals and organizations who may benefit from the research.
More information on the Financial Advisory Lab.
Student Involvement and Research
A raison d'être of the Taylor Institute is to involve graduate and undergraduate students in consultancy and research.
Students can customize the practical experience of their curriculum via an internship or a consultancy within the institute or with industry partners.
Students participating in the Institute's activities are also encouraged to publish the findings from their research.