Led by industry experts Dr. Patrick Coggi and Dr. Roberto Ferretti, the Financial Advisory Lab provides a platform that connects academics, finance professionals, and innovators who work together to address the social aspect of economic well-being, improving personal financial advising practices within strategic frameworks. Students use the lab setting to conduct studies and simulations throughout the academic year, evaluating practical techniques that support the theory they learn in the classroom in a real-world setting. Students are encouraged to think critically about their experience in the simulations to develop new concepts that can be pursued in future research projects.
The Financial Advisory Lab is also organizing a Financial Observatory. This is an ongoing student-led project to gather basic information about financial institutions and activities. Periodically, students produce a report of the situation and over time can track and monitor developments, identifying potential unmet needs and opportunities for further investigation.
Creating an actionable value proposition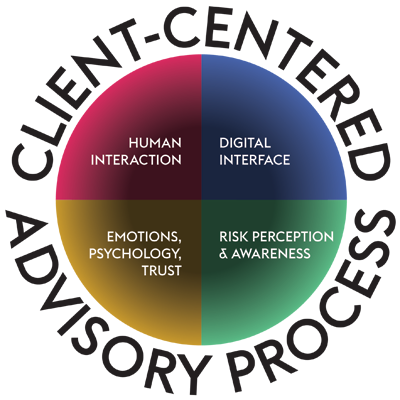 Everyday we see developments in technology. In the world of finance this has been accompanied by enormous changes in the interaction with customers resulting in quicker access and more detailed information but also limiting the face-to-face interaction with people: customer to financial professional. Technology has put more responsibility into the hands of individuals, yet it has not always improved individuals' economic positions nor those of financial services providers.
Our idea is to study the financial advisory process from a client-centric point of view, considering the cognitive aspects of interactions including behavioral, psychological and emotional elements. With a solid grasp of the clients' needs, we can more effectively study both the human and the digital interface, evaluating which interactions or technologies add real value to a customer's economic and social well-being. Our aim is to return human considerations to the practice of finance and to use this perspective to identify which technological innovations are best suited to creating value.
Research Areas
In Switzerland alone private wealth management employs more than 20,000 people, and is synonymous with Switzerland's historical approach offering financial services tailored to the needs of individuals and families. This distinctive practice is increasingly important as the distance between clients and their financial service providers widens with technological advances in delivering services. At the same time, technology can be used to develop new tools that focus on clients' well-being. In this respect, the Swiss experience provides a worthwhile setting as a landmark of a client-centric approach to finance.
The Taylor Institute is evaluating project concepts in the following areas:
Behavioral aspects of financial advisory: This area of research is an interdisciplinary blend of finance, behavioral psychology and communication sciences. We study how digital technologies and findings from psychology can be used to develop practical techniques tailored to client needs. Educating financial service providers to recognize tendencies that may interfere with a client's ability to achieve their financial objectives can improve decision-making skills and investment decisions among clients.
Finance and human well-being: "Sustainable banking" manages the social and environmental impact of banking. Our research is centered on developing a people-centric and ethical approach to personal finance. Topics include sustainable investment, community financial well-being, family financial health, supporting children's health through family financial capability, and empowering women as economic actors.
Financial technologies for private banking: "Fintech" is about using the technological platform to provide financial services and is currently a growing field of research. Generally Fintech is dedicated to applications for large institutions with little attention given to private banking. This leaves room for an unmet need for highly customized applications. Possible research topics will span from big data analytics to security, crowdfunding, robo-advisory and blockchain.