About Our University in Switzerland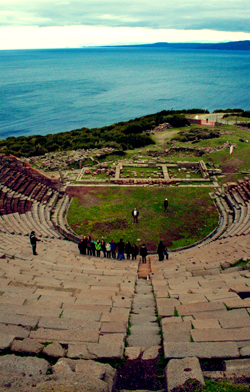 Where are you going to study today?
Franklin University Switzerland places extraordinary emphasis on cross-cultural perspectives and experiential learning, emphases designed to affect the direction and meaning of a student's life and career. A commitment to courses of study that are international in perspective and a dedication to facilitating direct contact with diverse cultural realities have been the cornerstones of our educational mission since our founding in 1969. We refer to our methodology as the international imperative in education.
Through our unique Academic Travel program, independent travel opportunities, international internship placement, and our commitment to maintaining a diverse student body that is currently composed of students from over 50 countries, students at FUS directly experience more cultural perspectives in their first year than most people experience in a lifetime. In this context, Franklin's innovative degree programs, accredited in both the United States and Switzerland, provide a strong academic base upon which our graduates build careers that take them beyond national boundaries.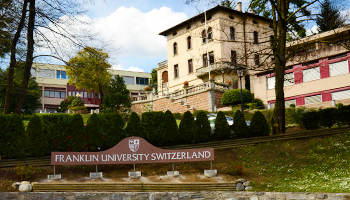 Visit Our Campus
Swiss Alps. Glacial lakes. Mediterranean climate. An Italian flavor. An international population. This is the city we call home: Lugano, Switzerland.
On the map, Lugano is the central point of departure for all of Europe and it is central to the experience of being a Franklin student.
Franklin University Switzerland is a twenty-minute walk from the heart of Lugano, where rail and airlines connect students with all of Europe.
Many Franklin students find that their educational experience is as much about what they experience from living in Europe with its diverse cities, cultures, languages and history, as it is the knowledge they gain in the classroom.
Visit FUS and see why so many students feel at home on our campus and in the Lugano community.
We welcome you, your friends and family to experience what it means to live and learn in our international environment.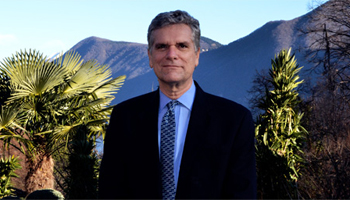 Message from the President
"Franklin is not your typical university. We are small, deliberately so, and our mission is closely connected to the traditions of liberal education.
Our small size, our liberal arts programs that link to professional pathways, our location in Switzerland, and our longstanding multicultural focus combine to create a singular student experience, one rich in curricular and co-curricular opportunities.
In our teaching we emphasize broad knowledge, critical thinking, engagement, social responsibility and commitment, combined with professional skills that prepare students to be responsible and compassionate leaders. We also connect to the rest of the world and to global issues through our unique Academic Travel program.
I like to say that we distinguish ourselves for being truly international: American design, international components, and last but not least, Made in Switzerland."
P. Gregory Warden, President