Franklin Students Explore Global Summer Research, Volunteer Opportunities
By Valorie Wallace, Class of 2014
From South Africa to Bangladesh, the Dominican Republic to Kenya, it was a summer for research, volunteering, teaching and exploring around the globe for many Franklin students. Through programs and partnerships such as the Franklin Green Leaves Fund and the School for Field Studies, our students were able to pursue their passions by applying classroom learning on the ground looking at a range of issues including economic development, climate change and sustainability. Here is a recap of five Franklin students' summer experiences...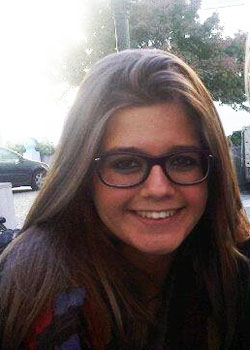 Montse Corbi, Class of 2015
Major in International Relations with Minors in Italian and French
Hometown: Barcelona, Spain
Montse traveled to the Dominican Republic to volunteer with the organization Fundación Vida y Esperanza, which works in the poorest areas of Santo Domingo.
The focus of the organization is to increase economic development and educate about health to high-risk populations, primarily children with disabilities and their families. By aiding in the organization's management and execution of particular programs, Montse experienced the struggle of the organization to effectively implement and provide health care and training programs for the community. She explained that even though paying for a doctor's visit at the cost of two euros can be difficult for many of the families, the people are always smiling and willing to offer anything they have.
After five weeks working with the organization in Santo Domingo, Montse reports that she learned to value her education and Lugano more than ever, knowing how lucky we are to have the facilities and location here at Franklin.
---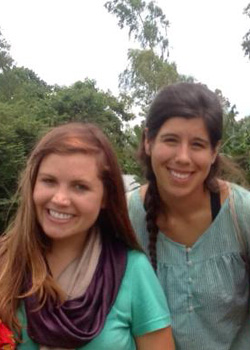 Jessie Donahue, Class of 2014
Major in Visual Communicative Arts with Minors in Psychology and Comparative Literature & Cultural Studies
Hometown: Carlsbad, California, USA
Mia Hammersley, Class of 2013
Major in Environmental Studies
Hometown: Tucson, Arizona, USA
Sponsored by Franklin University Switzerland's Green Leaves Fund, Jessie and Mia traveled to Bangladesh to study the environmental issues caused by climate change in what is considered the "ground zero" of the issue. They traveled alongside the Bangladesh Red Crescent Society working with high-risk communities, which include areas threatened by floods, cyclones, food source depletion, and drought, to analyze the emergency response systems and give feedback on improvements.
Jessie has been on numerous independent travels since coming to Franklin, and explained that students who came before her inspired her own spirit of adventure, including a trip to East Africa and hiking Mt. Kilimanjaro. She encourages all Franklinites to learn the importance of becoming "globally conscious" through their own travels, and to be sure to share their realizations with other students. Her words of wisdom are, "The places and things that I have seen and felt are innately part of me, and the amount of learning and gathering of life in its various energies has forever changed my views of existence."
To learn more about Jessie & Mia's experiences in Bangladesh, visit their blog.
---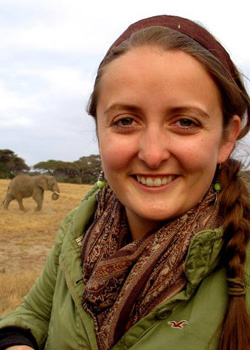 Ellie Leaning, Class of 2014
Major in Environmental Studies with Minors in Psychology, Political Science, and Comparative Literary & Cultural Studies
Hometown: Brewster, Massachusetts, USA
Ellie participated in the School for Field Studies (SFS) program for Public Health and Environment in Kenya, which aligns with her interests in sustainability and effectiveness of non-governmental health organizations (NGOs). This summer she studied the implications of closing a privately funded clinic on mothers and children especially. Ellie discovered the devastating effects of leaving the community without antiretroviral drugs, antenatal care, or water treatment supplies, which caused increases in HIV transmission and opportunistic diseases.
Ellie explained that her time at Franklin gave her an advantage in intercultural awareness over other students who were studying abroad for the first time. "Franklin taught me how to appreciate alternative ways of life. Different cultures are not shocking to me; instead they are fascinating," said Ellie. Her time in Kenya also helped solidify her passion for public health and emphasize the importance of effective change, which she hopes to continue exploring upon her return to Franklin in the spring. Ellie is currently in South Africa studying Community Health and Social Policy for the fall semester. She leaves her experience in Kenya with these guiding words, "Many of the Mamas I met left me with a quest, not to forget them and to help them. There is no doubt in my mind that I will never forget them, and now I am left with the task of trying to do some good in the world, and fulfill my obligations to these women."
To learn more about Ellie's experiences in Africa, visit her blog.
---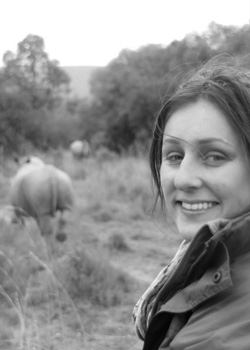 Amanda Levine, Class of 2016
Majors in Environmental Studies and International Relations
Hometown: Los Angeles, California, USA
In South Africa and Botswana, Amanda joined the Jenna Clifford/Young President's Organization (YPO) Rhino Internship Program to raise awareness and funds to help stop rhino poaching. Through a few dedicated individuals Amanda learned the details behind the phenomenon of rhino poaching that not many people outside of South Africa know about. She reported having an incredibly life changing experience by hearing the stories of the people who work day to day to solve the poaching epidemic without an obvious answer or immediate results. Working with the rhinos firsthand helped Amanda learn why they were so important to the community, as well as the complicated nature of the issue.
From her first year at Franklin, Amanda felt ready and able to embrace the new cultures and perspectives with intercultural competence. "Franklin helped me learn about how to interact with new cultures and the meaning of intercultural communication...I feel as if I have the ability to look at the situation from every perspective which is the only way to truly know about the situation," said Amanda. She explained that this trip has created vigor to work towards preserving the world's wildlife and supporting the field workers who are in Africa already. If you would like to join Amanda in her fight for the rhinos, she has started her own fundraising site. If you would like to read further on Amanda and her team's experience this summer you can read their blog.