Center for Sustainability Initiatives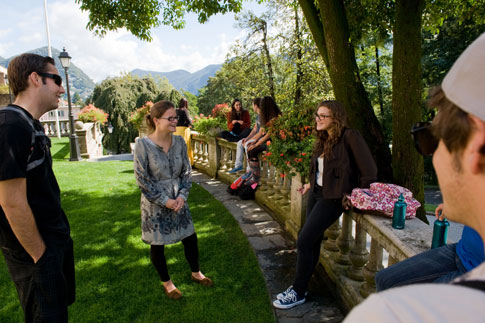 Our mission at the Center for Sustainability Initiatives (CSI) at Franklin University Switzerland is to promote sustainability through research, education, outreach and international collaboration. We recognize that sustainability transcends geographic, political, cultural and disciplinary boundaries. To this end, we take our international and multi-cultural campus community as a model to engage diverse stakeholders in our activities and initiatives.
NEWS at the CSI
In June 2012, Professors Brack Hale and Alison Vogelaar presented "The Space Between": The Problem of Natural Spaces and Invasive Species in a Global Era at the Association of Critical Heritage Studies Inaugural Conference in Gothenburg, Sweden. During their session, convened by fellow Franklin professor, Gabriel Gee, Hale and Vogelaar explored and unpacked the problem of natural spaces and invasive species in a global era.
Within the last year, CSI has been creating a Greenhouse Gas Inventory for Franklin, using the Clean Air-Cool Planet Campus Carbon Calculator.This tool was developed for colleges and universities and has been used by hundreds of schools. This inventory allows us to identify our major sources of greenhouse gas emissions so that we can take action to reduce them. It also allows us to compare ourselves with peer institutions.
On April 19, 2012 the Center for Sustainability Initiatives and fellow Franklinites will host the 4th Annual Earth Day Forum. Come and join them in the Auditorium as they present the results of various projects that have been examining issues of sustainability on campus and around the world.

On April 14, 2012, 15 Franklin students, in conjunction with Pro Natura Ticino, participated in the 6th Annual Volunteer Day at the Laghetto di Muzzano. Led by Professor Brack Hale and Pro Natura representative, Serena Wiederkehr, the students collected litter in the surroundings of the lake for recycling. They built on six years of work by continuing to weed out invasive plant species, such as bamboo, that disrupt the delicate ecosystem of the Laghetto. It was a fun and fulfilling day for all! Check out local video coverage of the clean-up, which features an interview with Professor Brack Hale (starting at minute 4:00): http://www.ticinonews.ch/articolovideo.aspx?id=259485&rubrica=80

On February 9, 2012, Sergio Savoia, Director of the European Alpine Program for the World Wildlife Fund (WWF), Bellinzona, Switzerland, presented "A Few Committed People," a lecture about the threats and opportunities facing our modern societies, suggesting how to be a part of that (not so) small group of committed citizens. For more information please see the Spring 2012 Lecture Series program.

Discussion on sustainability in collaboration with USI as part of the Fall 2010 Lecture Series
November 4 at 6:00pm in the Franklin University Switzerland auditorium. Sustainability is a topic on the minds of many people in today's society. But it means different things to different people. This forum seeks to explore some of these different approaches and what they contribute to the greater picture of sustainability for our world. The forum will be moderated by Armando Zanecchia, professor of international management and collaborator with the Center for Sustainability Initiatives at Franklin (CSI-F). Participants include three further members of CSI-F: Brack Hale, assistant professor of biology and environmental sciences; Josh Long, assistant professor of social sciences; Alison Vogelaar, assistant professor of communication and media studies; and Nicola Schoenenberger, associate consultant at Tulum LTD Caslano, and botanist at the Museum of Natural History of Lugano.

CSI at the 5th International GUNI Conference on Higher Education in Barcelona
November 23-25. Two proposals from the Center for Sustainability Initiatives at Franklin were accepted at the GUNI (Global University Network for Innovation) conference. UNESCO has considered the conference, which features best practices, as a follow-up event of the World Conference on Higher Education (Paris, 2009). Brack Hale, Alison Vogelaar, and Armando Zanecchia will be presenting the establishment and development of CSI and how it is organically embedded within the FC campus. Johanna Fassl and Caroline Wiedmer's contribution shows how Franklin has successfully incorporated topics of sustainability across the curriculum.

Find us on Facebook
Search for us under "Center for Sustainable Initiatives at Franklin University Switzerland" and stay informed about upcoming events and what is happening at the center. The CSI page on Facebook

AASHE
CSI is a member of the Association for the Advancement of Sustainability in Higher Education (AASHE)