Franklin Celebrates University Day
On Wednesday, April 2, 2014 Franklin officially kicked off its transition from Franklin College Switzerland to Franklin University Switzerland in a daylong celebration on campus. The day marked a huge turning point for the whole Franklin community and was packed full of events including an unveiling of the new seal, student research presentations, recognition ceremony and a community barbeque featuring live local music.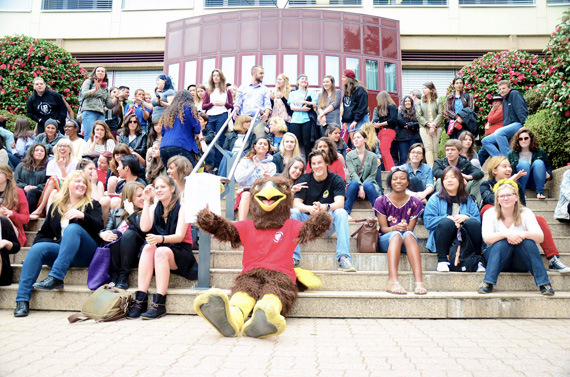 In the morning, the excitement rose when the Franklin University Switzerland Student Kick-Off began outside the Lowerre Academic Center. The launch featured the unveiling of the new University seal and a timeline that visually presented Franklin's history from 1969 to today. With remembrances shared by alumni, legacies and President Warden, the immense energy that filled the campus on University Day was incredible. Following the opening ceremony, students presented research during the Research and Resource Fair held in the Lowerre Academic Center. The fair included thesis presentations, internship presentations, Academic Travel projects, an art exhibition and student-directed research projects.
Wrapping up the extensive day the Student Leadership Recognition and University Ceremony took place in the Nielsen Auditorium. Recognizing student contributions across campus, this ceremony honored the many students that had gone above and beyond in various capacities throughout the academic year. The memories and stories continued with alumni speakers and the premiere of "We Are Franklin" video with stories and memories from Franklin legacies, alumni, students, faculty, staff and other members of the Franklin community. Franklin University Day concluded with a community barbeque at the Grotto with live music from The Haze, a local band featuring Professor Armando Zanecchia.
As President Warden remarked, "This is the Year of the University, so let us celebrate this amazing accomplishment, send off the first graduating class from Franklin University Switzerland (Class of 2014) and bask is the wonderful memories to come for the university."
Franklin will continue to celebrate its university status through a series of upcoming events including an Open House "Porte Aperte" for both the Franklin and local communities on April 12, 2014.
Visit us on Facebook to view photos from University Day.