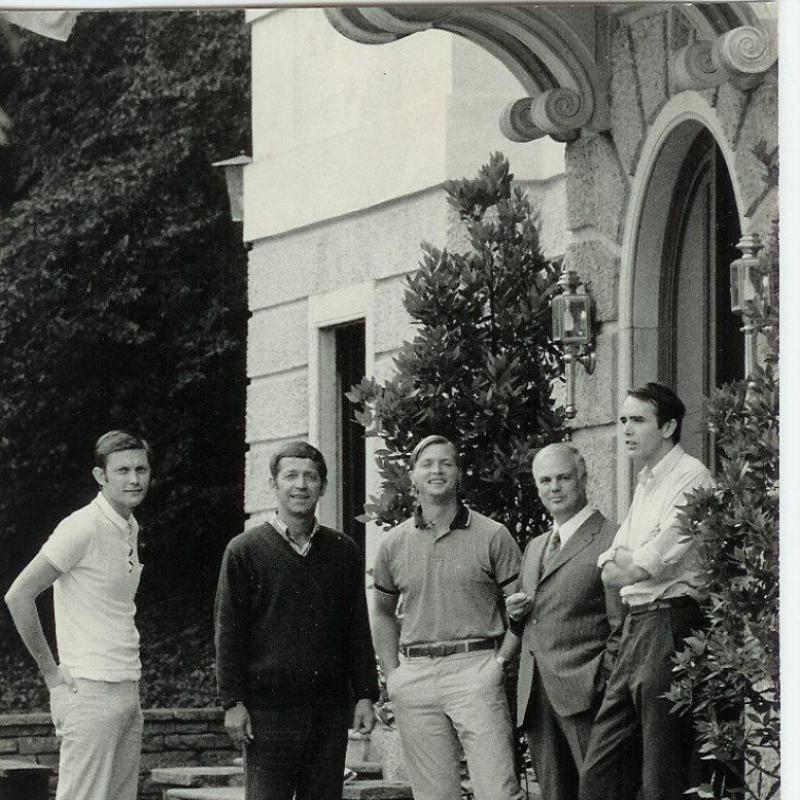 What an idea can become with a little determination
It was the end of the sixties, and Fleming College, a program of The American School in Switzerland, was closing its doors. Four of its faculty, Theo Brenner, Wilfried Geens, Pascal Tone and Jacques Villaret teamed up with the chair of Fleming's European board to found a new higher education institution named after Benjamin Franklin. They believed that by providing international experiences to students, Franklin College would strengthen the relationships between members of different nations and cultures.
Pascal Tone spent the summer of 1970 recruiting the first class in New York City while the others completed preparation of the first campus at Villa Cirla, an 18th century building in Lugano. That year, Franklin employed 10 faculty and offered 36 courses under 4 subjects: Study of Civilizations, Art, Politics and Economics, and Languages and Literature.
During the seventies, Franklin moved to Villa Ferrari and then to Villa Sassa, where it was first accredited as a two-year college by the Middle States Commission on Higher Education (MSCHE). In 1986 Franklin College Switzerland finally took residence in its permanent campus on Via Ponte Tresa in Sorengo. In that same year it was accredited as a four-year college by the MSCHE.
Becoming a university
The new millennium brought new growth, as the entire academic and administrative community sought to define a new future for Franklin. In 2005  Franklin's undergraduate programs received accreditation from the Swiss University Conference, and in 2006 the college expanded to a second campus formerly occupied by the Leonardo DaVinci school. In 2010, Franklin's first master's degree program was created, and the Taylor Institute for Global Enterprise Management founded. 2013 saw Franklin receive full institutional accreditation from the Swiss University Conference, making it recognized as a university institution within the Swiss university system and the only higher education institution in the world fully accredited in both the US and Switzerland. In 2014 Franklin renamed itself officially and became Franklin University Switzerland.
Since December 2021 Franklin University Switzerland had been accredited In Switzerland for 8 years as University Institute. This accreditation better reflects our nature as Liberal arts University and gives us freedom to craft our Academic offering.
From that beginning of four founders believing in their idea to create a new kind of higher education, Franklin now occupies 15 buildings, including 8 residence halls, and teaches students from over 60 countries majoring in any of 19 disciplines on two connected campuses. The fundamental values, however, have always remained the same: personalized learning through interactions both inside and outside of the classroom, true understanding of people and cultures through direct contact and guided travel, active engagement with the world as an imperative of global, liberal education.