Introduction
The Equity and Inclusion Task Force created in Fall 2020 by former President Warden has been reformed in Fall 2021 as a university-wide committee dedicated to supporting Diversity, Equity, and Inclusion institutional best practice in all areas and departments at Franklin, from Academic Affairs to Marketing and Enrollment to Student Life. The committee is comprised of committed students, alumni, faculty and staff. It is currently soliciting dynamic programming ideas and suggestions of any kind, to be submitted anonymously (using designated Kaletsch mailbox 55) or via e-mail.
DEI remains a top priority at Franklin but innovative structural improvements are necessary, says Professor Ferrari, Committee Co-Chair, "we shouldn't wait for challenges to escalate into a crisis before taking innovative measures for positive change on campus. Ongoing transparent discourse on DEI topics is key but actions speak louder than words and all of us in the community can do better when it comes to making our DEI efforts more meaningful and effective." Though a reporting mechanism for reporting bias incidents exists, community members facing DEI challenges may prefer to contact the committee for advice or to help facilitate. The main idea is to rally together as a united campus and ensure that diversity is valued as a precious, and sometimes fragile, resource that requires our full attention, care and support.
Purpose of the Committee
The Committee on Diversity, Equity, and Inclusion is a collaboration of diverse FUS community members comprised of students, alumni, faculty, and staff. We seek to foster ongoing community-wide dialogue, educational opportunities, and professional training to ensure that diversity, equity, and inclusion issues are better understood by all FUS constituents. The committee seeks to function as a platform for all community voices to be heard and amplified.
Some of the main goals of the committee are to:
improve general awareness in the community about diversity, equity, and inclusion
identify and address any problems at the institution, across all aspects of campus life, that obstruct equity and inclusion
facilitate the ongoing development of reporting mechanisms available to the community
provide a safe space and platforms dedicated to exploring bias-related issues on campus.
What the Committee does
At Franklin University Switzerland we take pride in our diverse student body, staff, and faculty. The Committee aims to shield our community from biases that interfere with our institution's educational mission. During our meetings, we aim to provide a platform for bias-related community concerns. Paths to remedy challenging situations are discussed, developed, proposed, and negotiated.
We aim to facilitate public conversations that bring increased attention to biases and prejudices that community members may have faced, safeguarding the privacy of all parties through confidentiality. We see the campus at Franklin University Switzerland as a microcosm of a global society. We believe in building meaningful conversations around matters of social justice, both locally and internationally. We celebrate the value of diversity and act to promote positive change at our university while striving for a safer and more just world.
INITIATIVES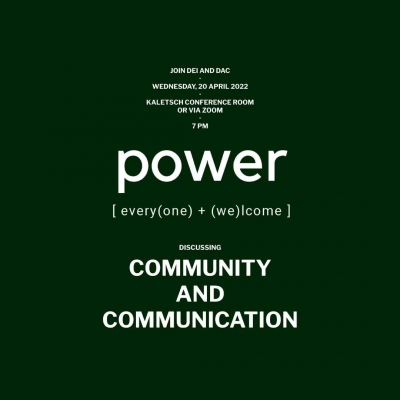 POWER | Community and Communication
On 20 April 2022 at 19:00 in the Kaletsch Conference Room, DEI and the Division of Arts and Cultures (DAC) will host the committee's fifth and final university-wide POWER dialogue event of the academic year.
The themes we will be focusing on are community and communication: two intersecting topics that have been flagged as requiring deeper exploration through open, university-wide exchange.
Feeling empowered to confidently speak up and speak out through civil discourse, with all community members, is a practice we at DEI continue to strongly support.
What purpose does the POWER dialogue series serve at our university?
DEI would like to recognize here how Franklin's Office of Student Life, in particular, has helped pave the way, for all university stakeholders, on how to turn words into action. The OSL been extremely responsive to taking on board concerns raised during dialogue events and has distinguished itself in campus leadership by providing concrete solutions and in communicating their solutions clearly through multiple channels. We want to recognize the specific efforts of the OSL at the start of our final dialogue event.

The dialogue forum encourages questions of all kinds as they relate to DEI innovation, the expression of concerns, recognition of achievements, gratitude for institutional improvements, constructive criticism, new ideas for how to move forward.

DEI wants to hear from you, the FUS community, all of you, about what makes our diverse learning community unique. We want to hear what changes you - as student, staff or faculty - would recommend for strengthening the Franklin community through innovative communication efforts.
POWER | Community
Please join the University-Wide Committee for Diversity, Equity, and Inclusion (DEI) and the Division of Arts and Cultures (DAC) for our next dialogue in the power series. We will be addressing community as it functions around Franklin's campus. The event is scheduled for next Wednesday, 26 January, at 5:00 pm.
Inspired by the discussions of power on and around campus during the last event, the topic of community emerged as a significant question warranting further dialogue.
As a university, communities - be they interpersonal, scholarly, or professional,- can be considered integral to the well-being of the broader community to which they belong.
What does community mean to you? What makes our community? How can we shape our community?
POWER
On 24 November at 5pm in the Kaletsch Conference Room students, faculty, and staff have been invited to participate in an open forum dialogue event on the theme of power. Participants have been asked to bring with them a short statement, question, a meaningful quotation or image related to the theme. The purpose of the dialogue was to encourage all FUS campus community members to join together in meaningful open discussions which can lead to positive change on our campus.
Gallery