We are Franklin.
No matter where we are in the world, we have one thing in common, Franklin has changed our lives. Franklin takes special pride in its global alumni network expanding throughout the world - there are about 7,000 alumni living in over 100 countries. We are global nomads, we are fearless, we are family.
The goal of our alumni programs is to create a strong and passionate Franklin community that supports the university and each other and who practice social and civic responsibility in their lives.
---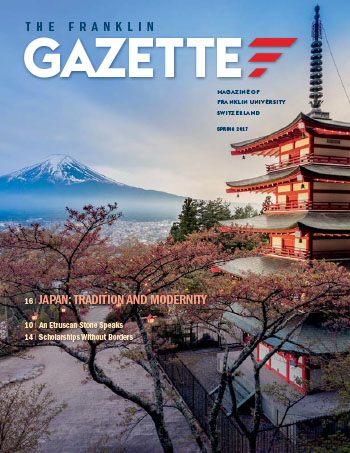 The Franklin Gazette
A magazine for alumni, parents and friends of Franklin University Switzerland.
Highlights of the Spring 2017 issue:
Japan: Tradition and Modernity
An Etruscan Stone Speaks
Scholarships Without Borders
On BREXIT
Alumni News and Updates
Alumni Spotlight: Troy Billett '16 Working as Director at OffGridBox
Class of 2016 Alumnus Troy Billett's passion for entrepreneurship was evident when he started his first company at age 17 in film production. Then, while at Franklin, he started his second company which helped small startups build teams and outsource software development. After graduating with a bachelor's degree in International Management, he was hired as a consultant for Techstars, where he again helped startup companies develop and scale their businesses. Now Troy works for OffGridBox – a modular and compact unit that provides renewable energy and clean water in remote areas and developing countries.
Alumni Spotlight: Milenka Lopez Arellano '17 Named Sumner's Foundation Scholar
Milenka Lopez Arellano '17, a Master of Public Administration student at the University of North Texas, has been selected as one of the five prestigious Sumner's Foundation Scholars, to serve as a faculty research assistant and receive a full-tuition scholarship.
2017 Alumnus Admitted to Master's Program at the Levy Economics Institute of Bard College
Andrew Bunker, class of 2017, double major in International Economics and International Banking and Finance, was recently accepted to the Levy Economics Institute MS Graduate Program in Economic Theory and Policy.
---