We are Franklin.
No matter where we are in the world, we have one thing in common, Franklin has changed our lives. Franklin takes special pride in its global alumni network expanding throughout the world - there are about 7,000 alumni living in over 100 countries. We are global nomads, we are fearless, we are family.
The goal of our alumni programs is to create a strong and passionate Franklin community that supports the university and each other and who practice social and civic responsibility in their lives.
---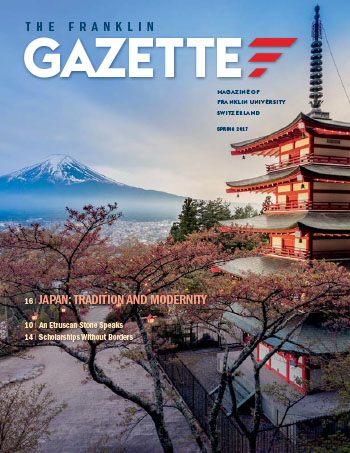 The Franklin Gazette
A magazine for alumni, parents and friends of Franklin University Switzerland.
Highlights of the Spring 2017 issue:
Japan: Tradition and Modernity
An Etruscan Stone Speaks
Scholarships Without Borders
On BREXIT
Alumni News and Updates
Alumni Spotlight: Juliana Demartini Brito '17 Wins Gates Cambridge Scholarship
Juliana Demartini Brito, class of 2017, was recently awarded the prestigious Gates Cambridge Scholarship covering the full cost of study at Cambridge University.
Suzzette Abbasciano '07: Learning Through Living
Thanks to Franklin, Suzzette Abbasciano '07 has become a successful analyst and investigator, as well as someone who understands the world. But it wasn't always that way. Born in New Mexico and raised in Arizona, for Suzzette college would be a way to see the world.
Alumni Spotlight: Christine Jurzenski '13
Originally from Lake Tahoe, California, Christine has been employed as Investment Associate at Avenir Capital in Sydney, Australia for the past four years.
---