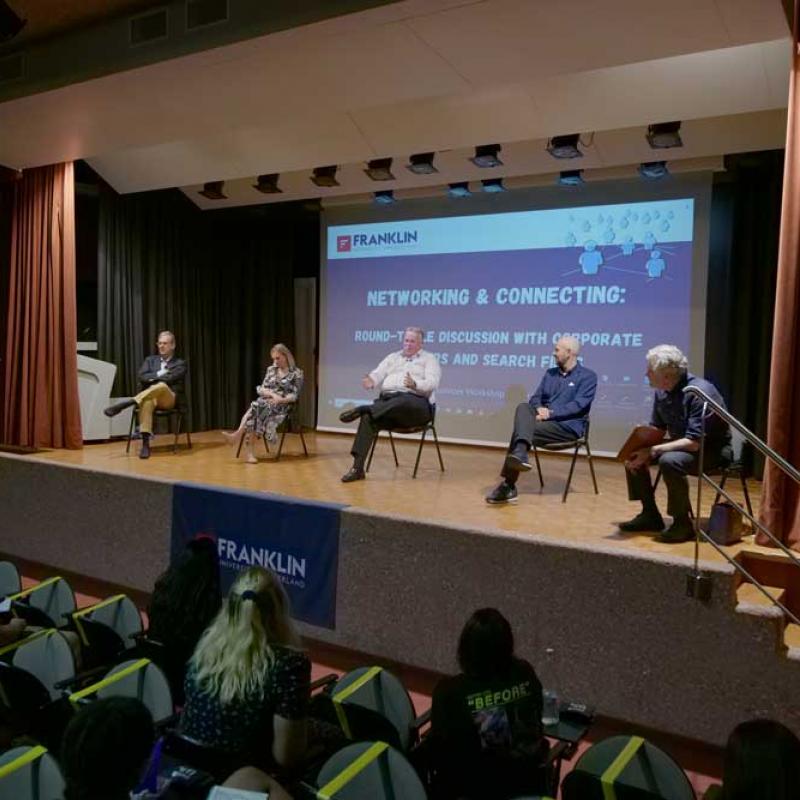 Franklin University Switzerland is the ideal location for conferences, events or multiple-day programs involving small or large groups that require high level meeting facilities. The residential nature of Franklin University Switzerland also offers the unique opportunity to combine meeting facilities with residence accommodations for guest speakers and participants if required, according to availability.
Present and share ideas, play music, or screen movies in our 200-seat Kaletsch Auditorium, discuss or host workshops in Franklin's more intimate Kaletsch Conference Room, or take advantage of state-of-the-art conference rooms and electronic classrooms on our North Campus – whatever your needs are, we will be happy to help you make your event a success. Our facilities also include thirteen classrooms for smaller group meetings, two dining halls and a number of areas available for receptions.
For more information contact us at +41 91 985 22 60 or email our Reception.
Kaletsch Campus
The Kaletsch Campus, also known as the main campus, overlooks Lake Lugano. It is an ideal place to accommodate conferences and events that require meeting facilities such as a large conference room, an auditorium with sound and lighting systems, and air-conditioned classrooms. Its spacious President's lawn is also the perfect location for an evening academic event or a post event reception.
North Campus
Just a five-minute walk from our main Kaletsch Campus and fifteen minutes from downtown Lugano, the North Campus is situated in a green area that overlooks Lake Lugano. Featuring a beautiful early twentieth-century villa, it is a perfect location for a small reception as part of your conference or event. The campus offers modern facilities, computer labs and a conference room with teleconferencing capabilities