PROJECTS AND INITIATIVES
FUS GO ACT: Academic Travel Carbon Trading
Academic Travel has historically been the university-funded activity that generates the largest amount of carbon emissions by the Franklin community each year.  The Franklin community can do something to mitigate the climate impact of Academic Travel. How? You can ACT!  
Academic Travel  
Carbon 
Trading 
ACT is a Green Office program aimed at reducing FUS-generated emissions by asking Academic Travel participants to calculate, reduce and offset their carbon footprint:   
Calculate: It starts with understanding your carbon footprint when you travel. With your help, the Green Office will be calculating every academic travel's carbon footprint this year. When you know your impact on the environment, you can make a commitment to reduce or offset that impact. 
Reduce: Commit to reducing the carbon footprint generated by your AT trip by identifying ways to travel more sustainably. To get your started, the Green Office is compiling a list of resources that we will make available to the FUS community. 
Offset: Dedicate a portion of your travel budget to a carbon credit thru the Green Office. The ACT carbon credits will be applied to a campus program that reduces or eliminates FUS-generated carbon emissions on-site. By participating in the ACT program, your trade will help to reduce the total amount of carbon emissions generated by the FUS community each year by supporting programs that reduce emissions generated by the FUS community elsewhere. 
This semester, the ACT initiative will focus on the replacement of heavily polluting landscaping equipment with sustainable electric powered equipment. Lawnmowers, leaf blowers, hedge trimmers and other landscaping equipment on our campus are currently powered with fossil fuels that greatly contribute to FUS-generated greenhouse gas emissions.  We also considered the following factors:
Gas powered equipment emits harmful air pollutants that are unhealthy for operators and those nearby to breathe. 
Electric powered equipment is more economical than equivalent gas powered equipment. 
The need to transport, store and use flammable gasoline is eliminated with electric powered equipment.
Gas powered landscaping equipment is noisy, often running at over 85 decibels which can damage hearing over time. 
Our goal, in time, is to help FUS reach carbon neutrality. Put simply: a shift to zero-emission landscaping equipment is a step towards reaching that goal, and is a relatively simple way to reducing our campus emissions, while improving local air quality, reducing noise pollution and saving costs over time. 
Campus Compost Program
The FUS GO Sustainable Garden program is building a campus composting program.  Here's what students need to know:
FUS Sustainable Garden - Updates
NORTH CAMPUS SUSTAINABLE GARDEN
Gardiner's Garden, the FUS Sustainable Garden located on North Campus, is happy to update that our winter carrots, radishes and potatoes are coming in nicely. We are havesting and sharing with the campus, so keep an eye out before they're all gone.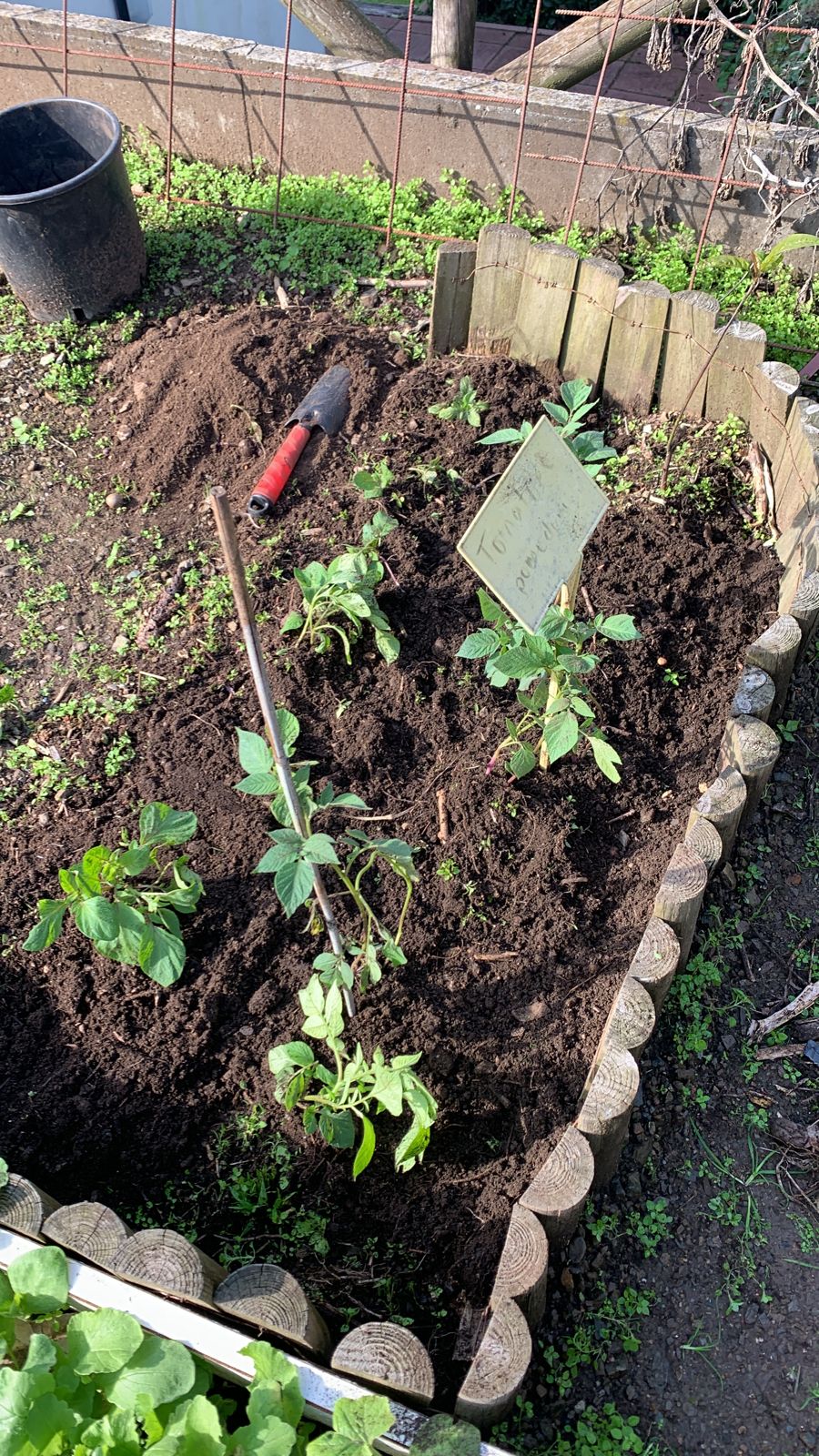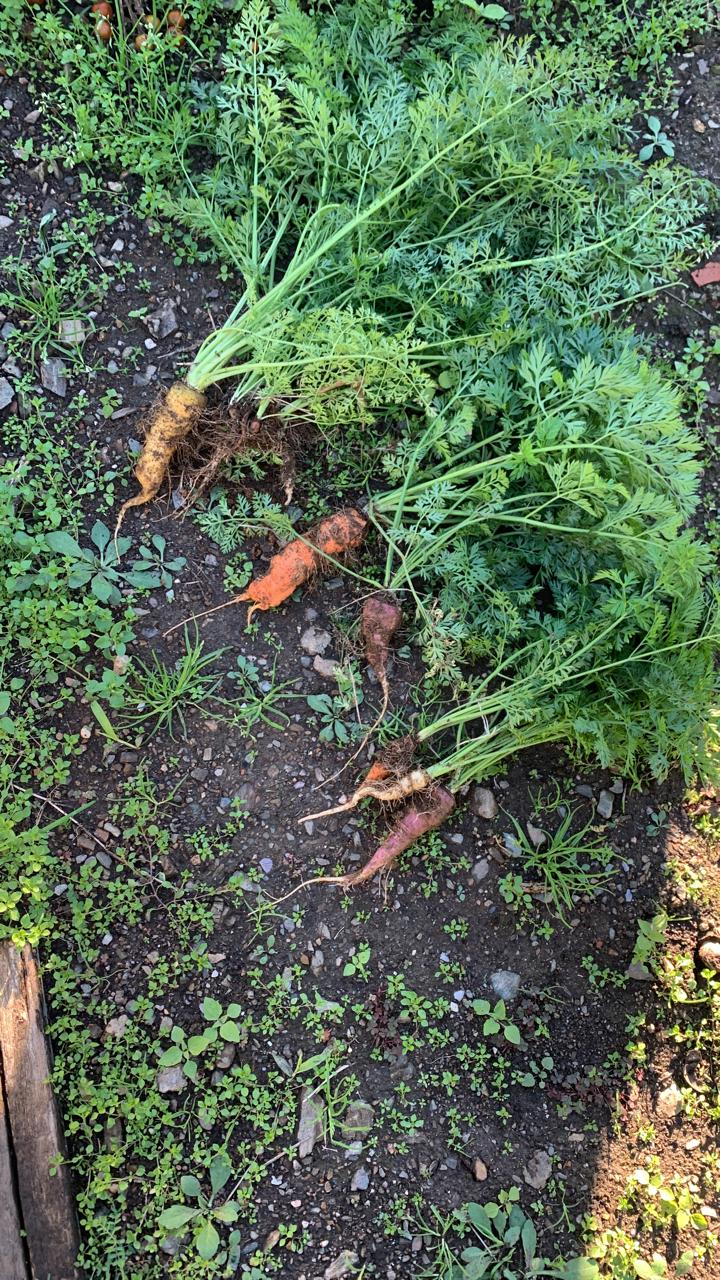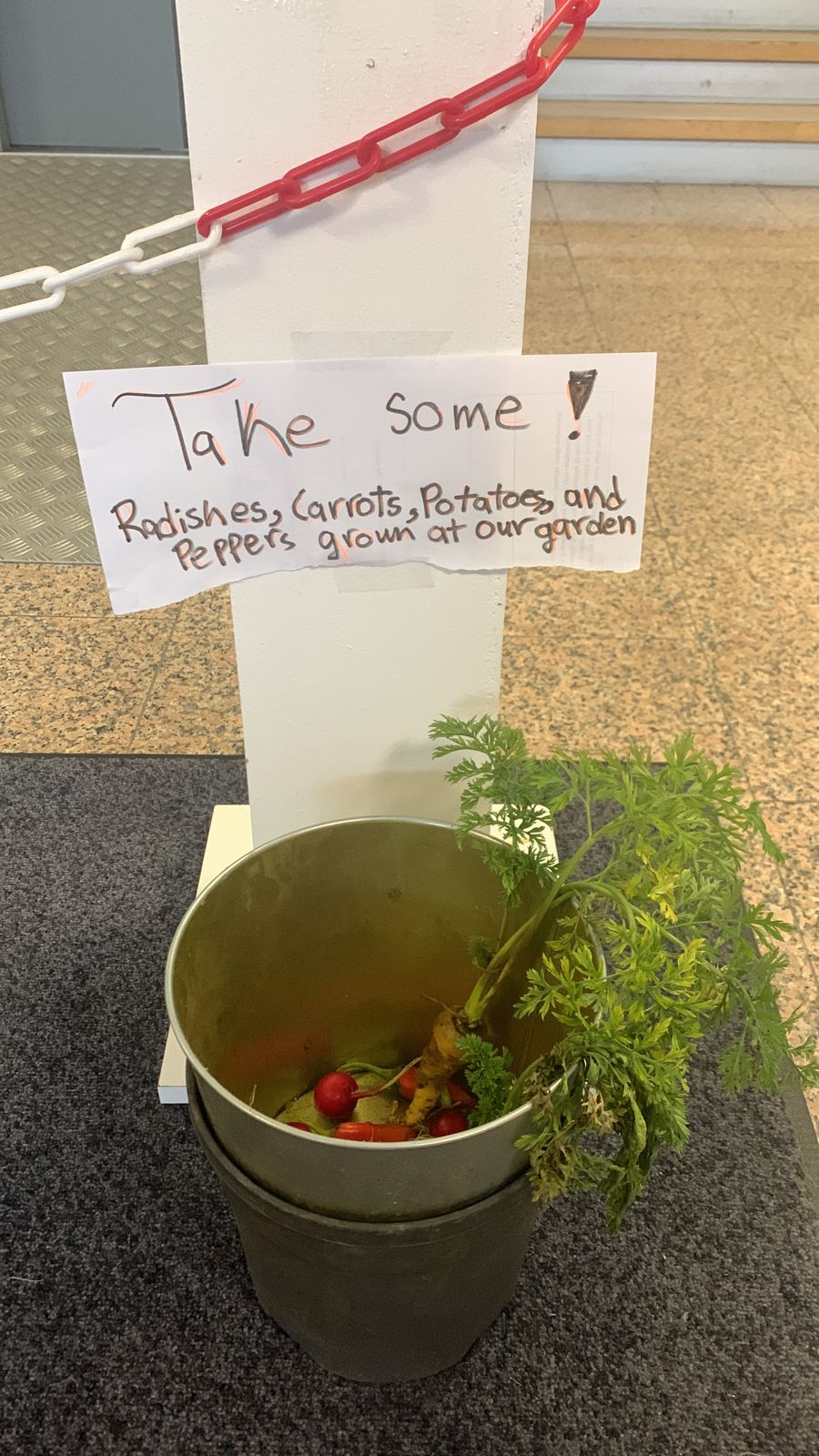 COMMUNITY GARDENING IN CHAMONIX
Members of the Green Office / Sustainable Garden team participated in a service project at a community garden in Chamonix, France during the Fall 2022 Academic Travel season with Professor Brack Hale, where they also had the opportunity to learn more about permaculture gardening.  Read more about it here (Reflections from a GO Sustainable Gardener).
Sustainability Tracking, Assessment & Rating System reporting
The FUS Green Office is working to update the university's "Sustainability Tracking, Assessment & Rating System" report (STARS).  STARS is a transparent, self-reporting framework developed by the Association for the Advancement of Sustainability in Higher Education for colleges and universities to measure their sustainability performance.  By updating our STARS report, we hope to help Franklin identify, develop and reach our sustainability goals.
Right Here, Right Now Education Coalition
Franklin University Switzerland is proud to be a partner in a newly formed worldwide education coalition in support of the Right Here, Right Now Global Climate Summit.
The Right Here, Right Now Global Climate Summit | University of Colorado Boulder brings together thought leaders, youth activists, and scientific, political, educational, cultural and industry experts from around the world for keynote addresses and panels exploring how climate change impacts fundamental rights, including the right to food, safe water, housing and health. 
The summit is hosted by United Nations Human Rights and the University of Colorado Boulder and will take place virtually and in person on the CU Boulder campus from December 1 - 4.  As a coalition member, the Franklin University Switzerland Green Office will hold a discussion and a live, virtual viewing of the panel "Understanding Climate Change as a Matter of Human Rights" on Friday, December 2, 2022 (6pm – 9pm) at the LAC Conference Room.
In addition, once recorded summit events become available, the Green Office will hold additional viewing sessions and discussions on the topics explored at the climate summit.
To raise awareness of these issues, CU Boulder has partnered with multiple educational organizations, including the Franklin University Switzerland Green Office. The Right Here, Right Now Education Coalition partners also include the Association of American Universities (AAU), American Council on Education (ACE), Association for the Advancement of Sustainability in Higher Education (AASHE), Association of Public & Land Grant Universities, Global Council for Science and the Environment, Second Nature, the International Sustainable Campus Network and the University Climate Change Coalition (UC3). Through this coalition, the summit is already connecting with thousands of educational institutions and related entities around the world.
"The summit organizers want to thank our amazing partners," said Heidi VanGenderen, CU Boulder's first chief sustainability officer and co-chair of the summit's steering committee. "To solve the world's climate crisis, young people from all nations need the chance to learn about how climate change is affecting their own communities. These organizations are helping to share those opportunities with the next generation of global leaders."

Earth Day Summit
The Green Office hosts an Earth Day Summit as a weekend conference showcasing multidisciplinary approaches to sustainability. By convening a diverse group of academic and community leaders, the Summit addresses the interconnectedness that explains why Sustainability is a Shared Goal.
The 2023 Earth Day Summit included faculty, students, and community advocates from Ticino and beyond. The weekend emphasized the unique connections we have to each other and our planet. Summit participants attended panels that deepened our understanding of sustainability; meals that explored sustainability themes; and interactive, engaging activities that built community while learning.  
The full agenda for the 2023 Earth Day Summit can be found here and the recordings of the following panel sessions are available below:
Events
The FUS GO organizes several Student Engagement events throughout the school year.  Events include:
August 2022: Sustainability Scavenger Hunt
September 2022: Gently Used Item Exchange
September 2022: Green Day Field Trip
October 2022: Sorengo Neighborhood Clean-up Day
November 2022: Ticino Sostenibile event visit
November 2022: Gently Used Item Exchange
December 2022: Right Here, Right Now watch session
Future events will be announced through the FUS GO app and here.
Academics
At Franklin University Switzerland, sustainability is a shared goal. As experts in their fields, Franklin faculty work to embed sustainability within course offerings and curriculum.  Some examples include:
Learn more about academic programs in sustainability at FUS:
The Social Justice and Sustainability major offered at FUS - Link
The FUS Master's Program in Responsible Management and Climate Action - Link