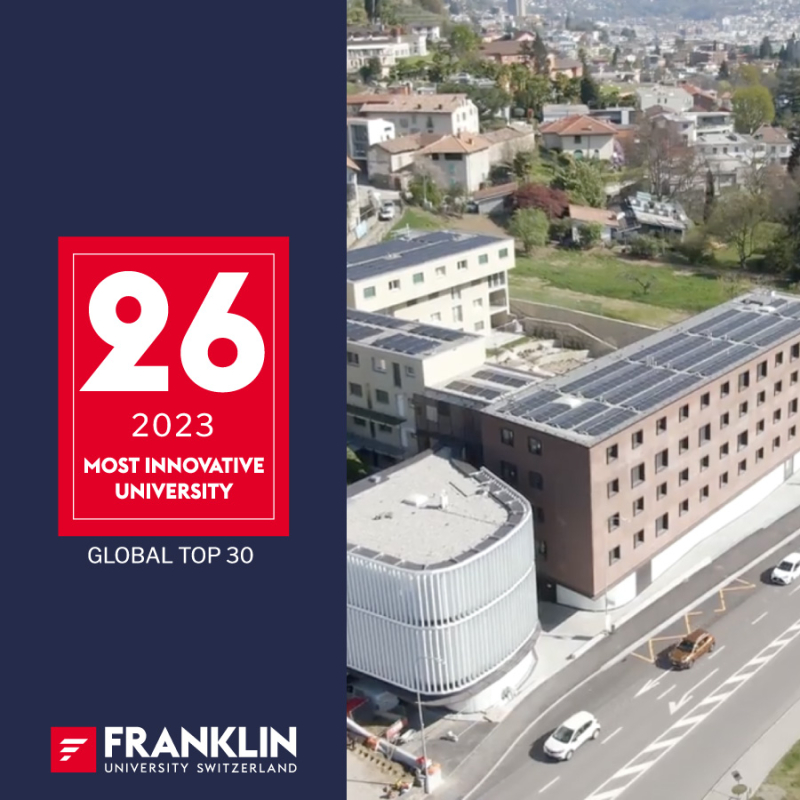 In the fourth edition of the innovative ranking system of World's Universities with Real Impact (WURI), Franklin University Switzerland placed 26th in the top 100 most innovative universities and fared well in several specialty rankings, including #3 in the top 50 for Ethical Value, #4 in the top 50 for Crisis Management, and #15 in the top 50 for Industrial Application. 
What is special about the WURI ranking for innovative universities is that it is designed to highlight universities' efforts in engaging with and improving the future, environment, and society through innovative contributions and creative approaches. It acknowledges the challenges of creating new roles and responsibilities in leading and catalyzing change and impact, toward economic prosperity and social harmony, especially during the latest global challenges of the emergence of COVID-19 and the spread of the industrial revolution. Lastly, it also wants to promote cross-learning and innovation among all universities.
2023 Ranking
| | |
| --- | --- |
| 26 | Global Top 100 Innovative Universities |
| 3 | Top 50 - Ethical Value |
| 4 | Top 50 - Crisis Management |
| 15 |  Top 50 - Industrial Application List |
What is WURI?
World's Universities with Real Impact (WURI) is a new ranking system established by the Organizing Committee of the Hanseatic League of Universities (HLU). WURI evaluates the university's real contributions to the society, highlighting creative and innovative approaches of universities' research and educational programs based on the below six categories:
Industrial Applications, rather than the traditional ways of counting research papers and lecture-type teaching;

Value-Creating startups and entrepreneurship, rather than a traditional focus on the number of jobs filled;

Social Responsibility, Ethics, and Integrity, rather than a focus on knowledge and skills just for material success;

Student Mobility and Openness for exchange and collaboration between schools and across national borders, rather than an independent yet closed system;

Crisis Management in the midst of climate change, COVID-19 pandemic, and other global and local crisis;

Progress during the Fourth Industrial Revolution through digital technology, artificial intelligence, big data, cloud services, blockchain, and so on.
Evaluation Criteria
There are six categories for evaluation: Industrial Application, Entrepreneurial Spirit, Ethical Value, Student Mobility and Openness, Crisis Management, and Fourth Industrial Revolution. Each of these six categories should be then evaluated based on the following three criteria.
Innovativeness: Evaluators assess the programs based on how innovative it is. This could be with the content of the program itself or with the process the institution has demonstrated in making their program more effective. The evaluators may consider one of these aspects or both.

Implementability: Apart from innovativeness, evaluators also examine its implementability or doability. This can be assessed by measuring the costs and benefits in initiating the program.

Impact: Evaluators should consider both the scope and intensity of the program. In terms of scope, it should be judged whether the impact is limited to only one department, for example, or whether it is wide across the entire university. Additionally, the impact of the program can have a varying degree of intensity which must be weighed up carefully.​
2022 Ranking
| | |
| --- | --- |
| 33 | Global Top 100 Innovative Universities |
| 2 | Top 50 - Ethical Value |
| 4 | Top 50 - Crisis Management |
| 17 |  Top 50 - Industrial Application List |
2021 Ranking
| | |
| --- | --- |
| 41 | Global Top 100 Innovative Universities |
| 4 | Top 50 - Crisis Management |
| 5 | Top 50 - Ethical Value |
| 22 |  Top 50 - Industrial Application List |
2020 Ranking
| | |
| --- | --- |
| 56 | Global Top 100 Innovative Universities |
| 9 | Top 50 - Ethical Value |
| 28 |  Top 50 - Industrial Application List |