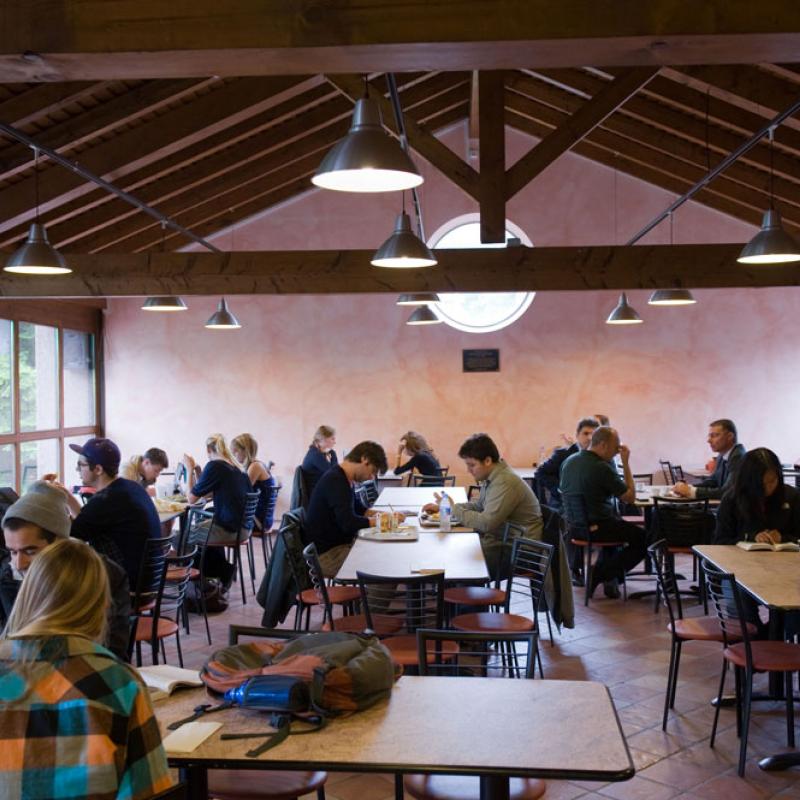 Where We Eat
In addition to eating at the dining halls, students have many options in Lugano and nearby in Italy. In Sorengo, there are many places to stop for a meal. Across the street from main campus there is the take-away pizza place and bakery Mc Joe City, where students can buy baked goods or order a fresh pizza. Just further down the street there is That's Amore Cappuccio's, a local convenience store with a deli counter where students can order fresh Italian style paninis. Near Residence Giardino, there is the Irish Pub Sorengo, where students can go grab an American style burger, burritos, and typical pub food at student friendly prices. Below Residence Giardino itself, there is the Ristorante Giardino, which serves a wide variety of pizza, pasta, meats, and traditional Swiss dishes, in addition to providing options for vegans and vegetarians. In nearby Ponte Tresa, Italy, there are many options to enjoy traditional Italian food and other exciting options.
In Lugano, there are countless restaurants, cafes, and take-away style restaurants. While the majority of restaurants are inspired by typical Italian or Swiss cuisine, other cuisine options include but are not limited to: Thai, Japanese, Mexican, Spanish, Chinese, Korean, Irish, Turkish, and U.S. American.
Where to Shop for Groceries
In Switzerland, there are a few main grocery chains. In Lugano, these include Denner, Migros, Manor, Coop, and Aldi. All of these stores offer a wide variety of regional and global food options.