Plans for future in-person alumni events at Franklin are currently on hold. In mid-February, we will make an announcement regarding the Global Alumni Reunion which was originally postponed to May 21-23, 2021. Registration is currently on hold until that decision is announced.
To learn about the university's response to COVID-19 and how we are trying to reduce the risk to our community and to the region, please visit the Franklin COVID-19 Pandemic Protection Plan website.
We appreciate your flexibility and understanding. If you have questions or concerns, please contact the Office of Advancement at This email address is being protected from spambots. You need JavaScript enabled to view it..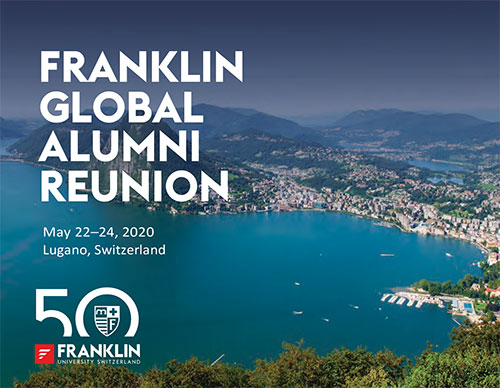 Celebrate 50+ years of Franklin with fellow alumni and friends at the Global Alumni Reunion in Lugano! The weekend will include a variety of events such as faculty lectures, excursions in Ticino, a cocktail cruise on Lake Lugano, and a very special 50th Anniversary Gala. See who else is coming!.
Schedule of Events
Accommodations
Questions? Email This email address is being protected from spambots. You need JavaScript enabled to view it.