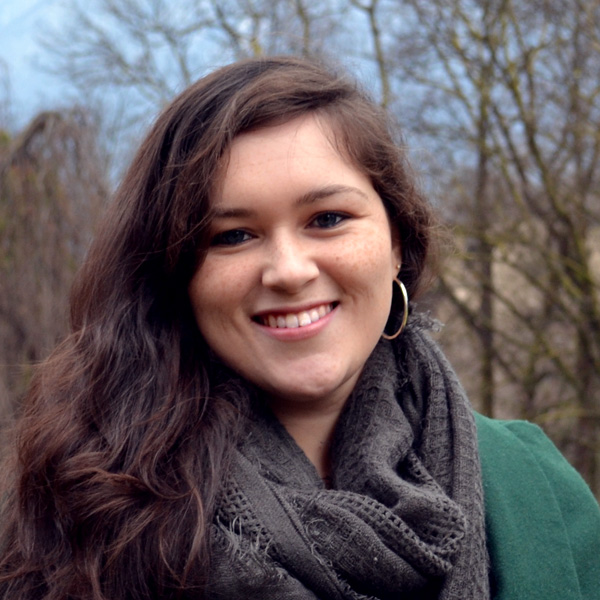 Hometown: San Jose, California, USA
Nationality: American
Previous Institution: Notre Dame San Jose High School
Majors/Minors: Communication and Media Studies with a minor in Psychology and Marketing
Class of: 2016
Which universities and/or schools have you attended in the past?
Notre Dame San Jose High School and San Jose State University (summer).
What is your international background?
United States citizenship, with German, Polish, and Czech roots.
How did you hear about Franklin University Switzerland and why have you chosen to study here?
I heard about Franklin at a college fair in my hometown. I hit it off with the admissions counselor and became more interested in the school. I finally decided that I couldn't pass up on the opportunity to go abroad.
What is your major and why have you chosen this field of study? Is there a particular subject within this field that you find especially fascinating?
I am a Communications and Media Studies major because I love talking to people, and I love also having a background in Psychology and Marketing. It gives me a little more insight into how our brains work. I love media studies because it is highly relevant to our everyday life and it changes so quickly. My favorite class at Franklin was Abnormal Psychology with Professor Crandel. The human brain and its behaviors are so fascinating.
Why do you think a student who is interested in your major might want to choose Franklin University Switzerland?
I think someone interested in Communications and Media Studies would love Franklin because communication is so important in our global world. There isn't a better place to be exposed to so many cultures all at once, and we all learn together.
Which special features/differences do you see in your classes in comparison with other institutions (schools or universities) where you may have studied previously?
There are more perspectives at Franklin, and the teachers are worldly and experienced. I have teachers from Italy, France, U.S., Guatemala, Ireland and so many more. There is no other school that offers Academic Travel; 10 days with a professor and a group of your peers traveling around the world.
What has been your favorite Academic Travel course, and why?
Art, Politics & Landscape: Ireland and Northern Ireland with Professor Gee. It was my favorite because there were great people, an inspiring professor and it's a beautiful place to enjoy for 10 days. We went to castles, art museums, government buildings, historical jails, and the Guinness Storehouse. It was a mix of everything that came together so harmoniously.
What are your general or specific career goals? How do you think studying at Franklin will help you achieve these goals?
I am still deciding on a path to choose, but as of now, I am looking into a career with a communications and marketing aspect somewhere in a company. I hope to have a job that allows me to continue traveling and meeting new people because that is a passion of mine. Franklin has helped me move forward to achieve these goals because it has given me great global perspectives. I have taken classes that are applicable to future careers, and the university has provided me with useful skills for life in general.
What do you like best about the campus or university?
The location. We are in such a beautiful part of the world, and it is centrally located in Europe for easy travel.
What are your first impressions of the university?
The fact that villas were part of the campus facilities, the largeness of my dorm room, and the hills did it for me.
What are you passionate about beyond university extracurricular activities?
I love performing arts, watching or partaking. Dancing, singing and theatre are favorite outlets for my creative expression. I am also a large supporter of the new beauty ideal movement happening in this new generation, on the Internet, in magazines, on TV, and even in fashion. I hope to aid in their efforts for giving people confidence in themselves.
What do you do for relaxation/recreation?
I love to swim in the lido during the summer, dance, cook and write poetry.
Which clubs or activities are you involved in on campus and why those?
I am the President of the Franklin Dance Club and the President of Free the Slaves: Franklin University Chapter. I chose to represent both of these clubs because I am very passionate about providing the student body with a creative outlet and giving students the power to create change through spreading awareness.
What tips would you give to someone coming to Franklin University Switzerland from your home region?
There are a lot of Bay Area natives at Franklin, so it's nice to have people from home. However, they should be warned that there are hills and humidity. We are not used to walking everywhere (thank God for buses), and our weather is dry. They should also be prepared for rain with a rain jacket, rain boots, and umbrella (even in August).
Is there any fun fact you wish you knew before you came to Franklin University Switzerland?
I wish I knew that there were four national languages and three official languages in Switzerland. You speak German, French, Italian, or Rumantsch depending on which region you live in.
What surprised you most about Franklin?
The people at Franklin surprised me the most, mainly the people that work for the school. The faculty and staff care so much about the students that it really makes getting an education here worth it. It is nice to know that even though you are so far from home, there are teachers and staff that are willing to take on the role of a concerned parent if the need arises. They were students once and they understand the stress we are currently going through.
Tell us about an important lesson or an epiphany you have had during your time here.
I will never ever stop traveling. The world seems smaller because I know people from all parts of the world, but now I have so many more places to go.
Describe your typical day here at Franklin.
Wake up, get dressed, walk outside, look at the view, feel blessed that I live here and go to class.
Is there anything else you want to tell us?
Coming to Franklin was one of the hardest decisions I have had to make. But if I was given the option to choose again, I would choose this experience again and again. Ultimately, it was also the BEST decision I have made.