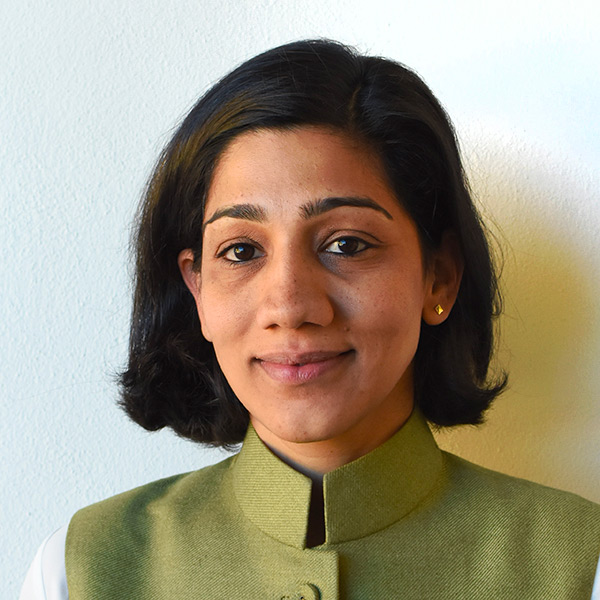 Rakhi Mehra
Adjunct Professor, Master of Science in International Management
M.B.A Harvard Business School, Boston, U.S.A
M.A Philosophy, Politics, Economics, University of Oxford, UK
B.A Economics, University of Delhi, St. Stephen's College, India
Profile:
Rakhi Mehra is a social entrepreneur passionate about social innovation, financial inclusion and facilitating multi-stakeholder collaboration. Her interest spans the non-profit, for profit and academic sector.
She co-founded mHS CITY LAB as an interdisciplinary social enterprise to foster inclusive cities. mHS has launched a series of digital tools to address low income housing challenges in India.
The Clinton Global Initiative recognized the innovations with a complementary membership. MHS successfully received grant funding from Ford Foundation & Michael and Susan Dell Foundation and seed-grant from Facebook.org Competition, as well as hosting student projects at Yale School of Management and development of a case study with Oxford Said Business School, Skoll Case Competition
Rakhi has extensively consulted with the World Bank on housing finance and private sector development projects for government clients. She has collaborated and worked with Instituto di Empresa(IE), Madrid, University of Bocconi (Milan), CARE International, Rabo bank, Grameen Bank and Jeffery Sach's Office at Earth Institute, Columbia University. 
Born in Delhi, India, Rakhi has worked and lived in Philippines, the Netherlands, U.S.A and U.K. Her current base is in Varese (Italy) with her husband, Marco Ferrario and their two children Nora and Neal.
Publications:
2016 Educating Social Entrepreneurs, workbook published by University of Albany, Chapter on "Mapping Stakeholders and Developing Communication Strategies" (forthcoming) (with Professor Rachida Justo)
2016 KiliSun: Protecting Beyond the Sun for Persons with Albinism, accepted for publication in Emerald Emerging Markets Journal (with Professor Rachida Justo). Prepared case study and teaching note on an African social enterprise:
2014 Brick by Brick, Universitas Forum, Innovative Practices in Urban Development, University of Winnipeg, Canada (Case study and 10 minute video commissioned) (with Mukta Naik, Greg Randolph and Marco Ferrario)
2013 Traditional Livelihoods and Community-Centered Urban Development Context: Cultural and Livelihoods, Pages 85-90 (with Naik Mukta, Randolph Greg)
2012 Enabling Self-Construction: Safe and Affordable Housing in India, micro Home Solutions (with Marco Ferrario, Naik Mukta, Van Noppen Aden)
Research Interests:
Mehra's research areas include sustainable development, entrepreneurship, social innovation, private sector development, financial inclusion and stakeholder engagement.
Awards & Honors:
Harvard Business School, Social Entrepreneurship Award
Rhodes Scholarship, India 2001
Presentations: