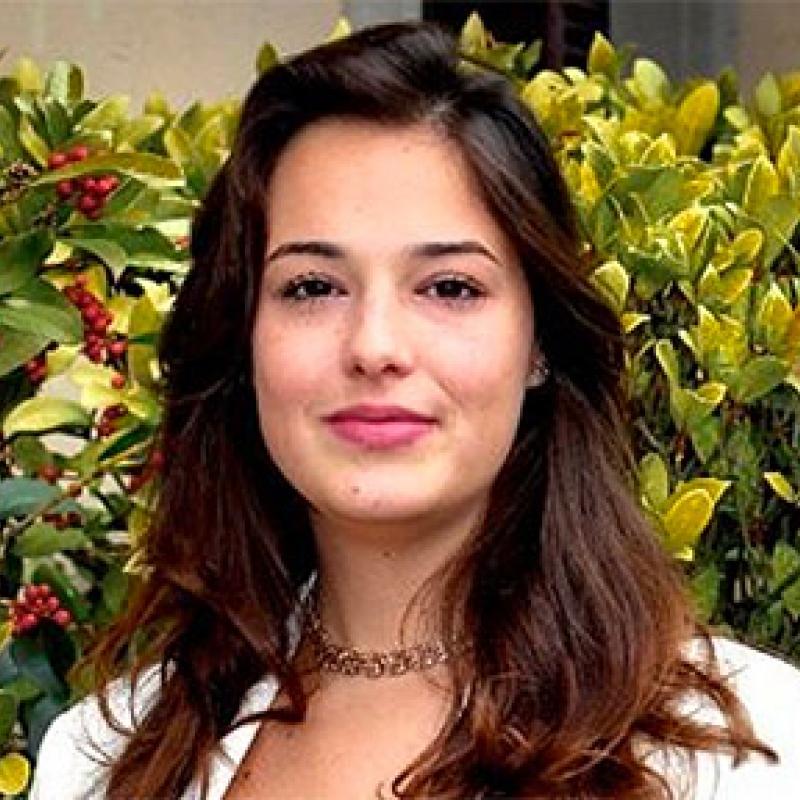 After graduating from Franklin in 2017 with a degree in International Relations, Olivia spent some time traveling while she applied for jobs in Europe. Like most Frankliners, Olivia has a cosmopolitan background and a bit of a "love-hate relationship" with her native Brazil. She spent 12 years living in Venezuela and another 4 years at Franklin, which is why, when she had to abruptly go home due to visa issues, she had "a difficult moment of transition after all of the experiences, travels, and adventures at Franklin."
While adapting to her new environment, she started working as an enrollment advisor for Hult International Business School in São Paulo. "I worked a lot with high school students, and it was actually really fun because I had spent years living abroad. It was really easy to recruit people because I was just selling them what I had lived. At the end of the day, it was more a sharing of experiences than a job."
Despite consistently being one of Hult's top South American enrollment advisors, Olivia soon decided that it was time for something new and, looking for a fresh challenge, she applied to one of the Big Three consulting firms, making it all the way through their infamous testing process before being eliminated in the final round. But what originally started as a disappointment soon turned into a golden opportunity. Impressed by her performance, the recruiters referred her to the market analytics department of Walmart Brazil. 
Hard Work, Raw Skill, and a Little Bit of Luck
Olivia was thrown into the deep end of an intense program where, as she described, "success meant being able to work above your pay grade." There was a steep learning curve. "I had no idea how to use Excel; I had no idea what retail was, let alone food retail. It's a huge industry. There are so many categories and you have to know all the specific terminology; you really have to understand how people think."
But 6 months into the program, Walmart Brazil, now known as Grupo Big, was purchased by a private equity firm who had big plans to completely restructure the struggling company to better align with Brazilian consumers. "When the leadership changed and a fresh boss came in, I suddenly had the chance to be part of a project that was central to the new strategy."
Suddenly, Olivia had visibility within a company trying to drastically change its own culture, and there were huge opportunities for an ambitious, results-driven person with the right skills and attitude. So, when her new bossed asked her if she really thought she was capable of leading and training up a newly created team, Olivia responded, "you'll never know unless you give me the chance."
It's safe to say that things were a resounding success. She was given a new team and tasked with structuring strategies and analysis to support the business unit's negotiators. She was also responsible for training the team members. From her first group of 7, all were moved to new positions around the company within 6 months. "It makes me really happy to see them grow and develop," she laughed proudly, already looking forward to the next team of 10 she had just selected and hired.
Getting Ahead
In her new position, Olivia has jumped far ahead of her peers, noting that most people with her amount of experience don't have nearly the same level of responsibility in their companies. "I'm the youngest person in the room, most of the time, and also one of the only women. Even though I'm a manager, I am a lot younger than the others. I also have a lot less experience; some of my people have a decade or more of experience at Big or within the industry. Sometimes I do feel overwhelmed because I have to deal with things I haven't gone through, but I usually have the self-reflection to notice this and recognize, even if I'm frustrated, that it's ok, I learned this time and now I will know how to do it next time. It's very important to know that no one teaches you how to act, think, feel, or what to expect in everyday situations. It's a constant learning process, and sometimes I have to recognize that I'm wrong."
However, her age and experience level are also two of her greatest assets. "Since I am younger I feel that I constantly need to prove my work – and I have the sense that now is the time to give it my all, that I have nothing to lose. I also bring a fresh look and I question things. I always say, 'but why do you do it this way? Why haven't we done it this other way'? In that sense, being younger and not from retail helps a lot in terms of the creativity that they're asking for."
The takeaway here is that just over 2 years after graduating, Olivia is a project manager, training and overseeing a 10 person team all of whom are older and more experienced. She is doing vital market research and analytics at the corporate level of one of Brazil's largest retailers and all of this with a BA degree in International Relations and without having any retail experience at the start.
Learning Proactiveness and Communication
A key part of her success is proactiveness, which she credits her Franklin experience for teaching her. "Since you move far away from home, even to another continent, you're there alone, expected to do all your coursework while figuring out how to live and take care of yourself. You also want to spend time with your friends, go travel, etc. That situation teaches you to be proactive, responsible, and independent because if you don't have that balance in your life you won't get anywhere; you are entirely responsible for yourself. In my current job, that's basically what I've seen, and it's a reason why I have been successful. I have been given autonomy and flexibility because I believe I've shown that I can be independent and responsible and proactive."
That's not only an incredible testament to her abilities, ambition, and work ethic, but also to her adaptability, another skill she honed with the education and experiences at Franklin.
"Franklin makes you think outside the box," she said, "there's no other way to put it." That's a vital skill in retail. "It's a really fun industry, but you either know or you don't. It's demanding because you have to pay attention, read the numbers, plan; but suddenly you have to change because things move so fast and you have to be ok with change."
She also credits Franklin's diverse mix of cultures for helping to develop a particular skill that's critical in her current position— communication. "My current job involves solving problems and convincing people. At Franklin, you meet so many new people who think differently from you and you can't just say 'Oh I'm right and they're wrong. No. You have to genuinely understand their point-of-view, then you can begin to think about a compromise, or you can think about how to convince them of your argument, or you can try to integrate their view into yours. These skills—the empathy, the comprehension of other world views and arguments, the ability to listen, discuss, integrate, argue— I learned at Franklin. It's hard, but when I do my job well and get the right people on board, I can actually look at the results and say, 'I was a part of making this happen.' It makes me really proud!"
Thinking back over the first few months after graduation, she noted that, "things were difficult at first. I went into it all blindly because I said to myself, 'I want a job, I don't want to sit at home unhappy, I don't want to be unstimulated.' But now, two years later I love this industry and I still don't think I have given everything. There is constantly more to do, more to add, more to learn. I think that's such an important feeling to have in your work; if you ever feel like you aren't adding anything, or if your job isn't adding to your life, then maybe it's time for a change."
When asked about her future plans, Olivia replied, "Actually, I see a future here in Brazil. I have a great group of friends, I'm dating someone, and I love my job! But I would like to live abroad again at some point, and I am interested in a second degree, maybe an MBA. I'm definitely not done with the world."
Words of Advice
Before signing off, I asked her if there was anything specific that she wanted to tell prospective students and families about her Franklin experience. "This is very cliché, but Franklin changed my life. I do think that I left it a better person. I'm aware of cultures and social problems, I know how to travel by myself. But the transformation doesn't stop there with the practical things you learn. Ultimately, Franklin made me feel comfortable with change, with development, with transformation, and with uncomfortable situations. I think that's the most important lesson you can learn for the rest of your life because you'll be going out there and if you're not courageous or if you don't feel comfortable in uncomfortable situations, then you're never going to take risks or give new things a try – like I did in Brazil. At Franklin, you learn how to be an adult, how to deal with problems and be flexible, proactive and independent. And I think that's the greatest thing a University can teach you."