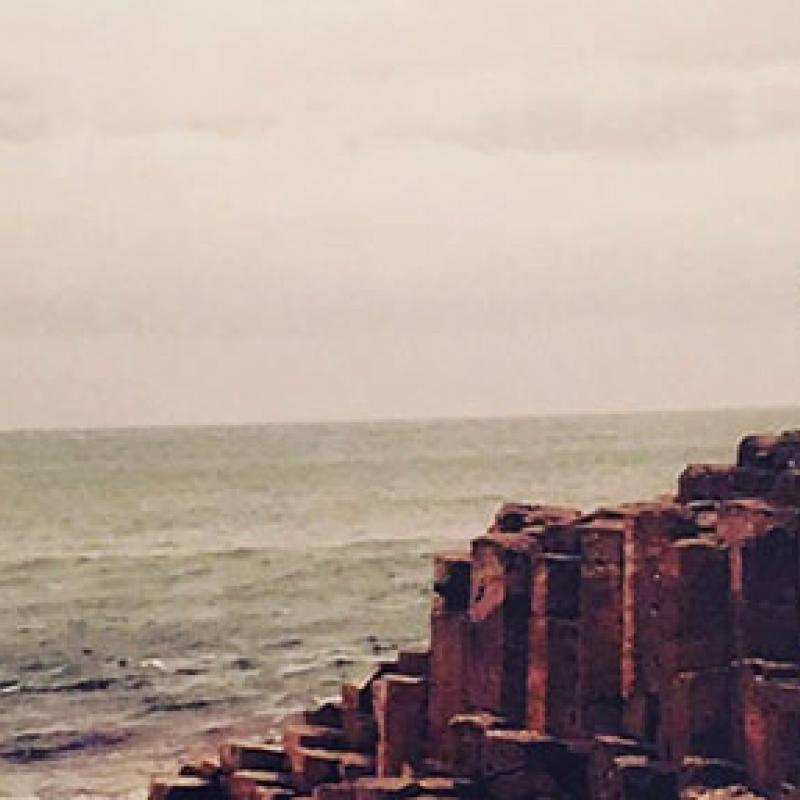 Those who attend Franklin face a variety of unique situations, but one less talked about aspect of FUS life is how Franklin's unique location in Switzerland, and its highly international student body, affects interpersonal relationships between students. The different nationalities, cultures, and languages, and the fact that everyone flies home to a different place between each semester, means that Franklin friendships, platonic or romantic, have a special, enduring quality to them because they have to overcome the added pressures of distance, timezones, and culture.
One particularly special Franklin couple are the unstoppable duo that is Matthew Farley (SMU '17) and Hanna Wiedenhoefer '17. These are two rays of sunshine who made a lasting impact on those around them during their time on campus, even just a semester in the case of Matt. The two of them continue to be an inspirational example of a young, successful couple— both are creative go-getters and entrepreneurs who take new challenges and opportunities in stride, and support each other through it all. But when they first met at Franklin back in 2015, neither of them could have imagined how far they would go. Matt, an SMU study abroad to Franklin and a natural born story teller if there ever was one, says it best.
"I attended Franklin for the fall semester of 2015. It was my first semester of junior year and the only semester I'd be away from Southern Methodist University (SMU) in Dallas, TX. I knew I wanted to study abroad and the program at Franklin fit extremely well into my required courses. I actually planned on majoring in Finance, but I ended up changing my major at SMU after being totally captivated by my 'Intro to Marketing' class with Prof. Miniero. Hanna Wiedenhofer and I had one class together, which happened to be our travel class: 'Arts, Politics, and Landscapes of Ireland' with Professor Gee. We spent the first half of the semester as friendly acquaintances. When it came time to head to Ireland for two weeks, we ended up sitting next to each other on the plane ride there. It was an early morning flight, so we didn't talk much. But we clinked our Swiss Air chocolates as if they were champagne glasses as a toast to the trip ahead. Once in Dublin, we started spending more time together. The combination of chilly weather, Irish whiskey, and a beautiful old city set the stage for us to get to know each other. By the time we were onto Derry, we knew something special was going on. We continued to grow closer and by the time we were heading back to Lugano, we were in love."
But as Matt's semester abroad was coming to an end and the time for him to return to SMU approached, he and Hanna faced a dilemma familiar to every generation of Franklin couples. He says, "We spent some of the remaining semester counting the reasons why a trans-Atlantic relationship would be a disaster… and then we decided none of these reasons were worth ignoring the way we felt about each other." Two continents apart, Matt and Hanna made the difficult decision to make it work for the next year and a half, seeing each other just once a semester for their last 3 semesters. They agreed that, "The thing that made long distance bearable was always working towards that next time we'd see each other."
Making it work took sacrifice, but ultimately it was worth it and there were even some small upsides. As Hanna describes, "The long distance relationship actually affected my academics in a positive way. Since we were always working towards making a trip happen, it changed the way I treated weekends and travel opportunities. I sacrificed my normal travel schedule so that we could see each other and really enjoy it." 
As graduation approached for both of them, they explored opportunities across the US, but ultimately decided on Dallas. And so, after she graduated with her degree in Art History & Visual Culture and a Minor in Communications, Hanna finally moved out to Dallas to be with Matt, who had just graduated from SMU with a double major in Business Marketing & Music/Vocal Performance.
With the main obstacle, the distance, out of the way, the two of them faced their next challenge— starting a professional life in a new city. Hanna found a job working for a medical device distribution company, assisting in hip and knee surgeries by serving as a technical expert, while Matt worked as a digital marketing strategist for a small up-and-coming marketing firm. 
Things were good for almost two years; they moved into a bigger apartment and got a couple cats. But after a while, as Matt describes, some new possibilities entered their lives and they jumped on them. "Hanna was presented with an exciting new opportunity and is currently manager of SculptHouse Dallas, a fitness studio and athletic wear boutique, as well as the Social Media Marketing Coordinator for the company, spanning 5 locations in 4 states. Meanwhile, I fell victim to a less than ideal work culture at my old firm and left. I wanted to continue working in B2B marketing so I started my own firm, Symphony Digital Marketing. I'm the only employee... for now." 
Their hard work and perseverance have paid off, as the two of them are about to set off on another big move together, this time to Georgia, where Hanna was recently asked to manage the flagship SculptHouse location in Atlanta. She says, "It's a much larger operation and the executive team wanted me closer to the corporate office, also in Atlanta. Since Matt works from home, he can continue to grow his business no matter where we are. We're both excited to be in a new city and are looking forward to brand new adventures together!"