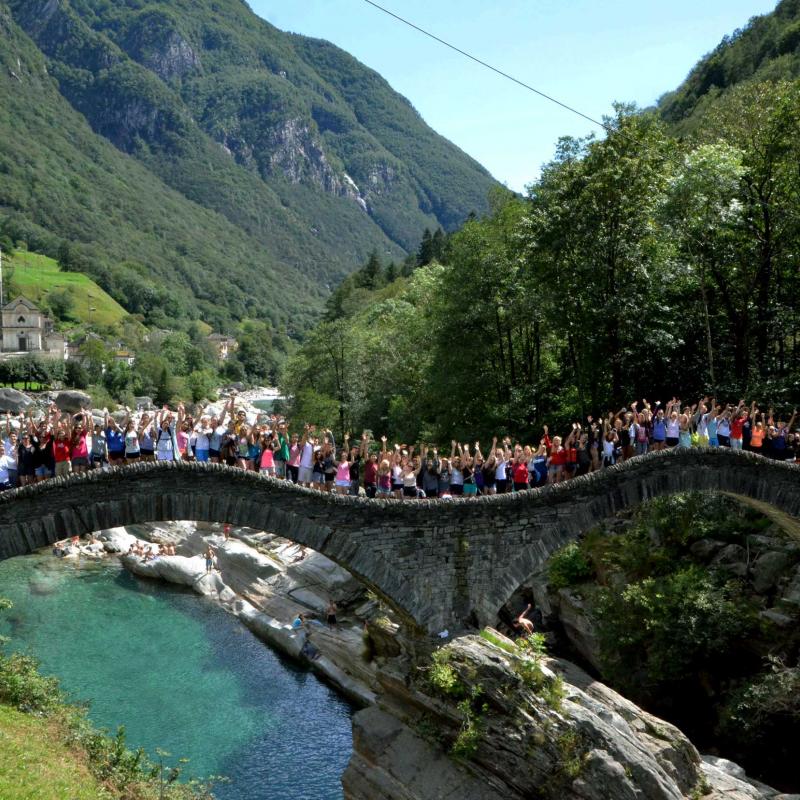 At Franklin there are many student activities and organizations available on campus. The students, staff and faculty make an active effort to provide and participate in events on campus and the surrounding local communities. In fact, many of these activities have become Franklin traditions, forming a set of events to look forward to as a Franklin student.
These traditions represent exciting chances to get to know fellow classmates, faculty and staff. They are also a great way to learn about the various cultures that form the Franklin community and the student activities which can help you maximize your university experience.
Valle Verzasca Trip
The Valle Verzasca trip is one of the oldest and most recognized Franklin traditions. As a culmination to Orientation and the first steps of their time as Franklin students, new students and Orientation Mentors hike and picnic in the Swiss Alps, passing waterfalls and breathtaking views of nearby mountain villages. After the hike, students gather at the "Ponte dei Salti" bridge - which is also depicted in the Franklin crest. The bravest of the new students jump into the ice-cold water, which is sourced from glaciers high above.
Franklin Visits Romandie
Franklin Visits Romandie takes students through several locations in the French-speaking part of the Switzerland. On this bus trip, students visit a few of the most beautiful and memorable parts of the country!
International Food Night
This popular event is a chance taste dishes from around the world. The best thing is...nearly all of the dishes are prepared by students who want to share the cuisines of their home countries with the Franklin community. International Food Night is one of Franklin's greatest traditions!
Spring Ski Trip
Skiing is one of Switzerland's most popular recreational activities. Early in the spring semester, students board buses before the sun rises and hit the slopes at some of Switzerland's most famous Alpine skiing areas. The ski trip is coordinated by the Office of Student Life and the Student Government Association.
Holi Festival of Colors
The Holi Festival of Colors is a student favorite. The tradition was started by a Franklin student who was feeling nostalgic for the festival from back home, and worked with his friends and the Student Government Association to bring Holi to Franklin. Now this special event happens in April and is a great chance for students to come together, celebrate the festival, and enjoy a picnic before finals begin.
Arab Night
Gets a glimpse into the food and traditions of one of the most widely represented cultures on campus. Arab Night is sponsored by Arab Club – one of the oldest student groups on campus.