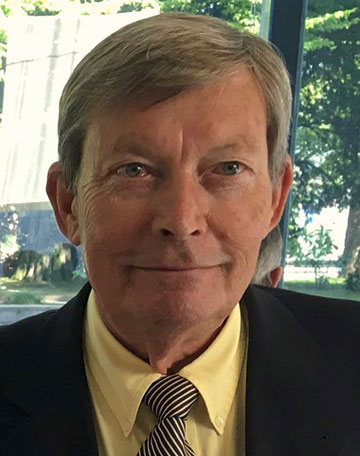 Dr. Theo E. Brenner, a Swiss national, was born in Zurich, where he completed his education with a Diploma at the Kantonsschule Enge. He subsequently joined the Post Graduate Program of The American School in Switzerland for a variety of administrative responsibilities. After the inception of Fleming College in 1967, he was appointed Director of the Institute for European Affairs. In 1970 he became one of the four founders of Franklin College, the forerunner of our present Franklin University Switzerland.
Dr. Brenner served Franklin as Administrative Dean from 1970 to 1979, subsequently as Acting President in 1979-1980, and then as President from 1980 to 1995. As President, he conducted an extensive search for a site that could serve as a permanent campus. The Sorengo campus was thus acquired in 1985, and construction of added facilities was commenced, which included an auditorium, classrooms and art studios, a cafeteria, as well as library reading and stack rooms. He also served as Vice President of the Association of American International Colleges and Universities (1984-87 and 1991-95), and conducted, on behalf of the Middle States Commission on Higher Education, a series of on-site evaluations of study-abroad programs promoted by U.S. colleges and universities in France, Germany and Italy. He was also instrumental in initiating the Ticino Chapter of the Swiss-American Chamber of Commerce, on whose Board he served from 1988-95.
In 1995 Dr. Brenner left Franklin to take up the position of Director General of the Jacobs Foundation in Zurich, a Swiss Foundation with an international outreach. Upon his retirement from the Jacobs Foundation in 2006, he helped to create the International Sculpture Center in the upper Maggia valley in Ticino, serving as President of its foundation until his retirement in 2017.
Dr. Brenner was a Charter member of Lions Club Ceresio, and was twice elected as a member of the Novaggio Consiglio Comunale for the 1976-80 and 2012-16 communal legislatures. In 1986 he was awarded the Doctor of Humane Letters Honoris Causa by Pace University in New York, N.Y., U.S.A..