Franklin University Switzerland's (FUS) Convocation Ceremony was held this Tuesday, August 27, at 7 p.m. at the Nielsen Auditorium of the Kaletsch Campus in Sorengo. Dr. Thomas Austenfeld, Professor of American Literature at the University of Fribourg, inaugurated the opening of Franklin's 2019-2020 Academic Year.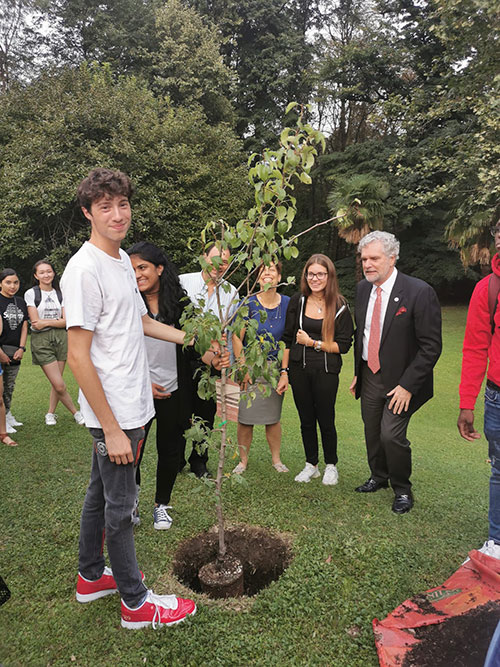 FUS Convocation is a formal ceremony held annually to welcome the newest class of students and to inaugurate the new academic year. It celebrates a coming together of the university's faculty and students to affirm the university's mission and values. This year's Convocation launched the University's 50th anniversary celebration.
"In this very special year for Franklin, it was an honor to have our celebrations led off by Dr. Austenfeld with one of the best convocation speeches that I have ever heard. It was both erudite, with references for instance to Keats and Eliot, as well as extremely approachable and pertinent," said Dr. Gregory Warden, FUS President.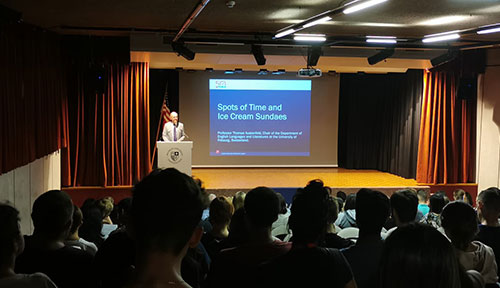 Following the convocation, a pear tree was planted. The tree symbolizes Franklin's new students, the Class of 2023, whose roots will be firmly planted in the liberal arts and the fertile Swiss soil of Franklin, but whose branches will spread out over the coming years to encompass the globe. Faculty and students then enjoyed gelato together, an appropriate celebratory experience that recalled Prof. Austenfeld's remarks about how the classic American ice cream sundae is an appropriate metaphor for life and learning.
We wish the best for a successful semester and a rewarding Franklin experience to our students!