Climate action is needed - more than 100 cities around the world are joining forces to create sustainable solutions for local challenges.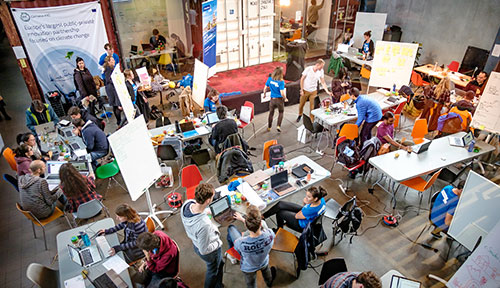 For the first time this year, the Canton of Ticino is joining in too. On Friday, October 25, Mendrisio will host the 24-hour marathon during which citizens, students, entrepreneurs, experts and institutions, grouped in small teams, will work together to find innovative solutions to the environmental problems that our cities are facing today.
Climathon Mendrisio 2019 will be held at the Centro di Pronto Intervento (CPI) from 1:30 p.m. on Friday, October 25, to Saturday, October 26 at the the same time, with the announcement of the winner.
The event, open to anyone interested in acting in favor of the climate, is organized by the City of Mendrisio in collaboration with SUPSI, and with the contribution of many local authorities and institutions, including our University, USI Università della Svizzera italiana, the department of Territory of the Canton of Ticino, the Aziende Industriali di Mendrisio, Impact Hub Ticino, SUPSI's StartUp Garage, Agire Foundation, Loonity, Azienda Cantonale dei Rifiuti, as well as Climate-KIC Switzerland.
Check out the program to find out about the various events, workshops and presentations, including a lecture and workshop on Collaborative Leadership by our Dean of Executive Education and Global Outreach, Carlo Giardinetti, at 3 p.m.. Register today!
For more information on this climate action program also watch the Climathon 2019 video.