The Franklin's Office of Student Life is serving on the conference planning committee to bring the annual European Conference for Student Affairs and Services to Lugano on the Franklin campus this coming October 28-30, 2019.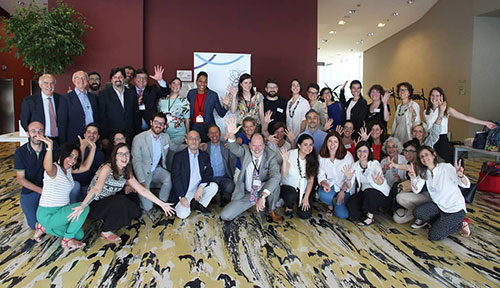 The three-day conference, a collaborative effort between Student Affairs Administrators in Higher Education, the European university college Association and Franklin, aims at providing a platform for student services professionals, academics, researchers, and policy makers to discuss innovative programs, practices, models and trends in student affairs on topics such as Employability and Career Services, Global Mobility, Mental Health and Well-being, and Residential Life and Student Engagement.
Besides the presentations by numerous speakers, several staff members of the Office of Student Life will be presenting sessions based on their specific areas of expertise.
Franklin's Dean of Student Life and Engagement, Deborah Knaust, will engage participants in a session about intercultural conflict, in order for them to learn how to use intercultural tools to strengthen their own intercultural competence and identify ways to incorporate them into student programming and curriculum.
Assistant Dean of Student Life and Career Services, Ebonie Rayford, will talk about Career Navigating Abroad, where participants will hear about first-hand experiences in a career services center located in Switzerland. Advantages and limitations will be shared to explore successes and challenges in this unique learning environment. Information will include online career platforms, programs, events, partnerships, advising, and curricular aspects of career resources.
University Counselor and Accessibility Coordinator, Corbin Moro, will address the topic of Mental Health and Well-Being for Study Abroad Students, as universities around the world are experiencing an ever-increasing number of students who arrive with diagnosed health and well-being concerns. With cultural and linguistic differences and being far away from home, studying in a different country can present unique challenges for these students and it is important to recognize, support and engage these students as quickly as possible in order to help them transition into their new home away from home.
Former Dean of Student Life and Engagement at Franklin, Leslie Guggiari, will also host a pre-conference workshop on Cross-Cultural Simulation, where participants will experience the intercultural simulation BaFa' BaFa' and get practical suggestions on how to use this tool with student leaders and others who are involved with study abroad groups, multicultural and diverse residential communities, mentoring, coaching, orientation programs, and FYE classes.
As remarked by Dean Knaust, "We are looking forward to welcoming up to 70 participants coming from Emerson College, John Cabot University, The American College of Greece, University of Dallas, University College Dublin, Webster University Geneva, Yale-NUS College, Western Michigan University, Fondazione Rui, Collegio Universitario Don Nicola Mazza, Berklee College of Music, and Valencia Campus, just to name a few. As we know, student affairs is a critical component of the higher education experience. The work done by student affairs professionals helps students begin a lifetime journey of growth and self-exploration. This conference is just another opportunity for the members of our community to continue to expand their knowledge and skills."
According to Gian Luca Giovannucci, President of EucA, "The organization of international conferences in Europe gives us the opportunity to bring to our continent once more the holistic American Student Affairs and Services (SAS) model for those who work closely with students in residences and universities. Our challenge is to show Europe's regional peculiarities and to make the student-centered approach a reality by improving the research on soft skills and in the field of employability. We are grateful to Franklin for hosting the event and to NASPA for the high level partnership offered."