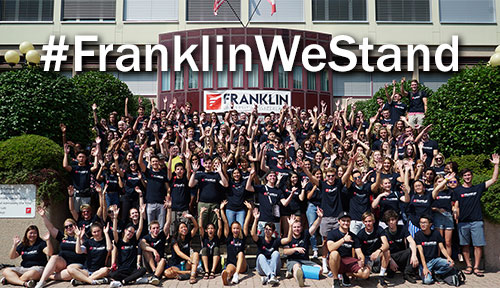 We have been asked to comply with particularly demanding requirements and we truly appreciate your positive energy, courage and desire to support each other during this difficult situation.
Many of us have families in other countries, and some students have returned home. Franklin has always been a united community despite physical distances, and we continue to celebrate that unity as students, parents, alumni, faculty, and staff. As we all learn to adapt and live through these days that seem almost surreal, we feel a need for connection even as we practice social distancing.
We want all of our Franklin family to know that we are thinking of you and hoping you are healthy and safe. Together and united, we will get through this. To stay connected and engaged today we are launching the campaign #FranklinWeStand
We would like everyone to post a photo or a video on their Facebook and/or Instagram account wearing Franklin swag and holding a poster with written #FranklinWeStand on it. You can post photos of yourselves in your home offices, in your dorms, or on your balcony and share the creative things you are doing while self-distancing. Share your stories of how this is affecting your life or share encouraging messages so we can support one another on this unknown journey.
Together we will get through this. Together we are Franklin. Together we stand. #FranklinWeStand
Remember to always mention @FranklinUniversitySwitzerland in your posts. In case you do not have social media but would like to participate, send your photos and/or videos to This email address is being protected from spambots. You need JavaScript enabled to view it., include your name and give info on the context.
Best regards and keep strong!
#FranklinWeStand #WeAreFUS