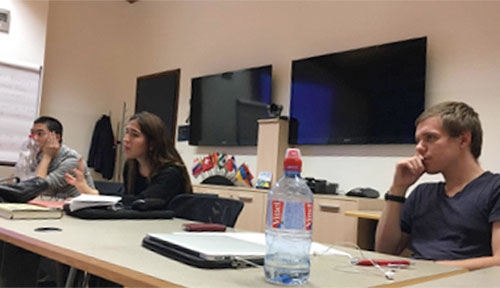 While the rest of campus went on Academic Travel, the graduate students attended seminars in social responsibility under the guidance of Maria Pereira and Franklin alumna Karina Gerlach, 77'.
Pereira's portion focused on her book "Money, Love and Virtue," which reflects on the relationship that various humanities topics and social justice concerns have with markets and finance. Pereira's career in banking and investment consulting led her to work both in New York and Hong Kong. Her interest in developing sustainability models led to her involvement in the WJ Clinton Foundation's Clinton Climate Initiative. "I really enjoyed reading how love and virtue play a role in business, and the consequences when they are lacking" said Brandon Berdecia, MSIM '17.
Gerlach held many important roles at the United Nations over a 33-year career there. She has extensive experience in the development of international policy in various departments of the U.N., including the Department of Political Affairs and the Division for Sustainable Development. Her portion of the seminar focused on in-depth discussion about the U.N and how to work in a multinational organization. "I learned a lot about the functions of the U.N, and gained insight about working with multiple cultures in a high pace atmosphere" commented Vanessa Berruetta, MSIM '17.
These seminars represent a cornerstone of the Master of Science in International Management program and are an essential part of its curriculum.