The third edition of the Lugano Symposium on Cybersecurity and Management Challenges (CMC), "Cybersecurity and its Evolution: New Approaches and Policies", builds on the success of the Cybersecurity Conference held last fall at Franklin University Switzerland, which drew an international list of attendees from government and industry.
The event is designed for mid-level and senior executives from government, business and industrial sectors.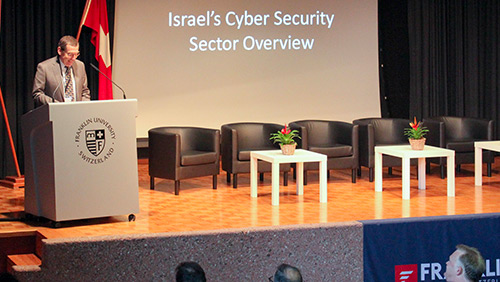 This year, the focus will be on the challenges of enhancing cyber security in light of the latest developments in the field. Businesses and governments are acutely aware of the financial, reputational and disruptive effects of cyber-attacks as they evolve in frequency and severity, and become a mainstream concern globally. The goal of the symposium is to assess, mitigate, and block cyberattacks, not only through expert insight on the scope and nature of an always evolving cyber threat, but to have those specialists offer their perspectives on the problems and viable solutions for the next generation cyberattacks.
Among other topics, the symposium will cover the idea of smart cities, the internet of things, hacking vulnerabilities of the above, cybercrime and its legal implications, and most importantly preemptive contingency plans for cyberattacks and intrusions.
In its Lugano edition, which will take place on September 20-21 in the University's Nielsen Auditorium, the CMC Symposium will once again see the participation of a number of high-profile speakers from different sectors. To date, the following speakers will participate: the Honorable Marco Borradori, Mayor of Lugano, Major General Peter E. Regli, Former Director of Swiss Intelligence Service, Ilia Kolochenko, CEO and Founder of High-Tech Bridge, and Francesca Bosco, United Nations Cybercrime Project Officer. They will complement a series of professional speakers in the area of cybersecurity.
The program is still under development and can be consulted on the CMC Symposium website at http://www.cmcsymposium.org/ .
The two-day event is organized by Franklin Trustee Kim Hildebrant, CEO KNC Consulting Switzerland, in collaboration with Franklin Professor Morris Mottale, Chair of the Department of International Relations and Political Science, and is sponsored by KNC Consulting Switzerland, the City of Lugano and a number of private sponsors.
Franklin University Switzerland is co-sponsoring this event with KNC Consulting Switzerland and invites all those who are interested in attending the Lugano CMC Symposium to register directly on the CMC website or contact This email address is being protected from spambots. You need JavaScript enabled to view it.directly by email.