"Is Our Economy Sustainable?" - That is the question that will open the panel discussion at the first official event of the Sustainability Week Lugano (March 30 - April 6), organized for the first time in Ticino as part of the annual Sustainability Week Switzerland, a project of the Swiss Association of Student Organizations for Sustainability (VSN/FDD/FSS).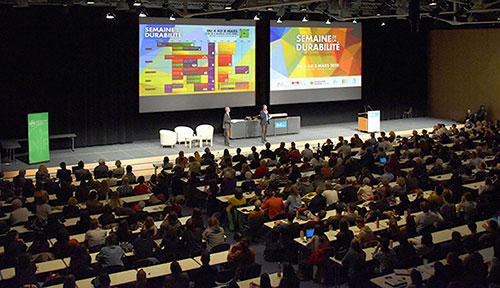 On April 1 at 5:30 p.m. at the Università della Svizzera italiana (USI), the student association Rethinking Economics Lugano will host an expert panel and fishbowl discussion entitled "Is Our Economy Sustainable?" organized with the support of USI, Scuola Universitaria Professionale della Svizzera italiana (SUPSI), and Franklin University Switzerland.
The event, which will be opened by the Rector of USI Boas Erez, will feature Luca Crivelli, Director of the Department of Business Economics, Health and Social Care at SUPSI, Carlo Giardinetti, Dean of Executive Education and Global Outreach at Franklin, Jonas Haertle, Project Leader at UNITAR (Geneva), Peter Seele, Professor of Corporate Social Responsibility and Business Ethics at USI, and Suzanne Suggs, Professor of Social Marketing at USI.
Following the panel discussion, at 8:30 p.m. in the USI Auditorium, Rethinking Economics Lugano will host 'Pop Economix Live Show', a theatrical conference in Italian about the global economic crisis, featuring actor Andrea Della Neve.

These student-driven events kick off the Sustainability Week Lugano in an effort to inform members of the local community about ways to act sustainably and to increase their awareness about their social and environmental responsibilities, thanks to panel discussions, enjoyable events and training sessions for both mind and body.

For more information and the complete program: www.sustainabilityweek.ch/lugano. All events are open to the public and free of charge.