Welcome! The Fall 2020 semester has begun at Franklin University Switzerland and we have compiled a guide of useful info and activities to help you navigate your first week of classes.
Classroom Preparation
You may be in quarantine now, but that will be over soon. IT Services has been hard at work preparing safe learning environments for students and faculty.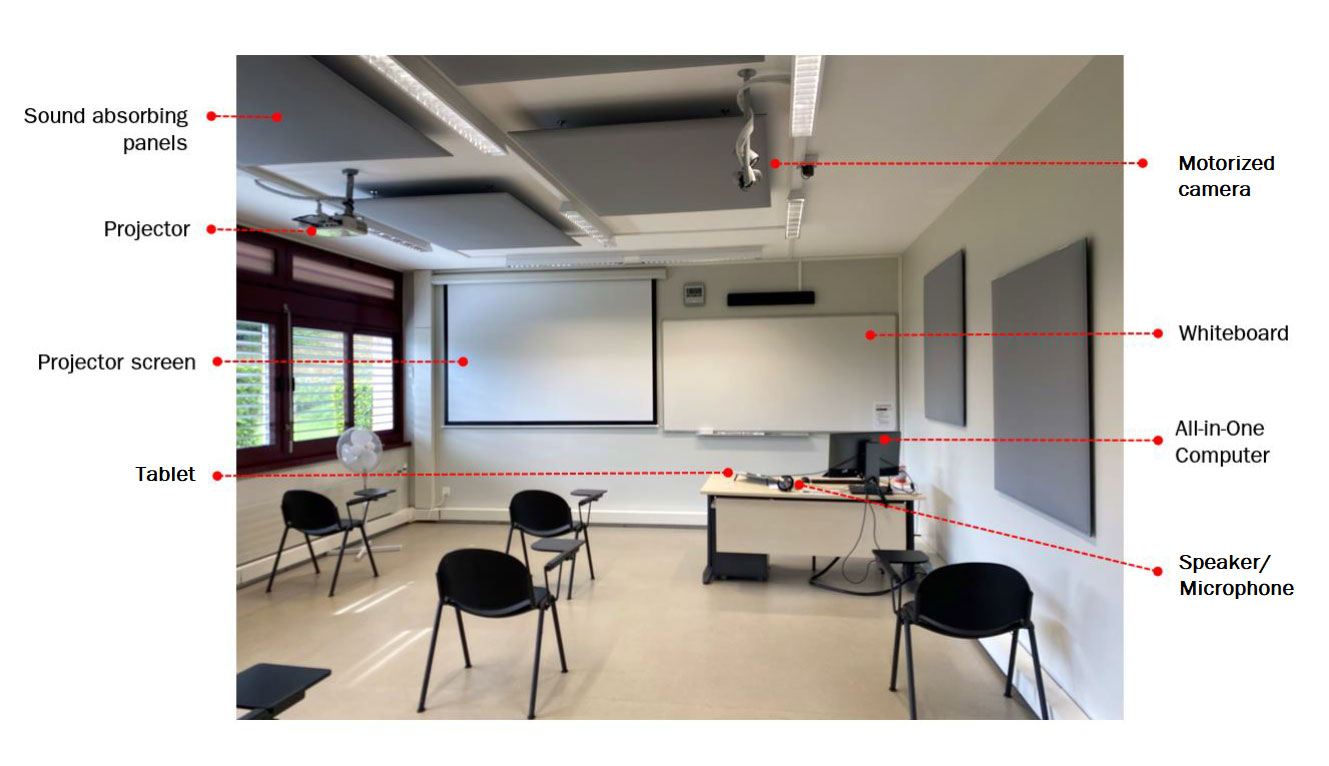 Classrooms are now equipped with a motorized camera near the projector so online/virtual students can have the full classroom experience. The camera points towards the front of the classroom to provide a view of the white board and professor. Similarly, webcams are installed in all campus computers which allow professors and students to be seen wherever they are.
Screen sharing is a useful teaching method for both on and off-campus learning. Faculty can use their all-in-one computers and the new classroom tablets, which allow faculty to display, edit, and even draw on files during class with the included stylus.
All classrooms have been fitted with sound proofing panels on the ceiling and walls to reduce echo. In this way, remote students can better understand lectures.
Franklin Masks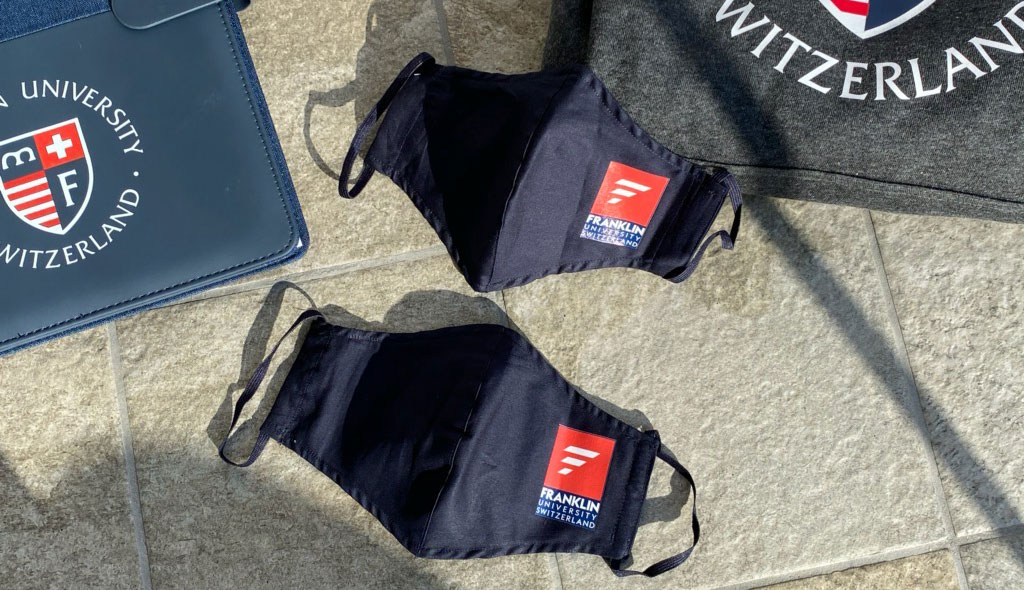 We are providing each student with a reusable cloth mask. Pick up your free mask in your mailbox, and don't forget to Take The Pledge to keep our community safe.
Franklin cloth masks have an exchangeable filter made of TNT Spunlace between two layers of cotton. The manufacturer recommends disinfection or exchange after 10 hours of use. They are washable up to 30 degrees Celsius. You can find replacement filters, disinfecting sprays, and small first-aid kits with a thermometer at the Franklin Bookstore.
Get your Textbooks Online
Visit our Online Store to purchase essential items for your classes this fall. Textbooks for fall 2020 courses will be available, plus pens, stationary, coffee mugs, and more. While you are there, fill out your wardrobe and show your school spirit by picking up some Franklin gear!
Online orders will be ready for pick-up within 24 hours from purchase. If you are quarantined, your purchase will be delivered in front of your door. Online orders are preferred, as not more than one person at a time will be able to enter the Bookstore due to safety restrictions. An email with more details will be sent to all students soon.
Tone Athletic Center (TAC)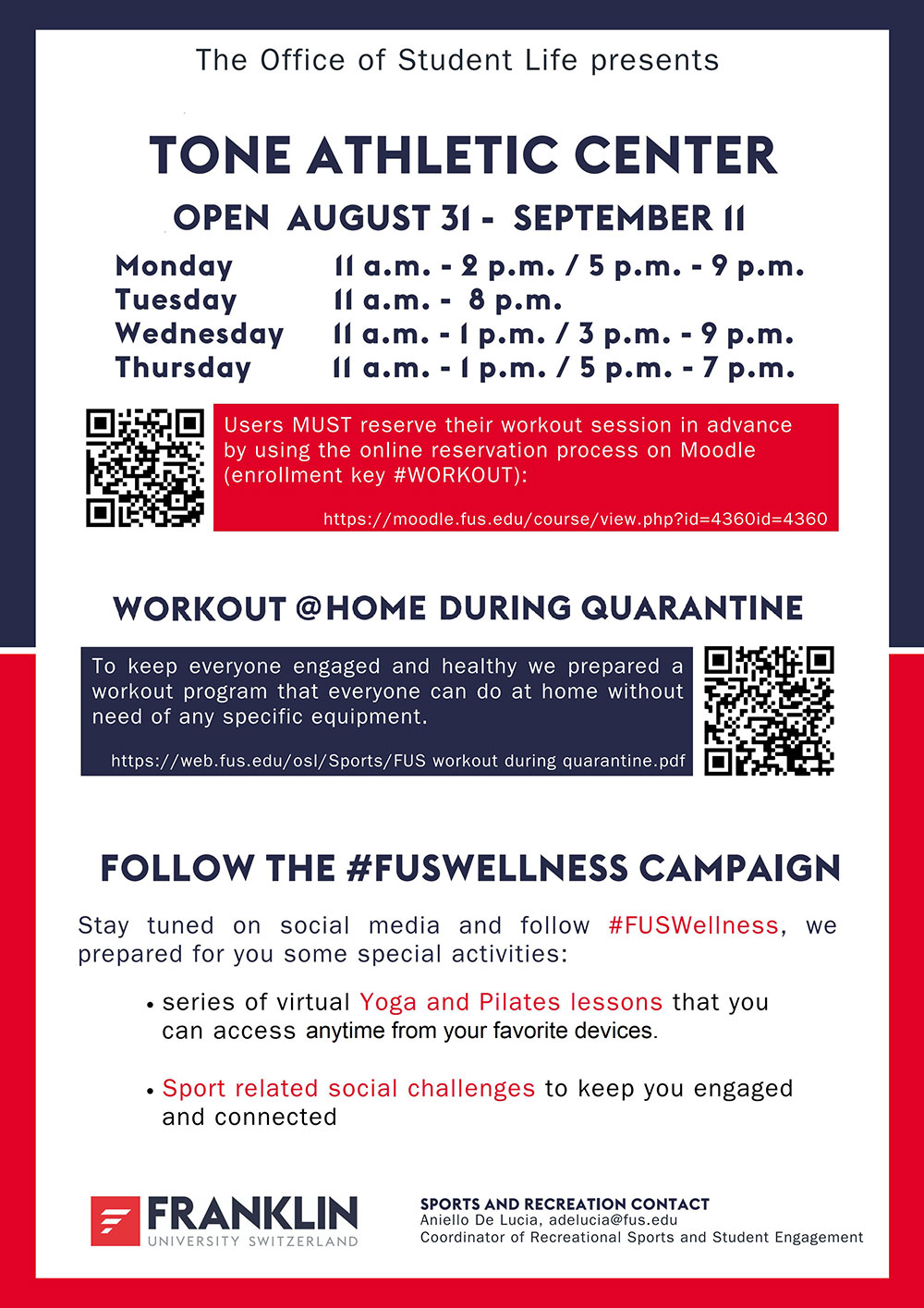 The TAC is open this week! Users MUST reserve their workout session in advance by using the online reservation process on Moodle. (enrollment key #WORKOUT)
Are you in quarantine? To keep everyone engaged and healthy we prepared a workout program that anyone can do at home without need of any specific equipment.
Stay tuned on social media and follow #FUSWellness to access our virtual Yoga and Pilates lessons anytime. Upcoming sports-related social challenges will keep you engaged and connected.
Activities for August 30 - September 6
Schedule may change – check the Franklin App and watch your FUS email for more info.
Monday, August 31
Classes begin: All of the information you need to connect will be provided in your course Moodle pages or via email by your professor.

Tone Athletic Center (TAC) opens today. Hours: 11 a.m. - 2 p.m. / 5 p.m. – 9 p.m.

19:00 - Kahoot Switzerland Quiz
Zoom Meeting ID: 709 533 7502; Passcode: 7502
Join RAs Margaret and Cameron for a fun trivia night all about Switzerland! Get to know other students and more about your home away from home.
Tuesday, September 1
TAC hours: 11 a.m. - 8 p.m.

17:00 - Video Game with Jonathan
Zoom - More info coming soon from SGA
Gamers, join Jonathan from the SGA for online group video gaming.

19:00 - OM Group Meeting
Zoom information will be sent via e-mail by each group's Orientation Mentors
New students should plan to meet their Orientation Mentors and the other students in their OM groups for their last formal meeting. Please join us to ask questions and get to know other new Franklin students!
Wednesday, September 2
TAC hours: 11 a.m. - 1 p.m. / 3 p.m. - 9 p.m.

19:00 - SGA General Assembly
Zoom - More info coming soon from SGA
The SGA will kick off this academic year with its first General Assembly meeting on Zoom! Look for more information during the first few days of classes.

21:00 - Mandatory Residence Hall Meetings
Zoom - RAs will contact you directly
Each Resident Assistant will contact their residents with call information for their first monthly hall meetings of the year. Meet your neighbors and hear important announcements! Attendance at these mandatory hall meetings impacts one's standing during the housing selection process for next year, which will take place in April.
Thursday, September 3
TAC hours: 11 a.m. - 1 p.m. / 5 p.m. - 7 p.m.

19:00 - An Introduction to Living in Ticino
Zoom Meeting ID: 709 533 7502; Passcode: 7502
RAs Destiny and Campbell are excited to share stories and knowledge about what it's like to live in Ticino. Learn some Italian as you discover what makes this region so cool.
Friday, September 4
Add/Drop Deadline is today: Don't forget! If you wish to make changes to your schedule, log into the Self-Service page and complete them today.

19:00 - Virtual Uno Game
Zoom Meeting ID: 709 533 7502; Passcode: 7502
Join RA Gabi for some virtual rounds of the card game Uno and meet some other new students.

21:00 - Pub Trivia
Zoom - More info coming soon from SGA
How good is your trivia knowledge? Find out when you join other students at our first trivia night of the year. SGA will be hosting several rounds of pub trivia and help you continue to get to know one another.
Saturday, September 5
19:00 - Speed Friending
Zoom - More info coming soon from SGA
SGA is back with another fun activity that will help students get to know each other. Chat with other Falcons and make new connections!
Sunday, September 6
14:00 - Prep for the Semester
Zoom - More info coming soon from SGA
You may already know him from our News article, "A Student's Travel Advice for Fall" Now, join Jonathan and the SGA for more helpful tips on preparing for the fall 2020 semester. Learn about important programs and sites; more info than the Orientation videos.