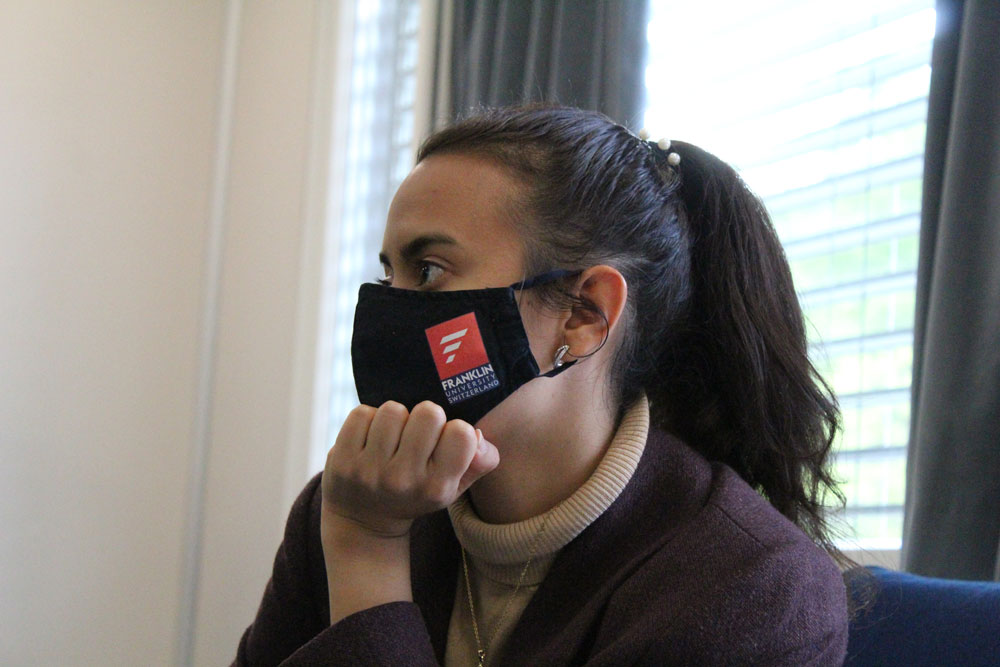 Franklin University Switzerland strongly encourages the entire Franklin community to complete their COVID vaccinations. While we understand this might not be possible for everyone depending on your location and personal situation, we encourage you to do what you can to keep our community safe. We are working hard to put the pandemic behind us and create a 2021-2022 campus environment that is both safe and vibrant.
Together, we can create a safe and dynamic Franklin experience!
Below are frequently asked questions about the COVID vaccine to help students better understand the situation at Franklin and in Switzerland. The information shared here represents the situation as of August 5, 2021. We will update these answers and information as conditions changes, but please keep in mind that our experience with COVID-19 has taught us that things can change quickly.
GENERAL COVID-19 VACCINE FAQs
COVID-19 Vaccine
What can I do to contribute to the health and safety of the Franklin Community?
The most important step is to complete your COVID vaccinations before coming to campus if you can. The entire Franklin community is asked to take the Pledge to protect the Franklin community. By taking the Pledge, students recognize that they have a social responsibility towards their community to stop the spread of COVID-19 by following campus guidelines and being held accountable for their actions.
Is the COVID vaccine required at Franklin?
Students are required to demonstrate proof of vaccination in order to participate in Academic Travel during Fall 2021. Complete the Vaccination Form and upload scans/PDFs as proof of your vaccination status (information sent via email). We are taking this measure to help ensure your safety and the safety of others. An alternative Swiss academic travel course may be available for students who have not been vaccinated, but that is not guaranteed at this time.
What are the types of COVID vaccines authorized in Switzerland?
According to the directives issued by the Swiss Federal Council, it is possible for the Ticino Cantonal Doctor's Office to validate foreign COVID vaccinations (with a QR code to be used for the COVID Certificate) only for the following vaccines authorized in Switzerland:
Pfizer/Pfizer/BioNTech (BNT162b2 / Comirnaty® / Tozinameran)

Moderna (mRNA-1273 / Spikevax / COVID-19 vaccine Moderna)

Janssen / Johnson & Johnson (Ad26.COV2.S)
Students who are not able to get one of the vaccines listed above should contact Chris Schmid, the Coordinator of Student Medical Services, to discuss your situation and if appropriate to set up an appointment for your free vaccination in Switzerland after your arrival.
If I get my first vaccine dose in my current location, can I get the second dose after I arrive at Franklin?
Franklin strongly recommends that students obtain the full doses of the COVID vaccine in their current location before arriving at Franklin. If this is not possible, students should be aware that Ticino only offers two types of vaccines (Pfizer/BioNTech and Moderna). Students who need to obtain the second dose after arriving at Franklin must obtain one of these two vaccines. Students who need to obtain their second dose in Switzerland should contact Chris Schmid, the Coordinator of Student Medical Services, for assistance.
What if I am not able to get the COVID vaccine due to a medical exception?
Students with a medical exception should complete the Vaccination Form (information sent via email) to indicate that they are not vaccinated. They should upload their medical certificate documenting their situation. Students with a medical exception may need to change their Academic Travel class and follow other conditions (i.e. take a COVID test) depending on the requirements of Academic Affairs and the Academic Travel country. 
If I am not vaccinated before my arrival in Switzerland, how will that affect my on-campus housing?
Individuals who are not vaccinated will be required by Swiss authorities to quarantine for 10 days if they have close contact with someone who tests positive for COVID. If a COVID case is confirmed, all roommates in a shared bedroom and unvaccinated roommates in a shared apartment will be required to quarantine until they are authorized to exit quarantine by the Coordinator of Student Medical Services and Well-Being. Students who are fully vaccinated for COVID-19 with a private bedroom in a shared apartment will not be required to quarantine, but are required to monitor their health for any flu-like symptoms and immediately report any symptoms to medicalservices@fus.edu.
If I am not vaccinated for COVID-19, will I have to quarantine upon my arrival in Switzerland?
Franklin follows the Federal Office of Public Health (FOPH) COVID mandates and guidelines that can change quickly to adapt to the epidemiological situation. On the FOPH site, there is a travel quarantine list requiring non-vaccinated individuals who travel from high-risk countries to quarantine for 10 days upon the arrival. Franklin encourages students and their family members to complete the Swiss TravelCheck prior to arrival to verify the conditions for your entry to Switzerland.
What if I am vaccinated, do I have to wear a mask?
During Fall 2021, the entire Franklin community is expected to wear a mask indoors on the Franklin campus. This includes all classrooms, computer labs, Library, Dining Hall and Grotto, WLC, and common areas (lounges, hallways, shared kitchens, etc.). In addition, individuals are expected to wear masks outdoors on the Franklin campus when social distancing is not possible.
How will the COVID vaccine affect daily life in Switzerland?
Switzerland launched the COVID Certificate App to document when an individual has been vaccinated for COVID-19 in Switzerland, recovered from COVID-19 in Switzerland, or has a negative Swiss COVID test result. Students are encouraged to download the Swiss COVID Certificate App from the App store. Individuals vaccinated outside of Switzerland can obtain a Swiss COVID Certificate with a QR code by following the instructions on this site.
The Federal Office of Public Health (FOPH) mandates that individuals present a COVID Certificate in order to enter large events, discos, and nightclubs. In addition, certain events with no seating requirement may require individuals to present a COVID Certificate for entry.
The COVID vaccine and other conditions could be required to travel to certain countries. Students should verify the entry requirements for the countries where they intend to travel. Franklin encourages students to carry proof of their COVID vaccination, medical exception, COVID test results, and other related documents when they travel or attend certain events requiring this documentation. In addition, Franklin encourages students and their family members to complete the Swiss TravelCheck prior to arrival to verify the conditions for your entry to Switzerland.
2021-22 applicants, we are ready for you!
Our Admissions team is ready to guide and support you through this important time in your life as you prepare to move to Lugano to begin your studies.  The following FAQ contains answers to the most asked questions. Didn't you find what you were looking for? Contact the team directly. 
The Fall 2021 semester will begin as scheduled during the last week of August 2021. We are agile and well-prepared for fall classes to begin in Lugano or, if necessary, to begin the academic year in a hybrid learning model until all students can come to campus and study safely.
We are committed to our mission of educating responsible global leaders. In this unprecedented time of uncertainty, we look for the opportunity to innovate our program and continue to embolden our students with the knowledge and skills to make a difference in their organizations and communities. We look forward to welcoming you to campus!
APPLICANTS FAQs
Transcripts and High School Documents
Due to my high school or college being temporarily closed, I am unable to provide an official transcript/documents. What options do I have?
We understand many students are facing significant challenges as a result of school closures. Please provide any coursework assessment you have received to date. We understand that most schools around the world are closed but guidance counselors, teachers and staff are working from home. You may submit unofficial transcripts, or any documents attesting to your course progress via email directly to your admissions counselor or info@fus.edu. The Admissions Committee is proceeding with a great deal of flexibility in view of the current situation, so transcripts may be submitted at a later date, when they become available.
Exams, Grades and Standardized Test Scores
My IB exams have been cancelled and I was hoping to get academic credit for those courses, what can I do?
Although FUS receives updates from the International Baccalaureate Organization (IBO) and other international examination boards, you should continue to inform us about the status of your final exam results. We will work with students to complete enrollment on a case-by-case basis. IBO is currently working with schools to make sure students receive either diplomas or certificates based on their past coursework. FUS will evaluate any assessment provided by IBO and/or your school and FUS's current advanced standing policy will apply. If your school issued your IB predicted grades, please send them to info@fus.edu. We understand not every school provides predicted grades, so note this is not mandatory.
My SAT or ACT testing date has been cancelled. What should I do?
FUS is test-optional and does not require SAT or ACT exams.
All my current high school/college courses have moved to virtual learning and may impact my grades. How will this affect my application/admission to Franklin University Switzerland?
If you feel this is your case, please provide a brief statement explaining the situation to info@fus.edu or directly to your admissions counselor. We understand these are trying times with many changes to course delivery and assessment implemented in a short period of time.  We do encourage you to continue to do your best with your virtual classes.
Application Deadline
Will Franklin University Switzerland be able to extend the application deadline since my high school/college is closed?
Yes, we accept applications on a rolling basis and the Committee is showing flexibility with regards to deadlines. For Fall 2021 we are accepting applications through June 1st, so you may submit the basic online application form by then and any missing/official transcripts at a later date. Please email info@fus.edu if you have specific questions or requests pertaining to your individual situation.
Meeting Counselors and Visiting Campus
Can I still meet with an admissions counselor?
Our admission counselors are still working and are available to answer your questions. We are hosting virtual information sessions for prospective students throughout April and will add additional dates as needed. You are welcome to schedule an individual virtual meeting by phone, Zoom, or Skype with your admissions counselor. We hope to be back on the road this fall and we will share our travel on our website.
My campus visit to Franklin University Switzerland has been canceled. What are my options?
The health and safety of our community is our top priority. We can't wait to meet you and welcome you to our campus soon, but in the meantime we've taken your campus visit experience online. Until then, you can explore our campus from the comfort of your home by touring campus virtually and carve out some time to chat with current students. Follow us on social media for snapshots and stories of students currently staying on campus. We are monitoring the situation and will update our website when the campus reopens for visitors.
Can I come to campus and do a self-guided tour?
No, this is not possible at the moment due to the current cantonal recommendations. We will update our website as soon as the campus reopens for visitors. Instead, we offer a virtual campus tour from the comfort and safety of your own home.
Enrollment, Deposits and Travel Restrictions
Will the May 1 enrollment deposit deadline be extended?
At this time, the enrollment deposit for students admitted for the Fall 2021 semester remains May 1st. If you need more time to decide or have specific concerns, please email your admissions counselor who will get back to you within 24 hours with your options. We want you to take your time to decide whether FUS is right for you, and we know this unprecedented time may cause your plans to change later than you would like.
Is the fall semester still scheduled to start in August? Is there a possibility the fall semester may get cancelled/postponed?
Yes, the fall semester is still scheduled to start in August. Following virtual orientation at the end of August, students who are able to travel with the appropriate entry documents like an EU/EEA/Swiss passport, passports from other visa-exempt countries or a Swiss Student Permit/Visa in their hands will be able to travel to campus the week following orientation. For students who do not receive their student visa by the end of August, our second entry period will be mid-September.  Students not able to come to campus in August will be able to start online and join onsite when they can travel. More information will be shared at a later date.
If I am offered admission to FUS and a travel ban prevents me from enrolling for Fall 2021, will I be able to change my enrollment term to Spring 2022?
Yes. FUS is committed to having you join our community. If you have already been admitted, you may request a deferral to Spring 2022. We do encourage you to keep in contact with us, as we are still planning to move forward with our Fall 2021 semester.
What if I submit my enrollment deposit, but by the time the semester starts there are still travel restrictions in place?
You may defer your entry and your enrollment deposit will carry to the deferred semester.
Is FUS still accepting and enrolling applicants for its summer programs?
Yes, we are still accepting applications for undergraduate and high school summer courses on a rolling basis. Our summer programs will be run exclusively online. Topics include Finance, Psychology, Business, Art, Politics, Media, Environmental Issues, and more. See all options here.
Safety Measures in Switzerland
What is Franklin University Switzerland and the country of Switzerland doing to provide a safe environment for students, staff, and faculty?
Switzerland provides a remarkably safe and welcoming place where the whole community watches out for the collective good. 
The University Counselor and the Coordinator of Student Medical Services and Well-Being continue to meet with and provide support for Franklin students via phone and video chat during the COVID-19 situation. In addition, Franklin students have access to a 24/7 confidential HelpLine for in-the-moment emotional support from anywhere in the world. Student clubs and organizations, like the Student Government Association, continue to hold regular meetings virtually and the Office of Student Life offers a variety of virtual social events, cooking demonstrations, and sport challenges to keep the Franklin community engaged and in good spirits.
Will I have to self-isolate after I arrive in Switzerland?
At this time, Franklin requires all students who return to campus from outside of Switzerland to isolate in their on-campus Residence Hall for 10 days to ensure they do not infect others. We will keep students informed if this requirement continues beyond the current semester. Check the Covid-19 resources for student and the Coronavirus Update pages for more information.
Who should I contact with questions or concerns?
We are here to assist you in any way possible. If you have any questions regarding undergraduate or graduate admissions, please contact us directly by email at info@fus.edu.