On Sunday, May 19, 2019, Franklin University Switzerland held its 49th annual Commencement Ceremony at Lugano's lakeside Palazzo dei Congressi. Trustees, faculty, staff, families, and friends gathered to celebrate the graduation of the class of 2019.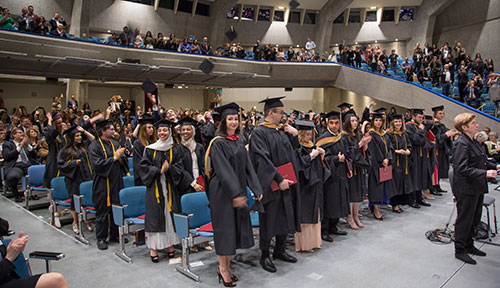 This year the University is honored to have welcomed as its 2019 Keynote Speaker and Honorary Degree Recipient Jonathan Steinberg, Walter H. Annenberg Professor of Modern European History (Emeritus), at the University of Pennsylvania, Emeritus Fellow at Trinity Hall, Cambridge, England, and Former Chair of the Department of History at the University of Pennsylvania (2000-2015).
Professor Steinberg is a leading authority in the history of 20th century Germany, Austria, Switzerland and Italy, about which he has written and taught extensively. Among his many publications, he is the author of "Why Switzerland?," whose 3rd edition was issued in 2016 with a new chapter "Why Italian-Speaking Switzerland?". In his speech to the Class of 2019 he noted, "You will not be spared very challenging decisions. You should take them consciously, with sensibility and consider the choices that you have and that you make".
The University was also honored to award Honorary Degrees to two of its beloved founders: Dr. Theo E. Brenner and Ambassador Wilfried Geens.
The Ursula Gentile Lowerre Award for Outstanding Service was conferred to Emily Boynton, class of 2009, Manager of Foundation Advancement and Fundraising at the GAMA Foundation for Education and Research, where she leads the charge for all fundraising and marketing for the Foundation, which encompasses constituents from around the world.
Valedictorian Speech
This year's Valedictorian was Ethan Chong, from Denver, Colorado, who graduated magna cum laude with a Bachelor of Arts degree in International Management with an emphasis in Marketing, with minors in Economics, History, and Germanic Studies. Ethan invited the Class of 2019 to think about what has Franklin done for all of them, especially now that they are all about to embark on a new chapter of their lives. "When you go back home and talk to your friends and family, there are some things that you just can't quite fully describe – things that really only fellow Franklin students can relate to. We've all had our differences at some point – we've made friends and we've lost friends, but whether you like it or not, these are the people with whom you will forever share a bond. When you inevitably stumble into each other on your future travels through life. Just stop. And say hi. I promise you won't regret it."
Watch the video of the full ceremony
Photos
View the complete photo album on Facebook