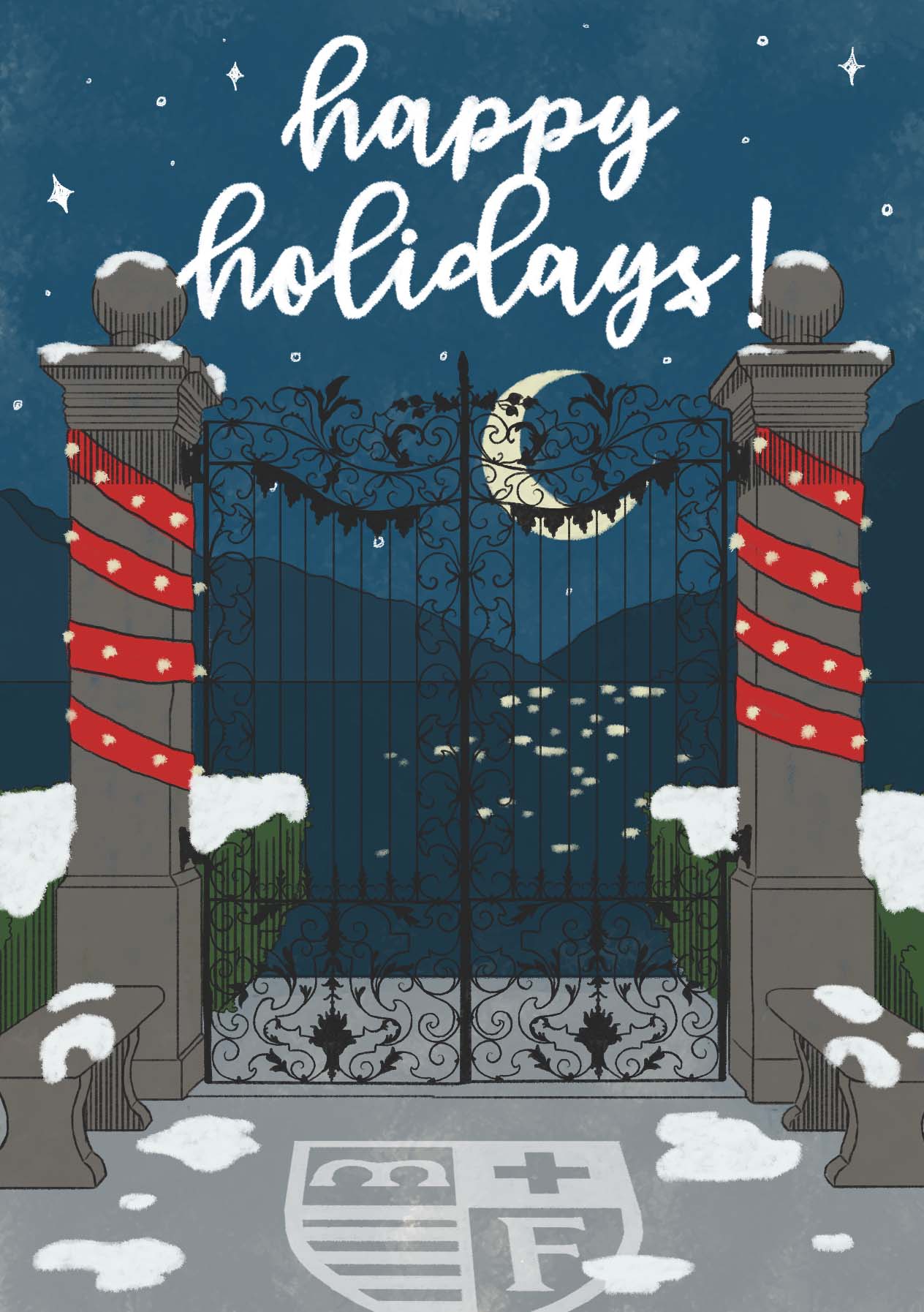 Everyone's favorite time of the year is approaching. The winter holiday season is just a couple of weeks away, but when looking at freshman Antonia Magallanes Sachot's holiday card artwork, you can already feel the crisp winter breeze blowing through your hair, the snowflakes tingling as they fall on your nose, and that warm, fuzzy feeling of the festivities.
As a yearly tradition, the Alumni Council hosts an Art competition during both the Fall and Spring semesters. Before the winter break, all current Franklin students are invited to submit a personal artwork portraying the winter holidays atmosphere linked to Franklin, which will then be used as a holiday card to send out to the community. The Alumni Council later votes and selects a winner per semester, based on originality, creativity, concept selection, and overall quality. The winners receive a cash prize of 250 CHF and their artwork is added to the University's art collection.
President of the Alumni Council, Emily Boynton '09 commented "The Alumni Council has been fortunate to support local artists on campus for many years. This year we were able to expand our support to include Franklin's meaningful holiday card that features Franklin and Lugano. We had so many great submissions. It was really difficult to choose a winner, but we are really excited to feature Antonia's winning artwork and continue watching her artistry grow at Franklin!"
This year, the card features the talent of Antonia Magallanes Sachot '25. From Santiago, Chile, Antonia joined Franklin this Fall 2021 semester as a first-year student and is truly a brilliant artist. Her creative abilities and artwork span from drawing, digital art, photography, and videomaking. As she commented "I come from a family of artists, my parents have always encouraged me to be creative and I distinctly remember the day my mother first handed me a set of colored pencils. I have been drawing and creating art ever since, and believe it is my biggest talent!" Antonia's favorite list of artists includes Sir Anish Kappor, a British-Indian sculptor who specialized in conceptual art, and Ai Weiwei, a Chinese contemporary activist and artist. However, it was a childhood friend of hers that really sparked her interest and inspired her into pursuing art as her main interest.
"As I received the email regarding the artwork contest, I thought this was a perfect opportunity to shine while doing what I love. Being very critical of my work, I had originally created a total of four artworks for the occasion. In the end, I believe the one that was selected really does incorporate well both Franklin and Lugano." Antonia's composition features the gates in Parco Ciani, Lugano, and the Franklin Presidential crest, during a snowfall. When asked about Lugano, Antonia commented "I love this city, had never been here before and find it amazing!"
A cheerful and driven 18-year-old, Antonia shares an interesting fact about herself and her family "Although I was born and raised in Chile, I am a third-generation Swiss! As a matter of fact, my grandfather from my mother's side is Swiss and I still have family in Geneva, with whom I will be spending this Christmas." It was her Swiss roots that intrigued her to search for a university in Europe, and when she discovered Franklin, she "fell in love with it and made the decision to enroll in two months time." At Franklin, Antonia is enjoying the university culture, the social interactions, and the new friends she is making. When it comes to academics, she is thinking of pursuing a major in Visual Communication Arts but has also recently discovered a new passion in Marketing and has a hard time deciding which one between Digital Photography and Marketing Management is her favorite class. Regardless, she is determined to transform her talent and love for the arts into a career.
Take a closer look at more of Antonia's artwork on the Franklin Instagram channel.
Discover last year's artwork here.