How can you prepare for life after university?
Join the Franklin Network and connect with alumni and fellow students for professional and social networking opportunities.
Every fall semester, the Office of Career Strategy offers FUS seniors the opportunity to participate in hands-on career planning and prep workshops. Don't want to wait? Just contact the Office of Career Strategy to get started. We'll walk you through all the options and help you to plan for your future.
Where will a Franklin degree take you?
Within a year of graduation, 95% of our alumni obtain full-time employment, and 75% achieve it within six months.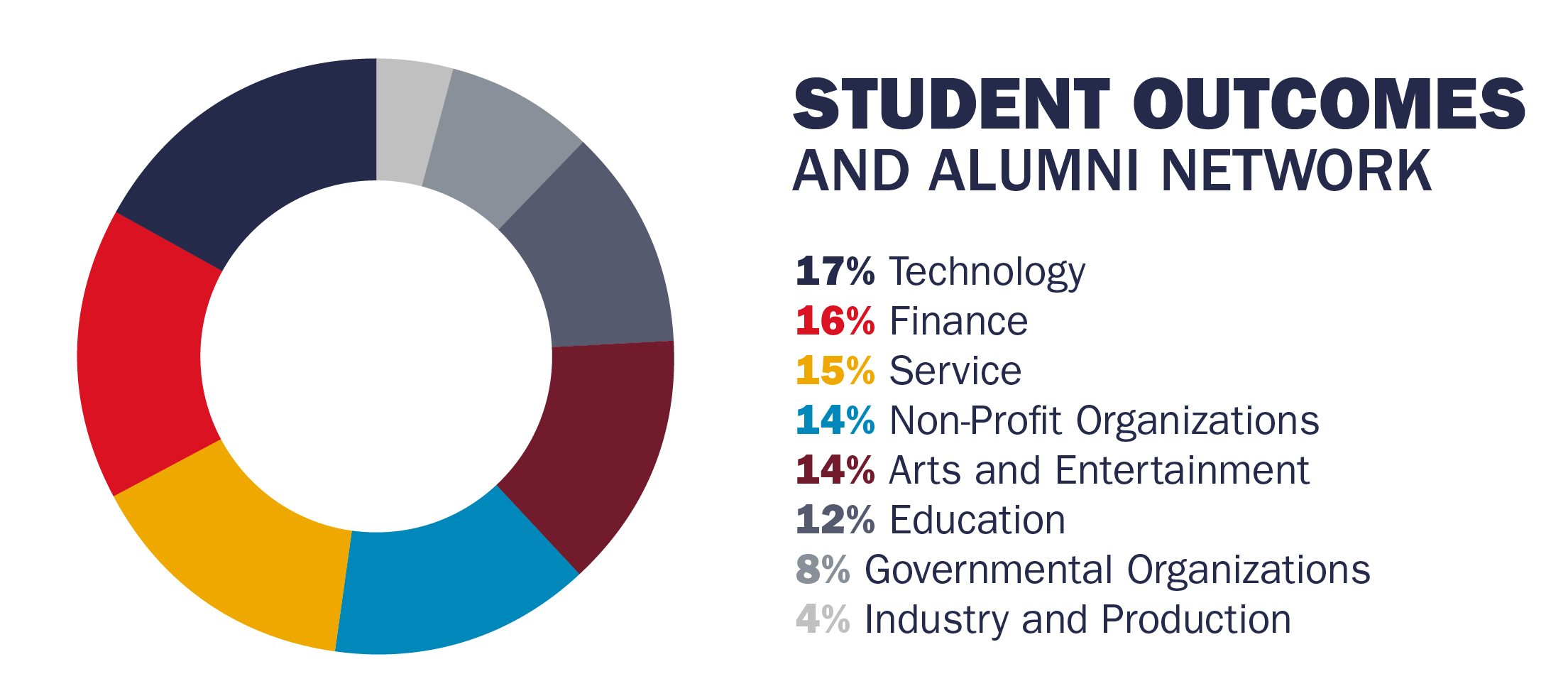 Choose Franklin to acquire global confidence and learn the skills necessary to succeed in any field, anywhere in the world. Our dedicated professors, staff, and alumni network are here to support you, every step of the way.
Franklin Network
The individual success of each one of Franklin's graduates is the collective success of the Franklin community. The Franklin Network is a career mentor platform made up of alumni volunteers that seek to bolster the collective success of the Franklin community by assisting current students and alumni as they prepare for professional life post-Franklin.
Internship Information
An internship is a short term, supervised, work opportunity. Internships can earn university credits, teach valuable skills, and add experience to your resume. It is a chance for you to develop critical work skills so that you are better prepared for your future. Your internship may also lead to future employment.
Internships for Credit and Non-Bearing Credit
Plan ahead! In order to earn academic credit, registration must be completed in advance. All internships must be coordinated with your academic advisor and department chair. It is your responsibility to follow protocols and meet deadline dates.
Check out the following links. Then, contact Career Services for support and direction in seeking out an internship opportunity.
Internship Program Information
Online Career Resources
Log into the Franklin Career Navigator on Moodle to access preparatory information and other materials for your job search.
What our Students and Alumni Say
Career Contacts
Career exploration and planning are provided in cooperation with:
Office of Career Strategy
Ebonie Rayford, Assistant Dean of Student Life and Director of Career Services
Phone: +41 91 985 22 79
Email: erayford@fus.edu
Writing and Learning Center
Kate Roy, Acting Director
Phone: +41 91 986 36 21
Email: wlcenter@fus.edu
Alumni and Parent Relations
Diana Tedoldi, Associate Director of Advancement
Phone: +41 91 986 53 19
Email: dtedoldi@fus.edu