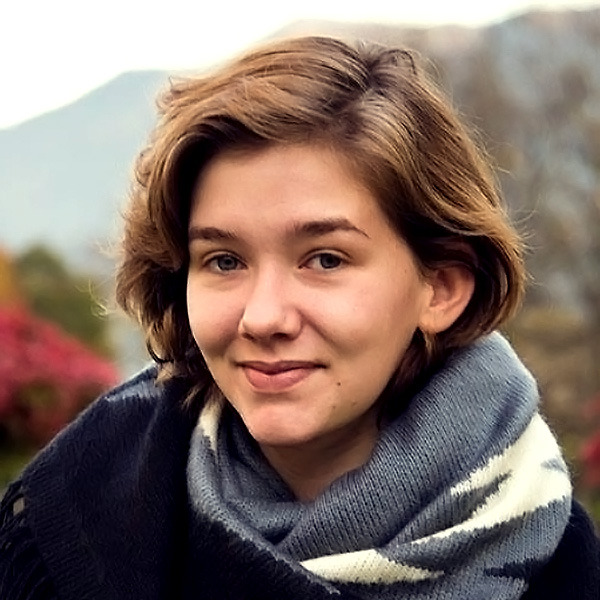 Hometown: Waldport, Oregon, USA
Nationality: American
Previous Institution: Chemeketa Community College
Majors/Minors: Double Major in International Relations & Environmental Studies
Class of: 2015
Which universities and/or schools have you attended in the past?
I attended my local community college for two years in high school in addition to my regular schooling.
What is your international background?
Before Franklin, the farthest I had ever traveled was to Regina, Saskatchewan on visits to my grandmother. I've had a passport as long as I can remember just for that reason. That's considerably far in comparison to the majority of people from my home community who have not, and likely never will, leave the county. Since Franklin and since my study abroad with SIT, my horizons have expanded to five continents and over 20 countries.
How did you hear about Franklin University Switzerland and why have you chosen to study here?
I had been looking into "the right university for me" from the age of six. I lost track of the number of online and magazine quizzes I submitted my name and address too. That's how Franklin found me. For years, I received pamphlets in the mail, so much so that I just decided I might as well apply. After all, Franklin did seem interesting enough. Franklin was not my first choice; I didn't even see me being accepted as a possibility. I had applications at 10 other universities. To me, Franklin was like Harvard. If I got accepted, great, if not, it's what I expected. It was too astounding of an opportunity to pass by. I remember coming home and finding the letter. I just sat in my car crying. Big things don't happen to people from small towns. A week later, I got my acceptance letter from my first choice, American University. A lot of my decision boiled down to affordability and scholarship. Every school accepted me that I applied to, but it was Franklin that offered me the most in scholarship and merit awards. I could have chosen American but I figured if I'm going to be in debt, I might as well have a good story.
What is your major and why have you chosen this field of study? Is there a particular subject within this field that you find especially fascinating?
My original motivation to study International Relations was my severe distaste for American politics, driven by a deep desire to change the system. I can't say that's changed much now, but my reasons have both deepened in value and widened in scope. I actually came in thinking I would double major in International Relations and Comparative Literary & Cultural Studies. That was driving me crazy, there were no facts, and everything was conditional. That's when I chose my second major; Environmental Studies. I have always loved science. It's fascinating. Environmental Studies means more to me than a field of study. It's something I care about deeply. It's about the love of my environment and my appreciation of the incredible ways that our whole system works. International Relations and Environmental Studies overlap a lot nowadays, particularly with climate change and everything that encompasses it. In my four years here, I've molded my area of expertise and interest around energy. Nearly everything in our modern world depends on energy, and the means to which we harvest it is both political and environmental.
Why do you think a student who is interested in your major might want to choose Franklin University Switzerland?
It's hard to say. I didn't know that I was so interested in renewable energy policies, practices and their relation with climate change mitigation and adaptation until fall of my junior year. What is nice about Franklin is that you may come in and stick with one major, but you become multidisciplinary through osmosis. Everything at Franklin intertwines, and that I believe is remarkably important to achieving a well-rounded educational experience.
Which special features/differences do you see in your classes in comparison with other institutions (schools or universities) where you may have studied previously?
Being an International Relations major at Franklin is no slice of strudel. We read, write and suffer through far more work than most other International Relations programs. I remember chatting with a senior student from George Washington University who didn't know some of the most basic things that were drilled into our heads in POL100, an introductory course. Other International Relations students have talked about this too. Yes, we do an exorbitant amount of work. But in the end, we know more and our degree has a lot more value.
What has been your favorite Academic Travel course, and why?
Having only one favorite Academic Travel is like having a favorite food—they're all great. I think it's between Cyprus my sophomore year and Iceland my junior year. We had a fantastic group in Cyprus, and the weather was hard to complain about. Plus, there were cats everywhere. Iceland was just stunning. We had a great group, and I felt in the zone because it was an environmentally focused travel. I'm going back someday.
If you have already had this opportunity, please tell us more about any internships/study abroad programs you have done.
Last spring, I took a semester to study abroad with SIT IHP on the Climate Change program. It started in California (which I consider studying abroad), and went to Vietnam, Morocco, and Bolivia. We had about a month in each country. In Vietnam, the time was split, half in Can Tho in the south, half in Hanoi to the north. In Morocco, we were based in Rabat and lived with families in the old Medina. We spent a week in the Atlas Mountains in the village of Ben Smim to have a closer look into the privatization of their water. We had the most time in Bolivia; a whole five weeks. We spent a week of it trying to overcome altitude sickness in La Paz, three weeks in Cochabamba, and our final week in the Chapare province. My study abroad experience was insightful, albeit odd and rough around the edges. I wouldn't trade it for the world because I met some truly amazing people that I'm honored to call my friends. Not to mention it provided me with my thesis topic.
What are your general or specific career goals? How do you think studying at Franklin will help you achieve these goals?
I think more than anything, Franklin has taught me that I don't need to jump into any one career. I'm fit for a lot of different jobs, and I'd like to try my hand at a few of them. I know for certain that I want to travel, or at least move around some. I know I want to do field work or research, and be really involved in what I put my name on. It would be nice to, at some point, work with creating and implementing renewable energy policies on local or global scales. I'm looking at going to graduate school in Iceland. But I'm not planning anything but to be happy and experience the world, eat good cheese, and climb pretty mountains.
What do you like best about the campus or university?
You always wonder your freshman year if coming to Franklin was a mistake. By your junior year, you realize that you belong with these other highly academically dedicated weirdos. By senior year, its home; including that family that you both need and can't stand.
What are your first impressions of the university?
Franklin is a bizarre and surprisingly charming microcosm.
What are you passionate about beyond university extracurricular activities?
I love to draw and sculpt; I actually came close to going to art school. The same goes for baking, but my mother told me I had to go to a real school first. I really love swimming, hiking and in general, being outdoors. One of my favorite hobby sports is sand boarding. It's the same concept as snowboarding, just on sand dunes.
What do you do for relaxation/recreation?
I use our gym three days a week to lift weights. I try and go in the mornings when hardly anyone is there. Training really helps me focus. It keeps me aware of my body and my health, something that's easily lost track of when your heads in the books. I am a strong believer that having strong legs and a strong back leads to a strong heart and mind.
Which clubs or activities are you involved in on campus and why those?
I'm one of the Research Assistants for the Center for Sustainability Initiatives. Currently, I'm working on a project using Instagram and hashtags to trace where people have traveled in Iceland, where they're going, what they're doing, and with what frequency. I'm also one of the two current Presidents for Skeeball Club, one of the longest running clubs on campus. I'm a member of Sustainable Agriculture Club. There are a few other things here and there, like Recycling Club, but I'm taking 21 credits so it's really hard to find time to do anything.
What tips would you give to someone coming to Franklin University Switzerland from your home region?
As ashamed as I am to say this, Oregonians, bring an umbrella.
Is there any fun fact you wish you knew before you came to Franklin University Switzerland?
Fun fact: those palm trees in all the postcards? They're an invasive species and they are really hard to remove with a hatchet.
Tell us about an important lesson or an epiphany you have had during your time here.
Everybody that you meet is a person. They have different backgrounds and experiences; they may speak a different language; and they may not care what it is you do or who you are. But they understand love, pain, and humor the same as you.
Describe your typical day here at Franklin.
I awake from my slumber, unwilling to abandon my cozy sheets. When I eventually convince myself that I need to go to class, I make coffee, take my vitamins, pack my gym clothes and plethora of books, plug in my headphones and start the long hike up the hill. Classes go from 10:00am to 6:45pm with little variation. Always taking the between time to write out my schedule, fill a to-do list, and browse Facebook. By the time I get home, I'm so exhausted from working that I convince myself that binge watching Netflix is perfectly all right. Then it all starts again.
Is there anything else you want to tell us?
One of the first things I ever asked was "How many books am I allowed to have checked out at once?" Unlimited. The answer is unlimited.