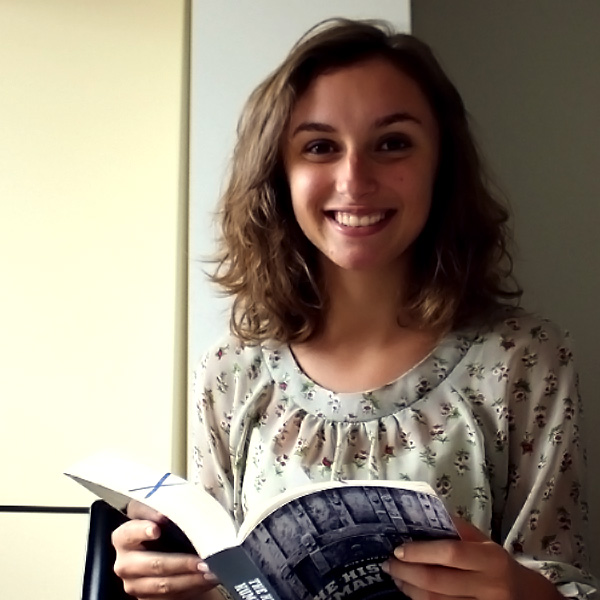 Hometown: Turin, Italy
Nationality: Italian
Previous Institution: Raha International School, Abu Dhabi, U.A.E.
Majors/Minors: International Relations with minors in History and French
Class of: 2016
Which universities and/or schools have you attended in the past?
Raha International School, Abu Dhabi, U.A.E.
What is your international background?
I have lived in Laos, Madagascar, Philippines, Italy and the UAE.
How did you hear about Franklin University Switzerland, and why have you chosen to study here?
Franklin came to my high school in the UAE.
What is your major and why have you chosen this field of study? Is there a particular subject within this field that you find especially fascinating?
International Relations because it is the field of study that relates most to the way I've been living my whole life. I find Middle Eastern politics to be particularly fascinating as well as sustainable architecture and renewable energies.
Why do you think a student who is interested in your major might want to choose Franklin University Switzerland?
The professors here have real life anecdotes that happened to them, and they can help you relate what you learn in class to a possible future career.
Which special features/differences do you see in your classes in comparison with other institutions (schools or universities) where you may have studied previously?
Class size, and the student-professor relationship you build through the years.
What has been your favorite Academic Travel course, and why?
My favorite Academic Travel was to Scotland with Professor Peat because I had never visited Scotland before or knew much about it, apart from the typical stereotype people make about it: kilts and bagpipes. After the travel, I felt like I had discovered a whole new part of the United Kingdom that is certainly unique and special.
If you have already had this opportunity, please tell us more about any internships/study abroad programs you have done.
The summer of my freshman year I got an internship for the ITC-ILO which is a subsection of the United Nations. The year after, they called me again but I was an external consultant instead of an intern. The program was focused on spreading the notions of microfinance to professionals from all around the world.
What are your general or specific career goals? How do you think studying at Franklin will help you achieve these goals?
Coming into Franklin, I wanted to work for the United Nations. I wasn't sure of the agency, but I knew the field. That's what made me choose International Relations as a major. However, after coming into contact with many NGOs, IOs, MNCs, my goals have been continuously shifting. For the past two years, I worked at the ILO in the microfinance field which has sparked my interest for that field, which would also be within the UN but more specific. Who knows, though? I might be working for the EXPO instead in a few years time.
What do you like best about the campus or university?
I like my room best because it's somewhere I can concentrate, relax and focus on what goals I have to achieve.
What were your first impressions of the university?
The nature surrounding me was overwhelmingly beautiful.
What are you passionate about beyond university extracurricular activities?
I love discovering new cultures, adapting to new situations, Italian and Middle Eastern politics, photography, and learning new languages.
What do you do for relaxation/recreation?
Read, run, talk to my family, and cook.
Which clubs or activities are you involved in on campus and why those?
I'm part of the Asian Cultural Association because my life in South East Asia has impacted my way of life and I want to go back.
What tips would you give to someone coming to Franklin University Switzerland from your home region?
Prepare to live alone and be self sufficient. Being independent is fun, so start cooking at home. It'll definitely be useful here.
What surprised you most about Franklin?
The cordiality of people is what surprised me most. The majority of the people I come into contact with every day are available if I need anything, and vice versa.
Tell us about an important lesson or an epiphany you have had during your time here.
You get what you work for.
Describe your typical day here at Franklin.
Breakfast, classes, lunch, coming home, homework, dinner, watching a movie, then sleep.